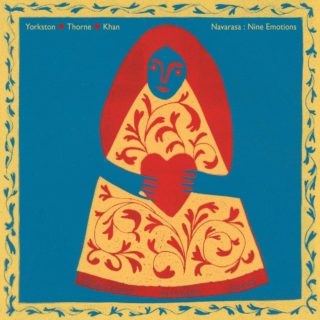 Yorkston/Thorne/Khan
Navarasa: Nine Emotions
(Domino)
9/10
The Navarasa derive from an ancient Sanskrit theory of the performing arts and they are comprised of nine distinct sentiments or emotions. Suhail Yusuf Khan, one third of this now firmly established trio of global folk flame-preservers, is a New Delhi-based, eighth-generation hereditary musician whose familiarity with the Navarasa has given birth to this frankly outstanding collection of tracks. For each of the associated emotions of the Navarasa, Yorkston/Thorne/Khan have made a corresponding piece of music that delves deep into their respective bottomless wells of knowledge and experience of musical histories.
Their third album for Domino, they write and perform with such tightly embroidered harmony that their diverse backgrounds are now indissoluble. Khan's Sufi and Indian classical roots, led by his mastery of the sarangi, a bowed instrument that mimics the human voice, James Yorkston's expertise in Scottish folk and prowess with the Swedish hurdy-gurdy-like nyckelharpa, and Jon Thorne's affinity for meditative jazz interlock seamlessly – Yorkston describes the invisible bind between them their "dark happiness".
Each of the nine evocations of the core emotional concepts is rendered with a delicate and unobtrusive touch. Take 'Westlin' Winds', the representation of surprise, in which they splice together a Middle Ages devotional qawwali piece with the opening act of a Robert Burns poem, marrying together their respective epiphanies, finding the collective human wonder in each. 'Darbari' meanwhile, which represents peace, taps into the trio's shared understanding of the hypnotising power of drone and repetition in music. Indeed, all nine pieces serve to demonstrate that what is common amongst these contrasted traditions is far greater than what divides them; a simple, intuitive truth that needs repeating more than it still should.
New monthly memberships available
Here's a new thing: our membership scheme now has a pay-monthly option, plus a load of exciting new digital stuff for people who support what we do. It's actually excellent value, honest, and will help us continue to promote new independent artists and labels.
Sign up and you'll receive our physical magazines delivered to your door, our digital editions, exclusive podcasts and playlists and access to our EXTREMELY glamorous Members Lounge. You'll be the envy of all your friends.