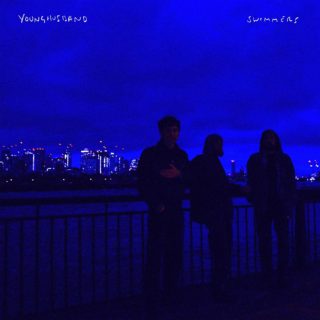 Four years on from their last release, Younghusband have re-emerged still doing what they do best: crafting smart, modest indie-pop tracks driven by slick guitars, padded drums and the down-trodden vocals of Euan Hinshelwood. Hoping to find some fresh perspective, the band retreated to an old Greenwich barn to record and self-produce Swimmers. The eccentricity and isolation of the setting is felt in the record's sound, which it is more spacious and minimal than previous ventures, their shimmer undercut by a subtle melancholy; a shadow cast by a passing cloud on a sunny day.
Sadly, Swimmers is mostly repetitive and uninspiring. At least half the songs are forgettable and the driving drum-bass-synth sound is fairly constant throughout, to the point of sounding somewhat mechanical. There are a few saving graces – 'Modern Lie' is instantly charming, opened by an irresistibly iridescent riff. 'It's Not Easy' is a sad, syncopated gem which concludes the record, surmising its minimalism and melancholia.
Moments bring late Beatles to mind – the pop-rock boy-band formula with a polite touch of surrealism – but nothing sticks around long enough to overcome the overwhelming averageness. No doubt what Younghusband do, they do well; but this promising band seem to be playing it too safe to really impress.
Free Protomartyr flexi disc with this month's magazine
Subscribers to Loud And Quiet now receive a limited edition flexi disc of a rare track with their copy of the magazine
This month's disc is from Detroit punk band Protomartyr