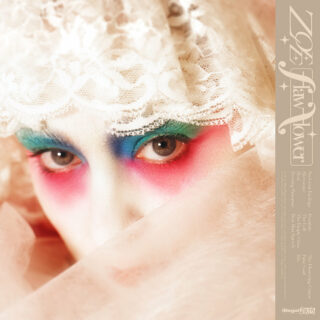 Forward-thinking label Illegal Data return with the debut album from London-based artist Zoee, following releases with tastemaker label Plz Make It Ruins, and vocal appearances for the likes of Hot Chip. Perhaps the most notable feature was on 'Hey QT', the brainchild of PC Music head A. G. Cook and late sonic pioneer Sophie. The track perfectly distilled the growing ethos of the aforementioned artists, dissecting commercial pop tropes and expanding them to breaking point, the reconfigured mass at once profoundly beautiful and bewilderingly hilarious – or should that be bewilderingly beautiful and profoundly hilarious?
Unfortunately, this sense of aesthetic malleability hasn't extended to Zoee's latest release. Replacing the pop maximalism is a form of tepid café fodder, all lightweight guitar strums and inoffensively whimsical synth work. The familiar knowing naivety remains across the vocal performances and lyrics, but it fails to land over the middling production. The paper-thin reflections on love and loss are screaming for the lush bombast of euphoric pop, or the intimate beauty of lo-fi, but without the emotional weight of either, it is difficult to be swept up within it all. 
The observational approach of 'Best Man Speech' is a heavy misfire, finding neither the humour or the beauty in its documentation of the banality of life and memory. "I remember we once went for lunch at Little Chef, but the service was terrible, but you were too polite to complain" is almost impressive in its emptiness, but really the lines do nothing more than grate.
The project is perfectly listenable for the most part, but doesn't extend beyond or beneath that MOR standpoint, and that is perhaps where it falters most; at no point am I thrown off-course by a majestic chord change, or some jarring sound design. That said, there are moments of intrigue such as the distant detuned backing chimes of 'Evening Primrose' that bring to mind Tin Drum-era Japan, a subtle melodic counterpoint that lightly subverts the emotional lilt of the track. Unfortunately these moments are few and far between, and there is not a lingering feeling that repeat listens will uncover new insights. The line between irony and sincerity is as blurred as you'd expect, but this time that blur offers little excitement or insight.