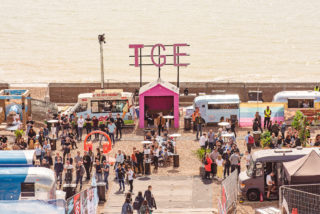 A voyage into the unmanageable – the impossible job of reviewing The Great Escape festival
We were never going to see 450 artists, so here are thoughts on 13 of them
Brighton, when the Great Escape is on, is kind of chaotic. You know the deal by now. The multi-venue new music festival is unrecognisable from when it first arrived in the mid '00s. Back then it was bands playing in bars with sticky floors. It's still that. But now, seemingly every venue across the seaside city is housing some kind of music (the Alt Escape takes place simultaneously). There's even a whole 'village' down on the beach, with three stages, a beer tent, food stalls and pop up stalls flogging phone chargers. Frankly, it's impossible to navigate all the programme, so you've gotta be selective. In no particular order, these are some of the artists our writers caught over the weekend (9-11 May).
LEWSBERG
Rotterdam's stony reply to Lou Reed and The Modern Lovers looks a little bit like a suburban dad, more likely to offer you a friendly game of racquetball than an unassuming literary excursion inspired by the works of some local writers who have posthumously fizzled into obscurity. Lewsberg's deadpan storytelling comes disguised as pedestrian rock, rudimentary and repetitive. Frontman Arie van Vliet looks engrossingly out-of-place, his neat hair brushing the ceiling of Brighton's Komedia as he recites his cynically surreal tales in a thick Dutch accent: part dark comedy, part big-city escapism. To his left, his equally stationary guitarist noodles through slacker-rock riffs and his barefooted bass-player dances between them all, with the excitement of, you know, being in a really exciting new rock band. TG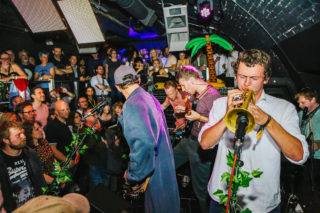 SQUID
Standing resolute and focused, Squid (above) are huddled together in the gloomy perspiration. Those spilling out the door of the packed-out mid-afternoon Hideout venue are forced to crane their heads just to catch a glimpse. It's barely even mid-afternoon and the capacity crowd is testament to the band's rapidly growing reputation. Renowned for their electric, high energy live shows, Squid fill Hideout with their unique motoric rhythm and deafening reverb. Drawing from an eclectic mix of variations and styles, Squid's performance is yet another indication to the band's rocketing ascension. OR
GREENTEA PENG
If you're lucky you can just about peek into a room with more people than space for any one of the Greentea Peng takeovers. It's a minimal set-up: vine leaves snaking up and around the stand of an old Elvis microphone, looking more like a prohibition jazz club than a beach-side enclave. The sensitivities and change of influence within her marijuana music seeps through on all sides, becoming both beaten down and hypnotic, and the old school R&B/ hip-hop nostalgia of Fugees and Lauryn Hill is slowed to an effortless flow behind a woozy dub beat. TG
GIA MARGARET
Shrouded in a deep blue and purple light, Chicago-based songwriter Gia Margaret is barely visible as a small figure sitting on a stool in the middle of Komedia's stage. It's the first time she's been asked to play a set this long in about two months, which she likens to being asked to dance with a sprained ankle. Her skeletal "sleep rock" plays like a 30-minute lullaby that hushes over the room without want for a change of pace. She's forced into a shyly-happy apology for not pre-warning her last song. Within everybody's own brief catharsis, nobody's particularly interested in leaving the room. TG
INJURY RESERVE
Here's what an Injury Reserve show is like: Go into a sticky basement and wish yourself luck keeping your beer in its cup. Look up from the grinding moshpit and see Ritchie With A T standing on the stage rail, one hand on the sweating ceiling for support, screaming the hook to Floss cut 'Eeny Meeny Miny Moe'. Try to keep your balance during floor-shaker 'Jailbreak The Tesla'. Beg for one more song with everyone else and watch Stepa J Groggs pause at the stage door, smile shyly and flick up the peace sign. AF
DRY CLEANING
There's not much you can find out about Dry Cleaning, other than vocal deadpan is coming back in fashion and this band could be the deliverers of monotony's revolution. In a good way. There's college-style performance poetry about the scale of the graphics on Super Mario 64, overcoming near-death experiences with Saw 2, and a moment where the vocalist enacts her phone going off ("brr brr") over a steady guitar build. The lyrics go: "hello? Oh hey yeah, sure. That'd be nice. Yeah definitely. See ya then. Bye." TG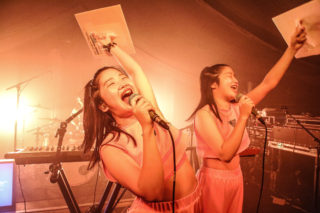 CHAI
Shout out to the desk guy who managed set this one up: Japanese group CHAI don't speak a lot of English so God knows how this poor bloke managed to orchestrate such a car crash of a sound check. All standing patiently in matching stripped pink flairs and fluorescent orange crop tops, CHAI (above) look incomparable to any other band to feature on this year's bill, and it's obvious a large collection of onlookers aren't exactly clear on what's about to unfold in front of them. CHAI don't seem to welcome that confusion though. Once they get going, it's potent stuff. Each member vying for the audiences attention. Sure, it takes a minute to get your head around – a breakneck concoction of K-pop and post-punk all paired with choreography – but it's infectious… even the Ting Tings and ABBA covers. OR
WORKING MEN'S CLUB 
Touring off the back of just one released single earlier this year, Working Men's Club have been somewhat misleading up until now. The Sorry band t-shirt and innocent wicker cowboy hat sat on 17-year-old Sydney Minsky-Sargeant's head doesn't fool anyone: "You look like a cunt. You bark like a bitch." It's not long to realise that Working Men's Club really do mean the business. Stoney-faced and snarling, their live presence is so much more menacing than both their sound and image suggests. Microphones and other miscellaneous bits of equipment topple from practically all available space in the wake of their half-hour-long onslaught. OR
JUST MUSTARD
Somewhere between the fish 'n' chips and the dilapidated fairground rides, it seems fitting Just Mustard are playing in Horatios' nautical-themed pub towards the end of Brighton pier. Blaring shoegaze and trip-hop, so much of Just Mustard feels like some journey through the depths of the murky water beneath us. Screeching guitars mutate and build into cataclysmic crescendo, all the while their expressionless faces juxtaposing the sound's ensuing magnitude. Think Nine Inch Nails, HEALTH or Slowdive. The entire thing feels distinctly fixating and eerie, severing the crowd from some sense of reality and plunging them into the blue. Until it ends and we all leave to have a go on the rickety bumper cars. OR
SCALPING
Semi-romantically sitting beneath Brighton's railway station, The Green Door Store is familiar with the occasional rumblings and shaking walls from train lines above. Everyone still seems taken aback by the immersive blockade of sound coming from the four-headed techno punk beast of Bristol's SCALPING. Hallucinogenic visuals behind the band meld metallic faces and contortionists into html codes and sand-timers, as deep bass electronics meet thrashing cymbals. It's grunge rock's PC music with the kind of experimentalism that recall's the same city's Giant Swans. Long live Brizzle. A bloke at the back of the room is trying to use three sets of foam earplugs at once. TG
ASKJELL
In the midst of a tiring schedule, there was something about seeing Askjell in a church away from the main hub of the Festival that hits a restorative note. The up-and-coming Bergen producer is the name behind many of the best Scandic pop breakouts of the last year or so, but his own deftly mathematical electronics seem at odds with his CV and the goofy figure jamming it out in a crocodile hoodie that his Dad helped him design. But as heavy percussion blends into rippling synths, you can almost feel the curative waters lapping at your face, and we can all forget for a minute just how hungover we are. TG
GGALLAN PARTRIDGE
GGAllan Partridge might be the all-female Teeside punk band with the best name at this year's festival. They tentatively refer to it sometimes as "Gee-Gee", which is a bit catchier than Allan. People are sardined into Three Wise Cats as Gee-Gee's metronomic psychobilly sounds takeover with DIY sweat. The songs are as furious as they are funny. Party songs about depression, robot girlfriends and stalkers, they say. There's another one about how shit the Middlesborough dating scene is, and then a digital love song ruined by pressing the wrong key on the keyboard ('I Feel Lobe') – it ends with a scream into a cabaret abyss. TG
EMERSON SNOWE
Taking the heat out of Saturday's Aussie-themed BBQ is Emerson Snowe's third set of the weekend. You can find the Brisbane man looking a bit like a young Simon Amstell in an old school rugby shirt; his EP came out yesterday and he's begging his audience for £1.50's worth of tea money, still amazed by this whole British thing. Really, don't buy his merch – he just wants dried leaves in hot water from you. It's too early on for the semi-mythical character attempts of an Ariel Pink or Ezra Furman, but when his gonzo-pop charm comes through it carries the glimmers of an intriguing new world to explore. TG
Words by: Tristan Gatward, Ollie Rankine and Alex Francis 
Photos: Festival/Luis Kramer
Loud And Quiet needs your help
The COVID-19 crisis has cut off our advertising revenue stream, which is how we've always funded how we promoted new independent artists.
Now we must ask for your help.
If you enjoy our articles, photography and podcasts, please consider becoming a subscribing member. It works out to just £1 per week, to receive our next 6 issues, our 15-year anniversary zine, access to our digital editions, the L&Q brass pin, exclusive playlists, the L&Q bookmark and loads of other extras.