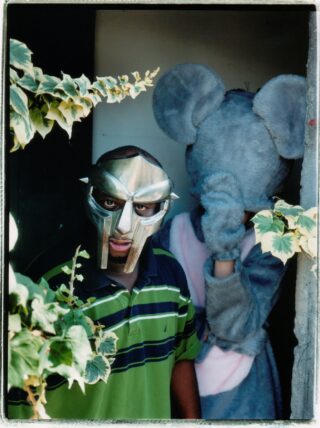 ALL CAPS WHEN YOU SPELL THE MAN NAME
A beginners' guide to the late, great MF DOOM
As the tragic passing of underground hip hop icon MF DOOM draws an endpoint on a prolific and creatively unparalleled career, the urge to make sense of his somewhat labyrinthine back catalogue grows stronger than ever. As a fan, this is of course a part of a continuous process, shaped and coloured by album cycles, initial points of exposure, developments in taste and personal factors. The death of an artist draws a line in the sand, and we for the first time reflect on the collected works as a finite ecosystem, and what they have come to represent both personally and in the broader musical landscape. And with the outpouring of love and condolences from across the wider music world comes the curiosity of those who are yet to immerse themselves in the strange world of DOOM: who is this man in the mask and where possibly to begin? Here we hope to offer a brief introduction to some of his finest work to those of you asking those very questions. 
The perception of DOOM, real name Daniel Dumile, as a mysterious and evasive figure hasn't come from thin air, and the man himself tended to that fire with jubilant glee. The countless pseudonyms, the many live appearance no-shows, and the fact he chose to obscure his face with a metal gladiator mask for the best part of 25 years, certainly paint a particular image. Interestingly, these choices reflect not only a style of curated anti-publicity – a more common gimmick today – a forthright attempt at total image control and cross-project world-building, but also an innate shyness largely seen to have stemmed from the passing of his brother Subroc in 1993. The pair had performed together in the group KMD, an early nineties New York hip hop crew not dissimilar to peers such as De La Soul; sample-heavy boom bap with lyrics somewhere between thoughtfulness and playfulness. This is not to downplay the groups more radical edge, which is clear on their final album Black Bastards, which was left shelved for years, allegedly due to label concerns over its overtly racial topics and controversial album cover. This combination of tragic familial loss and backhanded industry interference forced Dumile to retreat from the industry for several years.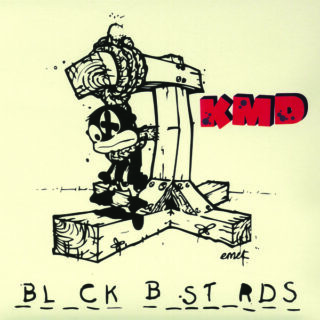 On returning from his self-imposed sabbatical in the late nineties, Dumile had constructed the character of MF DOOM, his most enduring guise, and the name for which he became synonymous. An amalgamation of his surname, masked Marvel Comics villain Doctor Doom and the aforementioned rejection of industry norms smelted into a vessel for fantastical storytelling. Debut album Operation: Doomsday, released in 1999, introduced listeners to a seemingly fully realised alternate reality. Samples both luscious and unconventional are looped with uncomplicated precision, be it the yearning Isaac Hayes strings on highlight 'Dead Bent' or the hacked Scooby Doo subversion on 'Hey!'. Throughout the album, snippets of Doctor Doom-referencing cartoons are spliced, used as vague narrative cues to tie the project together. Each borrowed element is reconfigured as set design for DOOM's endlessly engrossing narrator to guide us through with wry absurdist humour. The title track revels in pantomime character-establishment, "Definition: super-villain: a killer who love children / One who is well-skilled in destruction / As well as building" while featuring a chorus hook ladened with disarmingly autobiographical allusions: "On Doomsday / ever since the womb / 'Til I'm back where my brother went / that's what my tomb will say / Right above my government, Dumile / Either unmarked or engraved, hey, who's to say?". Throughout his career, elements of his personal life would continue to bleed into his characters, further blurring the distinction between fact and fiction, and comedy and tragedy.
A key entry point for many is the now legendary Madvillainy project, released in 2004, which sees DOOM teaming with producer and fellow rap oddball Madlib. With Madlib laying the musical framework, DOOM was allowed the freedom to hone in on his verbal and written dexterity. A track like 'Meat Grinder', built upward from it's confrontationally off-kilter bass line, displays bewilderingly expressive wordplay, with lyrics as gloriously enticing as they are bluntly opaque. This is a recurring method employed by DOOM throughout his work: an establishment of setting and tone conjured through vivid imagery somewhere between street politics, madcap comic-book fantasy, dated pulp dramatics and stoned kitchen sink observation. There's a literary density to the lyrics that allows the listener to extract a variable level of information, an image that fades in and out of focus and is dependent on the user's forensic engagement. The cultural references and recurring motives create the illusion of narrative structure, but this is no self-indulgent concept album, more a master class in setting and mood. 
Lyrically, tracks jump from topics as disparate as the socio-political ramifications of state-sanctioned warfare ('Strange Ways') to the grand opening of a small time bistro ('Bistro'). But everything makes sense through the prism of the supervillain(s) – who better to speak on the ills of those in charge than our pantomime villain himself, and what better way to introduce a rogue gallery of alter-ego side-characters than a café grand opening.
The album was marketed under the joint moniker Madvillain, highlighting the uncanny symbiosis on display and grounding the project in its own insular microclimate. Key elements from both artists' oeuvre are on full display: the use of irreverent narrative-driven audio collage, the globe-spanning sample eclecticism, and of course the establishment of loosely outlined yet vividly coloured character role-play. When questioned on the process of building the album, both collaborators were quick to highlight the relaxed nature of the recordings, each of them alluding to a combination of shared partying but solitary creation, a process of two halves under one roof. A follow-up was long teased, and even standalone tracks such as 'Monkey Suite' remain some of the strongest work in either discography, but sadly due to DOOM's untimely passing, this looks to remain their sole full-length statement.
Madvillainy was but one of several key projects released during a particularly fruitful period in the early noughties. Despite the proximity, each release possessed its own particular angle, with each album authored under a different alias. Dumile explained his unique approach: "The thing is to be able to come at things with a different point of view… My albums are all characters and together they're part of this lineage of stories… each album, each character, is its own experience." This explains the fact that characters seemed to overlap and interact on each album, with one key persona taking the spotlight. 2003 saw the release of Take Me To Your Leader under the alias King Geedorah (in reference to an adversary of Godzilla), an album which saw him undertake a more production-centric role, inviting guest MCs to appear as various characters within the world of the record. Though any true narrative arc is hazy at best, the Geedorah creation is characterised as an extra-terrestrial view of life on earth. The album features some of Dumile's finest production moments; with the effortlessly smooth saxophone sample on 'Next Levels' and the b-movie anthemics of opener 'Fazers' being particular highlights. Also, despite appearing on few of the tracks, Dumile's vocal presence is at its peak; gruff, confident and assertive, especially when pitted alongside guest vocalist Mr Fantastik on 'Anti-Matter', a tour-de-force of vocal acrobatics and lyrical wit. With Dumile happy to retreat to the mixing desk as Geedorah, allowing guests to take the vocal spotlight, Take Me To Your Leader stands out as a singular entry in his back catalogue, and at that, an intriguing document on underground hip hop at the time. 
2004 saw the return of the MF DOOM character in full gourmand mode, with the release of second album proper MM…FOOD. A highly enjoyable set of tracks loosely based on the theme of food, we find the villain joyfully contort the schtick to fit whichever scenario he sees fit. Classic hip hop tracks are inventively skewed several times, including a Whodini-flip on 'Deep Fried Frenz', with DOOM lamenting the often shallow nature of friendship, and a genius beatbox sample from J. J. Fads' 'Supersonic' on 'Hoe Cakes'. Mr. Fantastik makes another welcome appearance of 'Rapp Snitch Knishes', a precision-cut takedown of rappers who unwittingly self-incriminate on record, as the chemistry between these two begs the question of why they never released more music together. There's an inherent playfulness to the record, with Dumile clearly having enjoyed the process of dismantling the novelty structure he'd set up for himself, a sense of creative problem solving. Hip hop has always dealt with the malleability of the spoken word, but there is a specific freedom to how Dumile explores language and double entendre, and the whimsical nature of MM…FOOD only accentuates that. The result is one of DOOM's most instantly gratifying records.
Both Take Me To Your Leader and MM…FOOD make incredibly liberal use of the experimental sound collage technique made up of found sound and pop cultural detritus. Not only as introductions, or weaved throughout songs as on his other albums, but as numerous standalone tracks. Dumile stated that: "Collecting these voices is not as easy as it sounds… I gotta watch hours and hours of old vintage footage, listen to hours and hours of lectures. It's a real tedious process, but as I'm writing songs I'm collecting pieces, and I'm collecting pieces that pertain to the songs, and then I condense them and make the story. I like to put an intro so people get a feel for what's going on. It sets the tone, almost like scenery."
DOOM's artistic output slowed considerably following this period, and his final solo album Born Like This arrived in 2009. This would be Dumile's final definitive statement under the singular DOOM name, though throughout the following decade he collaborated with numerous artists including protégé Bishop Nehru, producer Jneiro Jarel, duo Czarface and others. In some ways, Born Like This is like a Madvillainy that groans when it stands up; gruff life lessons delivered with a greater sense of world-weary pessimism, atop a mismatch of beats new and old. There's still humour, but it's a bit more twisted; there's still blunted beats, but a bit more broken; there's still sample-laden skits, but one of them is a straight up Charles Bukowski monologue. The superhero theme tune schtick is evident on tracks like 'Rap Ambush' or 'Supervillains' but it seems borderline unhinged. Whereas the J Dilla-produced 'Lightworks' and 'Gazillion Ear' couldn't ask for a more suitable MC to navigate their punch-drunk hallucinations. The real highlights have to be the crooked 'Absolutely', a cold lesson in criminology, and 'That's That', with its taut, melancholic strings, triple-stacked bars and warbled sung outro feeling inexplicably mournful in light of recent events. There's a real thrill to its imperfection, and it's an album that rewards repeated listens, containing some of the most intriguing fragments of his career. Perhaps not the best place to start, but fascinatingly rich once you're acquainted with some of his earlier work.
There's of course much more to uncover of the wider DOOM catalogue, but these are certainly the places to begin, and should offer clues to uncover the rest for yourself. For an artist often spoken of as enigmatic, he emitted a great warmth and humour through his music and interviews. His music has been incredibly far reaching, with an audience stretching well beyond the realms of hip hop. An iconic outlier of the rap scene who continued to work on his own terms till the end. He will be greatly missed. R.I.P. VILLAIN.
Henchmen: 5 key DOOM collabs 
Gorillaz – November Has Come (feat. MF DOOM)
Damon Albarn's cartoon troupe seem a perfect fit in hindsight for the animated linguistics of DOOM. One of the finer album tracks on the groups second album Demon Days, with DOOM in fighting form on the verses and Albarn on chorus duties the track is sure to have been many peoples introduction to the villain. 
The Avalanches – Frankie Sinatra (feat. Danny Brown & MF DOOM)
DOOM and Detroit eccentric Danny Brown were the faces of The Avalanches return after 16 years. The lead single to the Australian's second record sees the rappers trading bars over a jaunty calypso sample, culminating in an almost circus-like affair that sees all involved play to their strengths.
Dabrye – Lil Mufukuz (feat. DOOM)
DOOM in full rap statesman mode, lamenting on modern childhood while dressing down a generation of young rappers. Dabrye, also known by techno alias 2AM/FM, lays a cold, gloomy beat for the villain to vent over. One of the finer late works by the MC.
DOOM – Gazillion Ear (Thom Yorke Remix)
One of two collaborations with Thom Yorke of Radiohead, a noted fan of the rapper. The bombast of the original track is stripped-back to a tense smattering of hi hats and nervous atmospherics – an intriguing reworking. Yorke said of DOOM: "He was a massive inspiration… for me the way he put words was often shocking in its genius."
Flying Lotus – Masquatch (feat. DOOM)
A short burst of grimy villainy put together for Lotus' Grand Theft Auto radio station. A snapshot of a collaborative pairing that clearly had more to give. On the new of DOOM's passing, Flylo confessed he and the MC had been working on an EP, yet another glimpse at the tantalizing vaults left behind.