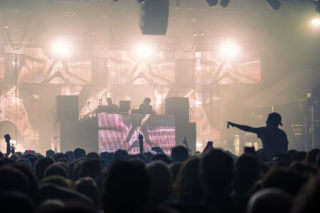 Aphex Twin brings nightmare visions of Vera Duckworth and raging rhythms to Manchester's new Warehouse Project
Deadly serious riotous fun
When Aphex Twin played the Warehouse Project in 2007 what initially looked to be his security entourage stood in front of him on stage. Their muscles popped out of their tight white Aphex Twin logo T-shirts but they were in fact world-class competitive gurners that Richard D James had hired for kicks. They contorted their faces and mouths in unthinkable often grotesque ways that mirrored the unfathomable and misshapen rhythms that raged from the speakers.
Tonight, the only faces that're twisted and manipulated in such a way are the ones that belong on the giant screen behind Aphex Twin. At one point they include a selection of people from Manchester as the visuals maul and mutilate photos of footballers and the cast of Coronation Street – a sea of thousands looking up to see nightmarish incarnations of Jack and Vera Duckworth looming over them.
Aphex Twin is kicking off the latest season of the Warehouse Project by performing and curating the opening evening in a brand new venue after WHP left their Store Street location after almost 15 years. He's invited the likes of Nina Kravitz, 33EMYBW, Lee Gamble, Rian Treanor and Aleksi Perälä to perform alongside him. Walking into Depot Mayfield – a previously abandoned railway depot – feels a more like walking around a city than it does a venue. The 10,000 capacity space is almost overwhelming in its size and scope, making one feel like an ant scuttling around inside the belly of a giant beast.
Thankfully, the venue doesn't match the usual hyper-slick super club atmosphere and aesthetic that you may associate with such a large capacity space. The essence of the building – tunnel-like, exposed bricks and shadowy corners – has been kept in place so it succeeds in feeling like something of an actual warehouse party or underground event. It's dark, cavernous, sonorous and offers little in the way of unnecessary frills or luxuries, instead focusing on the combination of pulsing lights, throbbing sound systems and the gargantuan space to be recipe enough. WHP in the past has, quite rightly, faced criticism of some events at their previous venue Store Street feeling over crowded but there seems little danger of that being an issue in their new home which allows ample room to dance and wander in its vastness.
And while Aphex Twin is obviously the main draw, there's much excitement to be found elsewhere too. Earlier sets by Lee Gamble and Rian Treanor are key highlights, with the latter's ability to blend playfulness with uncompromising experimentalism – whilst always jolting seamlessly between grooves and anti-rhythms – is a persistent joy. Nina Kravitz has the unenviable task of following Aphex Twin but she storms the home straight with a blistering set.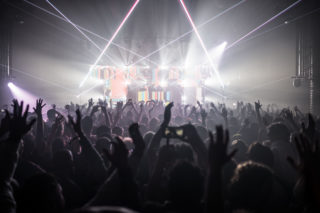 The anticipation is palpable for Aphex Twin and as the lights drop and a series of his logos dart around the backdrop, the place erupts with bucket hat-clad teenagers and dads in old Warp T-shirts grinning along together. What follows is a set that at times reaches transcendent highs, as Aphex Twin weaves between moments of hazy, dreamy and almost introspective ambience to clattering breakbeats and hyper-taut rhythms that drill and spit maniacally. His ability to take one from a floating, almost serene, state into cacophonous frenzy is endlessly beguiling as he seamlessly joins the dots between squelchy acid house and restless IDM.
During some moments – like when he drops his own tracks 'Stone in Focus' or 'Polynomial C' – there's rows of people with eyes closed and heads lolled back who seem to be bathing in the moment as waves of surging ambience drowns them. Yet, during the closing crescendo an assault of breakbeats and jungle rhythms coalesce and crash into each other with such fury that you could easily be mistaken for thinking you were at a My Bloody Valentine show during their infamous 'holocaust section'.
The infinite beauty of Aphex Twin's work is that it's always been as deadly serious as it has riotously fun and tonight he straddled this balance perfectly, taking the crowd with him from moments that felt like ascending to the heavens before throwing them back down in the dark, murky depths of depravity. Manchester has long held a reputation as one of the best party cities and now, with WHP's new home, it has a new place to continue that legacy in a space that is pretty much unlike any other in the world.
Aphex Twin at Manchester Warehouse Project, Friday 20 September 2019
Photo: Seb Manox 
Please support Loud And Quiet if you can
If you're a fan of what we do, please consider subscribing to L&Q to help fund our support of new musicians and independent labels
You can make a big difference for a few pounds per month, and in return we'll send you our magazines, exclusive flexi discs, and other subscriber bonus bits and pieces
Try for a month and cancel anytime