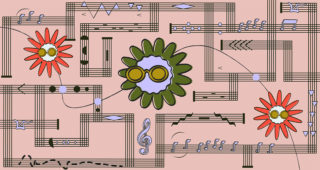 Artists tell us how Bandcamp has made the difference in 2020
Avalon Emerson, Loraine James and more on why Bandcamp matters as a musical community, and their favourite discoveries from the platform
Despite the Covid-related absence of live events this year, underground dance music has continued to thrive as a creative outlet for many fans and artists alike. In this climate, the online music platform Bandcamp has solidified its place as the foremost channel for finding and releasing new music, an engaging environment that both enables and encourages discovery, while eroding unnecessary and superficial barriers between artist and audience. Though this hasn't sprung up simply as a byproduct of a worldwide pandemic, several key factors in how Bandcamp have handled the past few months have resulted in a space where creativity has been allowed to flourish even more.
The advent of the Bandcamp Fridays initiative has been a major factor here. Originally a one-off event, with Bandcamp waiving its usual commission and allowing artists and labels to earn full profit on their work, in lieu of incomes lost from cancelled live shows. The first day was a resounding success, with $4.3 million spent across the site in 24 hours, 15 times more revenue than an average Friday. The next one is 7 August. 
As the initiative became a monthly event, not only did the underground music scene begin centring their releases around it, but artists and labels began using it as a way to fundraise for relevant causes, amongst them: Covid-related community aid, NHS support, and perhaps most notably, Black Lives Matter-adjacent charities. The particularly hands-off approach taken by Bandcamp allowed individuals space to not only express their views, but to actively support them, and in turn helped forge a communal spirit that feels genuinely engaged rather than an exercise in contrived corporate semantics.
A fundamental cog to the communal functionality of Bandcamp is in fact the emergence of external sites that act as specifically-curated directories. Black Bandcamp is perhaps the most prominent project to develop since the Bandcamp Fridays initiative began. Co-founder and Noods Radio resident NIKS explains the genesis of the site: "The key motivation was to showcase and leverage as many black artists, producers and labels from the underground sphere as possible; for people from within the wider electronic music communities to know, buy and play more music by black artists." The site builds on the economic necessities of artists that the Bandcamp Fridays event focused on, yet expands into the broader conversation about the lack of black representation within club music in a clear, concise and ultimately celebratory fashion. The results have been overwhelmingly positive, NIKS explains. 
"Particularly after Bandcamp Fridays is when we'd hear from artists who have seen a noticeable increase in music purchases and people directly messaging them saying that they discovered them on our site. I hope people continue to utilise the database to learn, discover and support artists." 
London-based musician Loraine James, having both self-released music as well as through esteemed label Hyperdub, echoes these thoughts: "It's so important that this site exists, it's been the place to take a deep dive and check out new music, and shows there's no excuse for why there is little of us represented across the wider music scene."
Bandcamp's place as the preferred artist-to-fan channel for DJs was evident prior to the events of the last few months. The Buy Music Club site presents Bandcamp tracks in the forms of curated playlists, often created by DJs as access points for fans finding new music. Co-founder and distinguished producer/DJ Avalon Emerson explains: "We wanted to direct some attention and funds back to the artists and labels we love. The slow squeeze of streaming has condensed the income streams of most artists to almost exclusively either touring or some flavour of brand partnership money. Live music was one of the only parts of the music industry that fans were regularly paying money for, and now that's completely collapsed under Covid. This imbalance isn't new, it's just been magnified and accelerated during the pandemic."
Again, the site's principle purpose is music discovery, but this is also intrinsically tied to readjusting the place of recorded music within the independent music scene, and how to create a more sustainable environment for creators. Explaining how the site fosters the communal aspect of Bandcamp: "We're seeing a steady uptick in lists for livestreams and radio shows, which feel like an interesting – and arguably more organic – representation of what people are listening to and playing in real time and in real life." Evidently, the contextualisation of the music allows for a more tangible understanding of where different music fits across the wider music scene. Emerson states: "It's important to offer ways of finding and supporting music outside of the usual monolithic platforms like Facebook, Spotify and Soundcloud."
Both Black Bandcamp and Buy Music Club have certainly helped accelerate music discovery, artist representation and the overall feeling of Bandcamp as a functioning online music community, rather than a purely exploitative, profit-driven corporation. It is clear that these developments have fostered an environment of unrestrained creativity for musicians. Hopefully these developments continue onward toward a future of true self-sufficiency within the underground scene, allowing for less reliance on corporate sponsorship and endless tour schedules.
Below we have asked a selection of the most exciting underground DJs and musicians to select their top Bandcamp favourites of the last few months. From Aussie drill through to Chicago footwork, there's plenty to acquaint yourself with.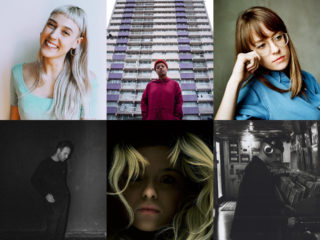 Jana Rush [Planet Mu] selects…
DJ Hank – Traffic Control [Sophomore Lounge]
"The awkward effects are crazy, I love it! The timing of this track is neither fast nor slow – an androgynous beat, we need more like this! Hank has officially paid his dues with this one. I salute you my brother!"
DJ Manny – U Got Me Dancing [self-released]
"A very energetic track that never dies out. The bass has a nice bounce to it and the drums are nice and tight – no sloppiness detected!"
LCY [SZNS7N/6 Figure Gang] picks…
Cõvco – CONSCIENTEOFTHESOUL – INTRO [self-released]
"A stunning four-track album released back in April. The stand-out tune for me is the introduction, with a bassline that sounds so warm and familiar, with haunting, beautiful vocals layered over the top."
Los – CORONAVIRUS 2K20 (feat. El Blanco Niño) [self-released]
"I first discovered this song through Sherelle, but since then it's been an addiction. It has infectious energy, amazing footwork-influenced polyrhythms and I'm thankful for it getting me out of more than a few Covid blues."
Jensen Interceptor [International Chrome] selects…
DJ MELL G – I Fcck As I Live [self-released]
'My vote for this year's Rookie Of The Year goes to the incredible DJ MELL G. It was love at first listen, it's crazy impressive to hear such a timeless and coherent fusion of flavour in her tracks. If you're remotely into jungle, electro or footwork, look no further than Mell's discography, as she will have exactly what your booty is looking for!"
DJ SWISHA – New Luv [HAUS of ALTR]
"Thankfully we live in a world where people like DJ Swisha exist. This is a nostalgic summer-time banger and it isn't a one off, be ready with your wallet open when approaching his Bandcamp page. Special mention to the label HAUS of ALTR who are raising money for the charities For The Gworls, Afrotectopia, & Afrorack."
AYA (YCO) picks…
Ur III & Iceboy Violet – Glyph [Mutualism]
"my girl iceboy atop the coldest instrumental by leeds' best producer that doesn't even believe in spooky music . that 3rd verse woi oi ."
Speaker Music – Techno is a Liberation Technology (ft. AceMo) [HECHA / 做]
"DeForrest Brown Jr.'s Black Nationalist Sonic Weaponry has been pulsing though my skull near enough every day for about 6 weeks now. a truly brilliant record this rejects White european boundaries of techno in favour of crafting revolutionary Black music. the horns on this AceMo really hit just right."
re:ni (NTS Radio) selects…
Aunty Rayzor – Kuku Corona [Blanc Manioc]
Having put out 13 releases over 18 months, Blanc Manioc, who describe themselves as a label for 'new 'global club' music, have continued to fire out releases throughout the pandemic. I love this track from Nigerian singer/songwriter Aunty Rayzor so much, although having a little skank around to it reminded me how long it's been since I've had a proper dance!"
Jurango – Thakhek [[re]:sources]
"I think one of the benefits of Bandcamp Fridays is that it appears to be helping highlight strong releases from smaller labels which might be overlooked for review by the gatekeeping music publications. The debut EP from Bristol's Jurango, featuring three dancehall/techno-inspired heaters, is amazing, and it was great to see it featured in multiple Buy Music Club lists last month."
Loraine James (Hyperdub) picks…
Florentino – RIP FUNK [self-released]
"I found this through the 'club' tag on Bandcamp. The whole EP is a collection of songs created within 40 days, sampling 'anthemic classics' submitted by fans."
Snoee Badman – #3allmyteam [TRACKWORK]
"Snoee Badman is an Australian drill rapper who I found through the Black Bandcamp site. The whole EP is full of bangers – one to watch!"
Coco Bryce (Myor) selects…
FFF – Cut Bwoy [3AM Eternal]
"FFF can do no wrong. After more than two decades of releases across a plethora of labels, he's now finally started his own imprint '3AM Eternal'. I've played this in pretty much every single set since and it makes the crowd go buck when the 4×4 kick drops."
DJ Sacred – Like Villains [self-released]
"I love DJ Sacred's extra lo-fi take on nineties Memphis Rap. "Like Villains" is featured on his latest offering "Revelation". Digging the whole EP, but this is definitely my favourite of the bunch."
Tim Reaper (Future Retro/Globex Corp) picks…
Digital – Bitter Wind (Double O VIP) [RuptureLDN]
"Bitter Wind is probably one of my favourite tunes released on Rupture. I was glad to this Double O VIP released on one of the Bandcamp Fridays recently, with the profits being donated to a charity named StopWatch, focused on fair and accountable policing in the UK."
Micky Finn & L Double Ft. Mc GQ – Retreat (VIP) [Flex Industries]
"Flex was a wicked oldschool jungle label through the Nineties-Noughies run by L Double. They recently compiled this compilation of remixes, majority of them being previously unreleased. I didn't expect a release like this to appear out of nowhere, but I'm glad it did!"
NIKS (Black Bandcamp/Noods Radio) selects…
Portable AKA Bodycode – Downstream [~scape]
"South African producer Portable AKA Bodycode, I think I have to spotlight him! I recently produced a guest mix for Machine Woman on Rinse FM, and 50% of the tunes were from Portable AKA Bodycode. He covers all spectrums of experimental, yet percussive sounds."
Ash Tre Jinkins – Get Over It [Point Records]
"Another stand-out for me is Ash Tre Jinkins. Such dreamy fluid sounds that really take you on a journey. Both tracks I've been incorporating into my Noods radio. Again, this sound is really fitting my current mood and feeling!"
For more inspiration visit blackbandcamp.info and buymusic.club. Image (top): Bandcamp.
Loud And Quiet needs your help
The COVID-19 crisis has cut off our advertising revenue stream, which is how we've always funded how we promoted new independent artists.
Now we must ask for your help.
If you enjoy our articles, photography and podcasts, please consider becoming a subscribing member. It works out to just £1 per week, to receive our next 6 issues, our 15-year anniversary zine, access to our digital editions, the L&Q brass pin, exclusive playlists, the L&Q bookmark and loads of other extras.