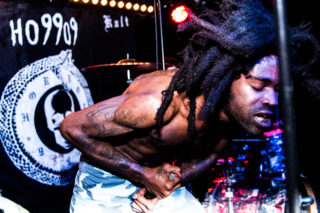 Carnage and camaraderie – Ho99o9 will stop their thrash show if you drop your car keys
Last night, Ho99o9 brought 'United States Of Horror' to a London pub
The ceiling is stained with thrown drinks. Sweat hangs in the air as if it had been sprayed by a crop duster. A line of blood trails down from the sodden, sticky hair of a tall man heading back into the pit. Still people push forward. It's getting unbearably hot. The smell of weed still cuts through. We're just 20 minutes in.
Ho99o9 took the stage just before 10, following a DJ set that included 'Like Glue' by Sean Paul, 'Bump'n'Grind' by R Kelly and two classic 50 Cent tracks ('Candy Shop' and 'In Da Club'). There was a healthy fear in the basement of The Sebright Arms and presumably the DJ thought the tension needed to be countered. Or maybe he just really liked Fiddy.
The crowd Ho99o9 attract is diverse, both in terms of demographics and tribes. There were St Pauli and Miner's Strike emblems on denim jackets. Iron Maiden, Krokodil and Guardians Of The Galaxy t-shirts. British folk artist Frank Turner was among those staggering into the smoking area afterwards.
The soundcheck was a short series of horrific sounds from a sample pad and Eaddy and theOGM themselves. theOGM wore his signature blue ski mask. Eaddy, perhaps even more unnervingly, was dressed in a smart white shirt. With a grin they initiated carnage.
The first half of the show passed in a blur. The opening songs from Ho99o9's recently released debut album 'The United States Of Horror', have a ferocious rhythm, pace, and, beneath the brutal distortion, hooks you can latch on to. They're songs perfectly crafted for a Ho99o9 show. 'War Is Hell', 'Street Power', 'Bleed War', 'Sub-Zer0' and 'Face Tatt' turned the basement into a warzone as the double bass drum sent ripples through the floor and the duo seamlessly switched between a hardcore punk delivery and gritty, baritone rap.
'The United States Of Horror' is a 17 song declaration of intent. The band had built a buzz on a series of EPs and their blistering live shows, but the album harnesses that live energy and turns it into a coherent whole, albeit one that is completely impossible to predict. Ho99o9 sound like The Dead Kennedys, The Stooges, Spark Master Tape, DMX, Odd Future, Trash Talk and Death Grips all at once. They take these disparate sounds and create something that makes sense. Something dark, visceral and furious that targets the police, religion, race, class, politics, Trump and economics.
Throughout the album and the show, however, a sense of humour and theatre remains. On fan favourite 'DeathKult Disciples (999 Anthem)' theOGM called for complete darkness as he donned a headlamp that flashed into the crowd like a searchlight. When the energy dropped a little he chided the audience; "that was just alright." A Beastie Boy sample cut into the mix before the wall shaking bass returned.
By the end of the show Ho99o9, and a good chunk of the crowd, were topless. The band took requests for an encore and Eaddy threw himself into the crowd. Seemingly dissatisfied with how long he was kept up, when he was returned to the stage he jumped right back in, causing a rush to the front and a stage invasion that lasted until the end of the show. A cascade of bodies clambered up and, often quickly, fell down.
In a 2015 Loud and Quiet cover feature theOGM spoke about how a sense of fun was more important than intimidation, saying "we just go out there and perform and love having fun and having a good time." This was immediately clear during and following the show. If there was a sense of anticipation and fear beforehand, the feeling afterwards was catharsis and deliverance. There was violence, but more so there was camaraderie, such as theOGM pausing the show to reunite lost keys with their owner.
This sense of community is central to why it works, particularly as during such grim times too much of what people have in common is fear and horror. 'The United States Of Horror' conveys that and a Ho99o9 show gives people release, because no matter how dark it gets down in the basement, the real haunted house is outside.
Ho99o9 live at The Sebright Arms, London on 8 May 2017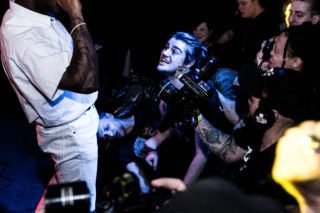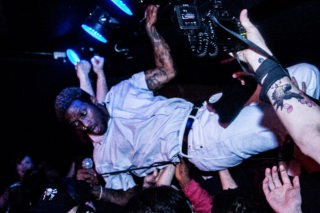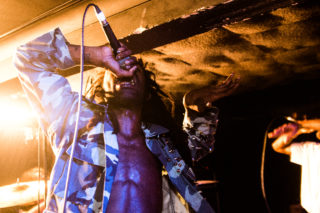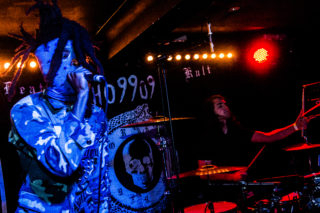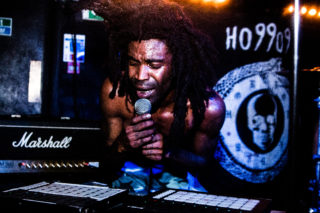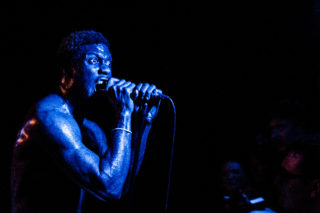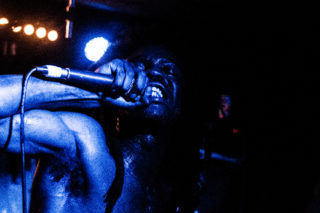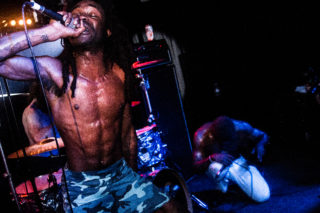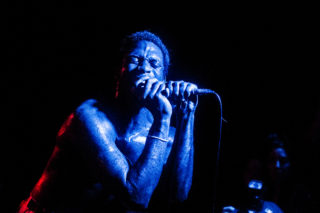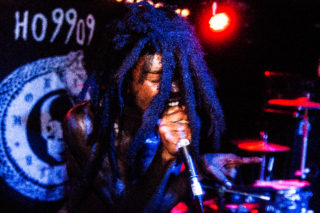 We're not being funny...
… but can you become a member please?
It's actually excellent value, and will help us continue to promote new independent artists and labels.
Sign up and you'll receive our physical magazines delivered to your door, our digital editions, exclusive podcasts and playlists and an actual bookmark, as if printing a magazine in 2021 wasn't old fashioned enough.
6-month and full year memberships are available now. Fancy it?