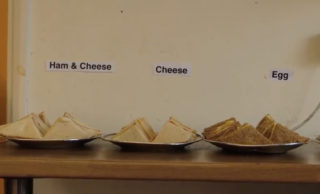 Charles Howl and Wesley Gonzalez got a bunch of budding actors together and fed them a depressing lunch
Mmmmm egg sandwiches
We've made no secret about the fact that Wesley Gonzalez made about 4 out of 5 of our favourite videos last year.
The person behind those genius clips was actually Charles Howl, who has also made videos for the likes of Virginia Wing and Cymbals in the past.
For the first time, Wesley has returned the favour and collaborated on Howl's new video for his track 'Never Forget What You Are' taken from Charles' album 'My Idol Family'.
Two great minds, one great video. It's as deliciously cringe, weird, surreal, awkward and heartwarming as you hope for. Charles explains:
"Dressed as Jurassic Park era Steven Spielberg I set up a fake acting workshop at a rehearsal studio in South London. An alarming amount of actors responded to the casting call and I found myself in a hall of over 20 people armed with only a handheld camera, a piano and a depressing lunch spread I had made that morning in anticipation of the phoney event.
"The actors were put through their paces having to act out scenarios me and Wesley Gonzalez had written a couple of days before, for example, 'Your father gives you a new pair of shoes as a gift, they don't fit but you force them on to please him. Father leaves the room and you tell mother what has happened but not before quickly removing the shoes in agony.' I think everyone left having learnt something, and filled their boots with egg sandwiches. I was left with a surreal collection of footage from which to make a music video.'"
Charles Howl has also confirmed some live dates. You can catch him playing the following shows:
FGO Barbara, Paris – Friday 18 May
The Castle, Manchester – Tuesday 29 May
Hug & Pint, Glasgow – Wednesday 30 May
Shipping Forecast, Liverpool – Thursday 31 May
The Waiting Room, London – Friday 1 June
Sticky Mike's, Brighton – Saturday 2 June
One Trick Pony, Birmingham – Thursday 7 June
Fusion Arts Centre, Oxford – Saturday 9 June