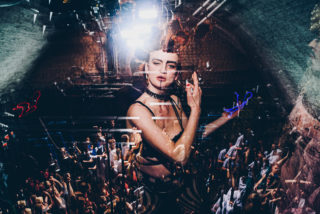 Fleeting moments of freedom: queer spaces and communal healing
On the life-changing power of dance music and LGBTQ+ nightlife
A NOTE: LOUD AND QUIET IS IN DANGER OF CLOSING. PLEASE CONSIDER SUBSCRIBING TO OUR MAGAZINE OR MAKING A SMALL DONATION HERE. THANK YOU.
"Good DJs make dance music still feel like a secret" tweets Octo Octa, aka Maya Bouldry-Morrison late one night. She's one of those DJs. Just listen to 'Ecstatic Beat', or 'Spin Girl, Let's Activate' from her latest record. They're magic tricks, teasing the audience with familiar breakdowns, flipping them in another direction, then winking at you.
For new ears, it's a giddy puzzle of guessing where we might end up next. For seasoned listeners, it's soaking up years of dance history and channelling that energy right back into your core. I'm no expert on house music, but each new track I listen to feels like having your hand held by a great teacher as you journey through a world that's always been here waiting. 
It reminds me of walking to school as a lonely teen, feeling outside of my body, listening to Burial's 'Kindred' – voices hidden beneath hissing production and murky bass pulling focus to that world. I was captivated by the amazing sense of place they could capture, but clueless of where that music came from, or how it was made. The anonymity of its producer made it more exciting. 
I looked for other artists doing similar things, and after months of obsession, I came across 180 Midtown Blues, by DJ Sprinkles, aka Terre Thaemlitz. DJ Sprinkles is not anonymous. Her academic and music work is an eager fight for place and recognition within the world.
"House is not universal. House is hyper-specific", she states on the opening track of 180 Midtown Blues. "The contexts from which the deep house sound emerged are forgotten: sexual and gender crises, transgendered sex work, black market hormones, drug and alcohol addiction, loneliness, racism, HIV, ACT UP, Tompkins Square Park, police brutality, queer-bashing, underpayment, unemployment and censorship – all at 120 beats per minute." It's a mission statement that carries the whole project. The need to recognise this queer space and protect what is left of it.
Somewhere I knew I had gender dysphoria when I first heard this, but my heart had some catching up to do. Listening, my skin went white-hot, like I often did whenever trans-related topics came up. As a lonely sixteen-year-old living on their computer in the Scottish Highlands, this wasn't a history I had any connection to. I didn't attend any parties, especially not cathartic queer parties. I was invisible, and an outsider to all of this. At one stage, so was Maya Bouldry-Morrison.
"I came into it with a total lack of context. In New Hampshire at 14, I wasn't going out to drum 'n' bass nights at local clubs. There were no local clubs. There was no scene or places to go to understand it… It's a very solo, sit-down-in-front-of-a-screen experience."
Maya Bouldry-Morrison in Electronic Beats
This was said in an interview with the aforementioned Terre Thaemlitz, just months after she came out as transgender. DJ Sprinkles was a key influence of hers, and the two chat like lifelong friends about how they came to love dance music and the reality of queer spaces. Then, Octo Octa is a month away from releasing Where Are We Going?, a deeply personal house record that embraces the genre's past heroes wholeheartedly, while yearning for a brighter future. She has just come out as transgender, after several years of success as a sturdy club favourite. Like her 2013 debut Between Two Selves, the new album will be full of killer grooves, ecstatic breakbeats and a meditative atmosphere – she's a great DJ, after all. 
But the coded messages of self-acceptance will become direct pleas to the listener, reaching out to a queer community she's stepping into. She's suddenly being invited to more queer-centric events, finding a new sense of freedom in being comfortable dancing in the booth, seeing herself reflected in the crowds. The interview is frank and unsugary. The two do not pretend that queer spaces are a utopia for trans people. They only have to exist because the spaces outside of them reject queer existence. These very clubs are deep in the bowels of cities, where journeying to and from events alone is dangerous. 
The two also disagree on whether drum 'n' bass has any merit. Octo Octa, like me, grew up disconnected from queer spaces, and just heard great tunes that resonated with her. Sprinkles, twenty years her senior and living in New York, saw dude bros invading a safe place with aggressive music that took queer culture and abandoned the people that made it. Touched by each other's experiences, Sprinkles concludes that it's wonderful that a new perspective can help the culture and community evolve in the right hands.
When I first saw the cover for Where Are We Going?, Maya sitting casually on a hotel bed in a dress, I got that white-hot feeling on my skin again. By the time its follow-up, Resonant Body, had rolled around, I'd started presenting more feminine in public. I'm often alone when I listen to her music, attempting to get out of my head and be in the present, but I don't feel alone. Each beat is alive with the energy of the people she's been influenced by, who she's sampled, who she's thinking of when recording. It's a warm hug, and a preservation of queer lives. When I'm visible on the street, and can feel people staring, I'll throw on 'Can You See Me?', and sink into the beat, listening to the words: "I know exactly how you feel".
Now, Octo Octa has found a soulmate who shares her love of drum 'n' bass in Eris Drew. The two formed the label T4T LUV NRG, and perform euphoric club nights that follow the same ethos as the tunes they release. The pair teamed up with Shoot Your Shot, a club night in Glasgow renowned for its inclusivity and excellent taste, and in a rare move, were granted a glorious 5am licence. As the first night of its kind to be headlined by two trans artists, it was deemed culturally important. Fans heeded the call. 
That first T4T Shoot Your Shot night is the most comfortable I've felt in public. No dodgy looks from the crowd because of my clothing, just smiles and nods of recognition. The imagined queer spaces I heard of in my teens were being realised. And yes, the often-debated gender-neutral toilets were present, and provided a place to catch a breather, to share a laugh, and to dissolve a barrier.
The pair's huge back-to-back set was also built on dissolving barriers, with cheesy forgotten disco sitting next to pop anthems, house deep cuts, heady techno and rave tunes. Everyone there will have their own personal history with the dance music, but the setlist makes it clear that we're all welcome. It slots in well with the Shoot Your Shot ethos. Music writer Claire Francis moved from conservative rural Australia to Scotland, and having written about clubs all over the continent, nights like this stand out:
"Shoot Your Shot have put on some of the best nights I have been to in Glasgow, or anywhere for that matter. Their events tick all the boxes for me – a no-nonsense approach to club etiquette that advocates for safe spaces and inclusivity, a wonderful and welcoming community of people, a forward-looking booking ethos, and of course, really excellent music. Their parties show everyone that it can be, and should be, done." 
Mi$$ CO$MIX has also played at Shoot Your Shot, and similarly speaks of these dissolving barriers: "When I first experienced good clubbing it opened up so much more music wise for me. I love stinking electronic music: hard techno, Italo-disco, new beat, acid house. It's a love story that was gradual, and is fed by good DJs. It's everything. It's healing. It's a process of sharing and learning, and with everything that's happening right now, that previous reality seems like a utopian dream."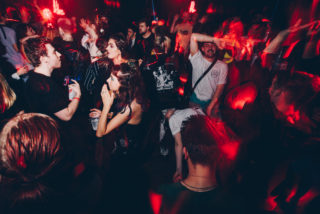 Queer spaces are currently under threat in the UK, as they always have been. But a misguided and often aggressive campaign from 'gender critical' activists and certain sects of the UK media has created noticeable conflict. Fringe political groups such as Women's Place UK and LGB Alliance have had success in appropriating the language of third-wave feminism to frame their anti-trans beliefs. Their tactics are more nuanced than standard bigotry, but the results remain the same.
Both groups have taken aim at the proposed reformation of the Gender Recognition Act, which will legally streamline the process for trans people to self-identify as their gender in Scotland. As a trans person who has only recently come out, I can attest to how encouraging this move would be. Right now, legally transitioning requires 'proof' that you are already living in your identified gender, in the form of medical treatment, written documents, physical appearance and so on. It is a long, arduous and often demeaning process. As it stands identifying as non-binary isn't seen as valid at all. An increasing number of people using labels outside of the gender binary are being left in the dark. 
I personally have been waiting for an initial consultation with a Gender Identity Clinic for two years, and that's just for a chat.  Taking the steps to alleviate my dysphoria will take a lot longer, in part, because of the current system of approval- seeking. That's not to mention the risk trans people take when making themselves visible in public so early into their transition, just to be legally recognised. 
LGB Alliance and various similar groups argue that this change would allow predators into queer spaces and erase the rights of women, playing on the dehumanising images of trans women as perverted men in dresses, and trans men as confused lesbians. In their eyes, young people will be confused about their own gender because of the accepting environment that LGBT activists struggle for , which could lead to children being 'experimented on' with irreversible hormone treatments and puberty blockers. This simply isn't happening. 
It is already very difficult for a sound-minded adult to medically transition, but this whole debate is a distraction from the core issue – no one chooses to come out as trans lightly. It immediately posits yourself as an outsider. So why come out at all? 
The reality is that the other option is far more soul-crushing. Nine in ten trans people have thought about suicide. Aggressive media campaigns from anti-trans campaigners don't make things easier. Columnists like Suzanne Moore and internet trolls like ex-comedian Graham Linehan encourage bullying under the guise of 'asking questions'. The results are clear: children's charity Mermaids UK is under constant threat thanks to a mob of hate mail. Glasgow queer club Polo has been defaced with homophobic slurs for the first time in years, just days after a member of the LGB Alliance was asked to cover their politicised T-shirt (which isn't all that surprising when you're in a club full of queer people who overwhelmingly disagree with you). Hate crimes against trans people have increased over the past few years. It goes without saying that these increases in hate crime and anti-trans rhetoric have occurred simultaneously is no coincidence. 
What these critics fail to see, either from lack of empathy, knowledge or simple perspective, is that queer spaces like Shoot Your Shot are the kindest, most nurturing places there could be – places where strangers will look out for the most vulnerable, and the rights of women, trans people, and other minorities are actively upheld. Those who denigrate such spaces are fighting against togetherness, self-actualisation, respect for others. 
Queer folk need these spaces more than ever. Right now, those on lockdown with their families have been told to put coming out on hold, over fears of violence. During our current health crisis, it's unknown when the Gender Recognition Act will be settled, when the next Shoot Your Shot will be, and how many queer clubs and labels will survive. But queer people are very resilient, and in the meantime, I'll be finding companionship in the music of Octo Octa. 
"Years later I find the courage to admit that I am transgender, and that this does not mean that I am unlovable. This world that we imagine in this room might be used to gain access to other rooms, to other worlds, previously unimaginable." 
Lana Wachowski, sampled in 'Come Down To Us', Burial, 2013
Click here for more information and support materials relating to any of the issues raised above, especially under the difficult circumstances brought about by COVID-19.