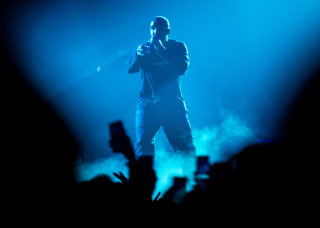 Scream! Dance! Scream! – cynicism had no place at Drake's opening night at The O2
Drake loves you, London
Whenever I go to a big pop show like Drake at the O2 I question what the hell I've been doing with my life. Overthinking things, it seems. That just won't do at a Drake show anymore than it will do at a Beyoncé show or a Taylor Swift show or a Rhianna show. Something more primal occurs on a night like tonight than it does at, say, a Radiohead show, sure, but also a stop on a Kings Of Leon tour, where the crowd and band, however unfashionable and swollen, are droning 'Sex On Fire' from the same mildly cynical hymn sheet. The singer will say, 'You've been the best audience we've ever had,' but only once, and he's right when he suspects that everyone is thinking, 'bollocks! You say that every night.' When Drake says, 'I feel like I'm home, London,' which he does around 1000 times tonight, everyone screams with hyperactive pride, either in total belief or for the sake of a good time. Who cares if he's finessing us – he's playing 'Headlines' now and we're only a couple of songs in. Admittedly, waving a Union Jack around after another 2 minutes is pushing it, but not as much as Drake insisting, 'I was thinking of London when I wrote this album,' before he segues into '9' from last year's 'Views' LP, a record so publicly for and about his hometown of Toronto.
Still, we take it, and the simple pleasure of screaming and dancing is king for the next two hours. We are in a giddy pantomime and it feels good to let go and play our important role in the party, where Drake really is a natural host with one eye fixed on the pace of the show, which he expertly controls, shouting out to 'all the women in the building' (Drake evidently likes women almost as much as he likes London) when things occasionally sag, usually after a slow 'Views' number where he sings rather than raps.
He's always got his escape planned, though, and is self aware enough to know that although he fancies milking a loungey 'Feel No Ways' we might not want to hear it. When rare collective mutterings confirm that tonight, at least, it's not for us, he turns to the script – an agreed bit of back-and-forth with his keyboard player who cops the blame for bringing the vibe down. A rapid sting section that features '6 God' and 'Worst Behavior', and ends with a sing-along to 'Successful', reboots the room and the screaming continues.
Section Boyz generate their fair share of hype too, when they rush the stage for a sloppy performance of '#Worst'. It sounds like a mess and goes on too long (especially beside Drake's sharp delivery and his reluctance to play out more than 60 seconds of any given song – a sticking point that can be annoying and reaches critical mass when we get the opening steel drum bar of 'Take Care' before it's snatched back: 'We can't be giving London old shit,' he insists, incorrectly). Still, you can't knock Drake's team mentality in getting Section Boyz up there, and Giggs a little later on for powerful go at 'Whippin Excursion'. In the O2, constantly shouting about London serves a purpose, but it's not all hot air from a man who got a Boy Better Know tattoo on his shoulder last year.
We almost get the whole of 'Hotline Bling', as the 300 illuminated globes on the lighting rig turn pink and hypnotically bob from floor to ceiling on their strings – a long way in an arena like this, and an effect so brilliant in its simplicity that it makes the enormo-globe that inflates in the middle of the room 15 minutes from the end appear overblown and redundant. If nothing else, on the second, round stage in the middle of the arena, this big blowup world means that as many people can't see Drake as can, as he constantly runs around it and performs a bit to the left side and a bit to the right. No one really cares by then, of course, not least because the globe inflates directly after 'One Dance', which so many people film it feels as if the house lights have come on early.
Drake ends on 'Legend' and a short, heartfelt speech. About London (one for the road) and multiculturalism in a world full of ugly tension. As he points out, the O2 is full of people of all races, genders and walks of life. It might only be a pop show, but tonight celebrates what connects us without overthinking the details, as Drake embodies the pure instinctive happiness we can get from experiencing music en masse. And screaming.
Drake @ London O2 Arena on 30th January