End Of The Road festival 2019 – Away from the big names this was the best new(er) stuff we saw
A case of quality AND quantity down at Larmer Tree Gardens
It was noted from the first announcement about End of the Road 2019 that, sure, the headliners were great, but it was the sheer depth of this year's line-up that felt greater than ever before. Unlike other festivals there was no hanging around until mid-afternoon to see the first decent act, it was packed with intriguing, vibrant, essential new stuff from the moment the stages flicked the power on.
So, you can read the reflections of Loud And Quiet's writers on the bigger stuff from the weekend, the likes of Mitski, Courtney Barnett, Kate Tempest, Fontaines D.C. and Metronomy, but otherwise, this is what they were watching down at Larmer Tree Gardens in Dorset. Words by: Gemma Samways, Sam Walton, Tristan Gatward and Greg Cochrane.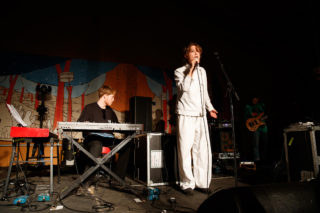 Jockstrap
Thursday, Tipi
End of the Road resist the temptation to ease those already on site early in with something easy and digestible. No, they want the brains working from the first night. And while Spiritualized hypnotise those assembled at the main Woods Stage, London collective Jockstrap take to the stage in the confines of the tipi. The project, led by Taylor Skye and Georgia Ellery – the latter who'll also appear later in the weekend with Black Country, New Road – are a malleable marvel. At turns it feels both highly choreographed and completely spontaneous. And their songs are weird hymns, swinging between Bossa nova, jazz and melancholy rap. I mean, when was the last time you saw a buzz band open with a string quartet playing for 10 minutes and a flute player wearing tracksuit bottoms? (GC)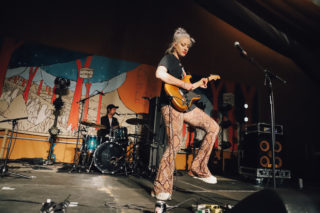 Du Blonde
Thursday, Tipi 
A seventh of Thursday's entertainment fell in the hands of Newcastle's Beth Jeans Houghton, playing hangover music with teeth for a lot of people yet to experience the weekend's first hangover. Her latest record Lung Bread was psych-folk laced with a well-mannered blues, but it carries a chaotic edge in the Tipi tent. An incorrect voice tells her she's only got five minutes left to play, as she panics through an audience poll and its resulting 'Chips To Go'. She's actually got another 25 minutes – "too much time," she says with an endearing awkwardness, as she plays a song about smoking weed and ordering bad chicken to her ex's apartment. (TG)
Westerman
Friday, Woods Stage
A modern romantic crooner's become a bit of a bedroom sensation in 2019 – not in that way. The dreamy, lo-fi roots that contemporaries of Garfunkel and Simon boast revel in simplicity; nothing more than a laptop mic and a YouTube channel is needed. Cue the unexpected rise of Rex Orange County, Yellow Days, even the more traditionally harmonic Flyte. Westerman's at his best when it's cut back, too. His band occasionally makes a confusing addition to his erudite home-schooled songs which, are, at their core, really quite nice for a Friday lunchtime. (TG)
Kelly Moran
Friday, Big Top
Across the site on opening afternoon, Bon Iver t-shirts sunbathe in the grass listening to bearded singers strum acoustic guitars – so far, so End of the Road. Inside the starry darkness of the Big Top, meanwhile, things are (slightly) different: Kelly Moran's gently fizzing prepared piano and electronica is also ideal music to soundtrack horizontal daydreaming, it's just that in here the signifiers are different: audience Bon Iver tees are replaced by Aphex Twin ones, while onstage, digitally fractured abstract projections accompany Kelly Moran's improvisations which, free of the disciplining shackles of the studio, occasionally feel somewhat unpruned. Nonetheless, it's an undeniably pleasant counterpoint to the folky Friday festival fodder on offer elsewhere. (SW)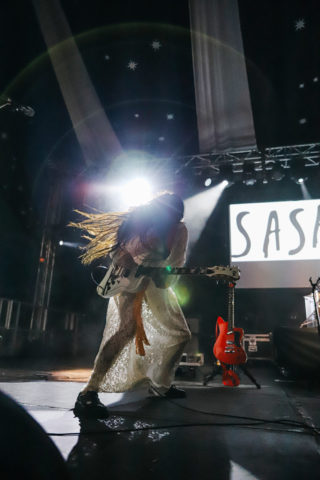 SASAMI
Friday, Big Top
"There's a big turn-out to the cult meeting today," Sasami Ashworth jokes. "Don't forget to tithe to me on the way out." Even putting her flowing white robes and the rhythm section's matching boiler suits to one side, there's definitely a cultish intensity to the L.A. multi-instrumentalist's set in the Big Top. Far grungier than on record, songs from her self-titled debut are delivered with sudden shifts in dynamics, finding the ex-Cherry Glazerr-member shredding furiously and unleashing her black metal scream one moment, and showcasing her diaphanous coo the next. A mercurial performance that kept the audience on their toes. (GS)
The Beths
Friday, Woods Stage
Offering bright punk-pop with a healthy twist of Fortuna Pop-style twee, The Beths are precisely the band to chase the clouds away on a lazy Friday afternoon. Led by chief songwriter and lead-singer Elizabeth Stokes, the Auckland-based band romp through the songs on their recent debut Future Me Hates Me, setting the crowds at the Woods stage swooning at their pitch-perfect four-part harmonies. Sure, three songs is probably all you need to get a grasp of their full artistic range, but with their sunny melodies and self-deprecating lyrics, they make a strong claim for the title of this year's most likeable band. (GS)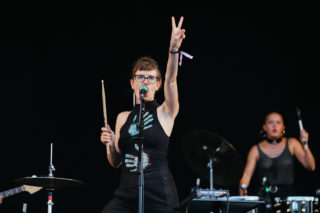 Bodega
Friday, Woods Stage
If it sounds like a bit of a downer spending 45 minutes on a sunny day being told you're but a microscopic cog in the catastrophic plan of opportunist politicians, malevolent big tech and the endless scroll of your own personal surveillance device, then fear not: Bodega's warnings of the impending collapse of society are an unbridled hoot. Coming on like the B52s with a social conscience, the rag-tag quintet – as much five distinct personalities as they are a single indivisible gang – present an apocalypse you can dance to, offering hope that our inevitable impending horrorshow might be ones we can bear after all. (SW)
Bodyvice (pictured, top)
Friday, Tipi
Before Bodyvice appears, Nick Luscombe from Radio 3's Late Junction reminds us that the set will be broadcast on his experimental music programme next week, although there can't be many other gigs over the weekend less suited for radio play: after all, this is a 45-minute experimental theatre piece where the actions unfolding on stage feel more important than the nightmarish static, vocal distortions and demonic pulses of an MRI machine that comprise the piece's soundtrack. In the flesh, though, the show is urgent and dizzying, a visceral invocation, almost demonstration, of the chronic pain suffered by Natalie Sharp, rather than a mere dramatic exploration of it, where scenes of corporeal invasion and institutional coldness are played out via intensely expressive shamanic dance and guttural shrieks. Across the site, by stark contrast, Michael Kiwanuka plays on. (SW)
Molly Sarlé
Saturday, Tipi
Stopping the flow of gorgeously hushed folk songs that begin Molly Sarlé's set, she tells us all that she's been living – for free – in a mouse infested trailer at the top of Big Sur in California, and doesn't sleep very well. She'll get up in the night to spray peppermint essential oils, which the mice don't like. A song later, she lets on that they don't like mice traps, either. This is her confession. As one third of Mountain Man, it's far from her first set at EOTR, but the infectious reception it gets seems to mean a lot on relatively untested solo ground. (TG)
Nubya Garcia
Saturday, Woods Stage
First up, how refreshing to hear a saxophone wailing out across a festival site in 2019 that isn't being played Shabaka Hutchings. And how refreshing, too, to encounter in Nubya Garcia a saxophonist with as much range and tenacity as the Comet Is Coming/Sons of Kemet big man, deploying everything from yearning asides up to fierce rasp to classy effect. A mid-set unaccompanied solo is particularly spellbinding, but Garcia is clearly no individualist: the way she both blends with and conducts her crack backing band, sharing solos and mutually admiring glances, is as spirited and generous as it is deft. (SW)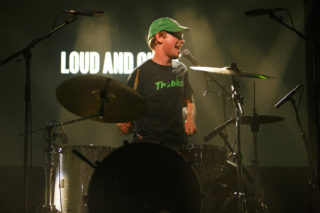 Squid
Saturday, Loud And Quiet Stage, Big Top
From Fontaines D.C.'s victory lap to Shame's secret set on Sunday, the Big Top appears to host all the hottest tickets this weekend. Squid's appearance during Saturday's Loud And Quiet takeover is similarly oversubscribed, with security forced to operate a strict one-in, one-out policy. Quite right too, to be honest. Led by singing/yelping drummer Ollie Judge – who covered Scatman John during his vocal warm-ups – the five-piece marry together wiry post-punk with psychedelic, brass-flecked freakouts, and deliver the best quip of the weekend in, "I was here [at End of the Road] when Mumford and Sons played. Only time they've dropped the ball." (GS)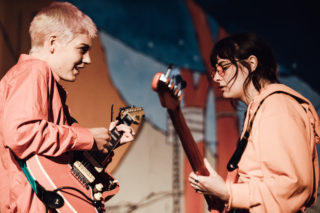 Porridge Radio
Saturday, Tipi
While Kate Tempest is making everyone sob over at the Woods Stage, things are a lot less intense inside the Tipi Tent. Sure, Dana Margolin shout-singing style and anxiety-laden lyrics are ostensibly as confrontational as Tempest's state of the nation addresses, but there's an innate wistfulness to the Brighton band's compositions that negates any aggression. It's not the most memorable of the weekend's sets, but proves a decent post-Tempest and pre-Black Country New Road palette cleanser. (GS)
Black Country, New Road
Saturday, Tipi
The buzz around this one is so intense that 45 minutes before Black Country, New Road are due on stage, there's a one-in-one-out queue stretching out of the Tipi tent that's even longer than the neverending line for vegan sushi. Thankfully, though, it's worth the wait: the combined wail of violin and sax underpin moreishly discordant combinations of prog-, kraut-, and post-rock, with wittily dada-esque ad-libbed lyrics ("References, references, references / Did you see Black Midi? / What are your sexual preferences?") ensuring nothing gets too self-serious. More than a few nascent bands on this year's bill seem unable to deliver on their early acclaim; BCNR, by contrast, more than justify their hype. (SW)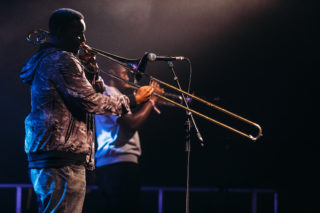 Moses Boyd Exodus
Saturday, Loud And Quiet Stage, Big Top
The South East London postcode lottery seems to have a one in ten chance of hitting up the next jazz sensation, and in from SE6 is Moses Boyd and his four-man Exodus. Recalling the early hard-bop drumming of Max Roach and Art Blakey, Boyd's rhythm is hit with bursts of soulful trombone, circling trumpet and softer grooves on keys and electric guitar But it's the moments of solo clarity that bring the Big Top to standstill: at times you can barely hear him play as he goes from loud to quiet with enough devastating acuity to make that scene in Whiplash look like kids play. "This is one for late night encounters," he jokes. "If anyone meets someone during this song, @ me on Insta. I want to see some Exodus babies." (TG)
Group Listening
Sunday, Tipi
Like Max Richter's Sleep concerts that substituted seats for beds, or a Nils Frahm festival set that has its audience stargazing, Group Listening managed to command a similar trust to lull their listeners into a silent meditation – albeit one where the galaxy is actually an orange and white striped tent. Mostly comprising reimagined songs by Arthur Russell, Robert Wyatt and others for clarinet, piano and electronics, the room's dozers are inquisitive and respectful. There's a shared point of knowledge and intrigue, and the closing abstraction of Brian Eno's 'Julie With' is an eye-shut away from being as springfully cinematic as the original. (TG)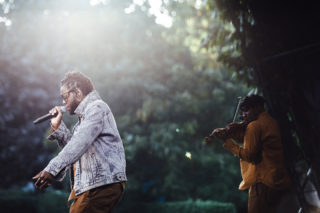 Serpentwithfeet
Sunday, Garden Stage
"I don't care how grown you are – today we're going to be sweet, be kind, be gentle to the ones we love." It feels apt that Serpentwithfeet ends his set-cum-sermon with a plea for compassion. For a brief 30 minutes, the Garden Stage becomes the L.A. singer-songwriter's church and the criminally-sparse crowd his congregation, as he performs hymnals from 2018's album Soil. He has, unexpectedly, just come from performing at Ellie Goulding's wedding. His fluid melisma is even more astonishing in the flesh, caressing the notes of his violinist, or riffing over simple keyboard chords. 'Bless Ur Heart' climaxes in a stirring singalong, and he sighs dreamily, "I saw some peacocks earlier. I bet they're singing too." (GS)
Martha Skye Murphy
Saturday, Piano Stage
When you play like Martha Skye Murphy plays, you don't even need to announce that you're playing for an audience to flock to your side. The Piano Stage was basking in the sun, dressed like a grandparent's living room. Heavy bass wafted through the trees, as the sounds of children laughing in the forest at first interrupts, then melts into Murphy's set like a carefully chosen sample. It's only 2pm, but angelically spliced black comedy waltzes through strange characters and casinos, played on an unamplified piano as she cranes her neck to follow an unresponsive fixture in the mic stand. It's at once the perfect exhibition for the perfect stage, and something meriting of a much higher billing. (TG)
Steam Down
Sunday, Tipi
After a cancelled flight back from their previous gig in Croatia results in Steam Down arriving late on site, their set has to shift from a lunchtime slot on the main stage to later on in the more intimate Tipi tent. That's a shame: the jazz fusion/future soul collective's nagging grooves, crowd engagement and infectious optimism would've been ideal outside on a blue sky Sunday afternoon. Not that they let their changed circumstances get them down, mind: the eight-piece offer up cosmic jazz, samba and ragga licks, flecks of highlife and nods to UK bass, often all at once, with glee, energy and a heart-warming positivity that feels undeniable. (SW)
Crack Cloud and N0V3L
Saturday/Sunday, tipi and Big Top
Hype bands don't come as complete as Calgary collective Crack Cloud – not just in terms of the number of multimedia art forms they have ticked off, but in that the route from cause to effect makes complete sense. Mental health workers and recovering addicts unite with a wonky sermon to Fela Kuti and Gang of Four. The septet's danceable punk come free jazz is at full throttle; spiky and political songs merge a 2 Tone squonk with topless drummer and lead vocalist Zach Choy's David Byrne inflected conversation. The night before, their guitarists and saxophonist Jon Varley, Noah Varley and Bryce Cloghesy played as part of N0V3L, too – a strange dud point where the mix didn't quite support the music for a band whose bass and drum rat race deserved more clarity. The sparks of both still resound with enough excitement for whispers of their UK return to be a pretty big prospect. (TG)
Photography: Rachel Juarez-Carr, Christopher Juarez, Burak Cingi, Sharon Lopez
We're not being funny...
… but can you become a member please?
It's actually excellent value, and will help us continue to promote new independent artists and labels.
Sign up and you'll receive our physical magazines delivered to your door, our digital editions, exclusive podcasts and playlists and an actual bookmark, as if printing a magazine in 2021 wasn't old fashioned enough.
6-month and full year memberships are available now. Fancy it?