Ezra Collective are on the cover of Loud And Quiet 132 – out now
We are a country divided, between those who like jazz and those who like it more
Jazz is impossible, right? I mean, do you jazz? And if you do, could you be jazzing more? There are a lot of people who think that you could be. Or at least that's the perception of jazz from the outside – it takes itself seriously, and even if you think you're into it, there's probably someone close by only too happy to tell you that you're fucking clueless. Ezra Collective are a far more welcoming type of jazz group, who wear clothes that you do and listen to grime, hip-hop and dance music as well as Charlie Parker. They're on the cover of this month's magazine, in stores this weekend (March 9th).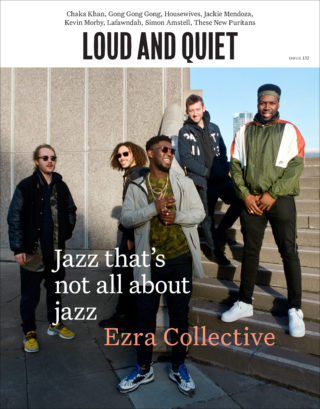 The rest of L&Q 132 largely leans on discovering experimental new music, from Beijing's drummerless drone duo Gong Gong Gong to Latin alt. pop musician Jackie Mendoza, who weirds-up a ukulele on her debut EP. Housewives were so dedicated to getting out of their comfort zone that they sold their guitars and moved onto houseboats so they had to essentially write their new record in Wetherspoons, where they could get charge on their laptops. And Lafawndah, who you may well know already, … well… her global outlook on making music makes her almost impossible to categorise. Even These New Puritans have stayed true to a career of keeping us guessing with their new, fourth album, 'Inside The Rose'.
We've also got an feisty (y'know, kind of aggressive) interview with Chaka Khan; Kevin Morby showed us around his home in Kansas City; and there's a long conversation with Simon Amstell about his directorial feature film debut, Benjamin.
Plus 16 pages of reviews of this month's most interesting album, shows, books and films. And more.
Subscribe from just £3 per month and this'll be your first of 9 issues. Or simply order a single copy here.
OR, pick it up from your local decent emporium from this weekend.
Support Loud And Quiet from £3 per month and we'll post you our next 9 magazines
As all of us are constantly reminded, it's getting harder for independent publishers to stay in business, which applies to Loud And Quiet more now than ever, 14 years after we first started printing a magazine that we've always given away for free.
Having thought about the best way to support our running costs (the printing and distribution fees, the podcast and production costs etc.) we'd like to ask our readers who really enjoy what we do to subscribe to our next 9 issues over the next 12 months. The cheapest we can afford to do this for works out at £3 per month for UK subscribers, charged yearly.
If that seems like a bit of a punt, you can pay-as-you-go for £4 per month and cancel any time you like. European and world plans are available too, at the lowest rate we can afford.
It's not just a donation – you'll receive a physical copy of our magazine through your door and some extra perks detailed on our subscribe page. Digital subscriptions are available worldwide for £15 per year. We hope you consider this a good deal and the best way to keep Loud And Quiet in your life without its content, independence or existence suffering.