HMLTD are on the cover of Loud And Quiet 83 – in stores this weekend
Also, interviews with Idles, Kadhja Bonet, Rejjie Snow, Sleaford Mods, The Magnetic Field, Pissed Jeans and Kelly Lee Owens
I feel for new bands sometimes.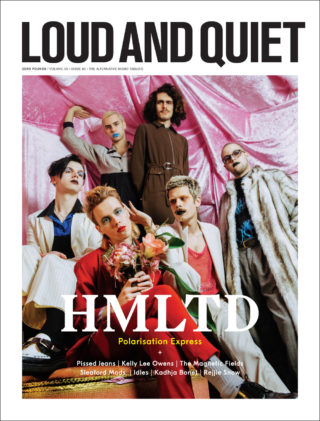 They can't win. If they turn up looking like sixth form spods people will say 'where have all the rockstars gone! Bowie looked like an alien – a STAR!!!' Dress up in 2017, though, and the common response will be, 'oh c'mon, Bowie did that already – concentrate on the music please.' But look at HMLTD and tell me that we don't currently need a band with some flamboyance. They're on our cover this month – issue 83 of Loud And Quiet is out this weekend (11 February 2017).
Some other special pieces in this issue include interviews with Sleaford Mods, Bristol punk band Idles, LA's Kadhja Bonet and the London based Kelly Lee Owens. Irish rapper Rejjie Snow, too.
Matt Korvette of Pissed Jeans has written us a piece about how to dance at one of his show this year (that's especially for the guys who still think it's ok to turn up to a hardcore gig and act like a macho dick), and The Magnetic Fields' Stephin Merritt talks about his life for our Retold series.
Plus James Mercer at 16 and Johnny Rocket's Getting To Know You questionnaire.
Pick up a copy from our stockists all over the place. Or order a copy here.
Support Loud And Quiet from £3 per month and we'll post you our next 9 magazines
As all of us are constantly reminded, it's getting harder for independent publishers to stay in business, which applies to Loud And Quiet more now than ever, 14 years after we first started printing a magazine that we've always given away for free.
Having thought about the best way to support our running costs (the printing and distribution fees, the podcast and production costs etc.) we'd like to ask our readers who really enjoy what we do to subscribe to our next 9 issues over the next 12 months. The cheapest we can afford to do this for works out at £3 per month for UK subscribers, charged yearly.
If that seems like a bit of a punt, you can pay-as-you-go for £4 per month and cancel any time you like. European and world plans are available too, at the lowest rate we can afford.
It's not just a donation – you'll receive a physical copy of our magazine through your door and some extra perks detailed on our subscribe page. Digital subscriptions are available worldwide for £15 per year. We hope you consider this a good deal and the best way to keep Loud And Quiet in your life without its content, independence or existence suffering.