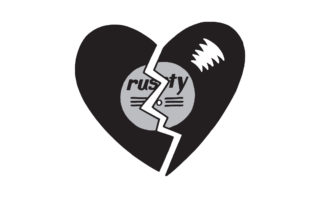 How to mend a broken heart with any album you like
You don't have to reach for that Adele album
There's no one definitive breakup album but there are plenty of albums about breakups: Scottish miserabalists Frightened Rabbit just celebrated the tenth anniversary of their heartbreaker, 'The Midnight Organ Fight'; 'Ladies and Gentlemen, We're Floating in Space', Spiritualized's masterpiece of heroin-fuelled love benders and love-fuelled heroin benders is just as great after twenty years. Then there are bands like Fleetwood Mac who have built their whole mythology around lost love. Adele has managed to milk three albums out of the failure of one relationship, while Frank Ocean's most vulnerable moments tie breakups to themes of identity, memory and belonging. Commercially and artistically, a breakup album can be a goldmine, but the albums that connect with us personally might not even be about breakups.
I polled a range of people on the albums that have soundtracked their breakups. There were the expected candidates – Beck's 'Sea Change', The Mountain Goat's 'Tallahassee', literally anything by Jeff Buckley – but far more were surprising. There was the Freddie Gibbs and Madlib album 'Piñata', an album that seems more suited to a drug deal than a messy divorce. For someone who will go unnamed, Lily Allen's 'It's Not Me, It's You' provided solace. Most bizarrely, two people suggested the Slumdog Millionaire Original Soundtrack. "Jai Ho," I guess. I wondered why so many picks were unconnected to obvious themes of heartbreak. And then I remembered my breakup album. Time to open old wounds…
It was 2010. I was a greasy sixteen-year-old, the kind that had just realised that he didn't have to wear clothes his mum had bought for him, and still somehow settled on a cardigan/comic T-shirt combo. I was grappling with my sexuality the way any queer sixteen-year-old living in the rural highlands does – by repressing it. Luckily, I would grow out of my awkward closeted nature by university, and upgrade to a cardigan/band T-shirt combo. For now, I was happy being completely uncomfortable in my own skin.
There had been some threats to this easy, shadowy lifestyle, though. Close friends had suddenly started getting into dating. Not the primary school kind, where you agree that you're dating, awkwardly hold hands and then watch YouTube videos at each other's houses. No. This was the hormone-fuelled, confidence-boosting, popularity-flexing kind of dating. I hung around with mostly girls, friends who provided safe company in a messy part of my life where I barely had an identity. After a few jokes about the lack of a threat I posed to them by a boy who literally went by the name 'Fudgy', I hastily decided to throw a friendship away.
The moment to divert attention soon presented itself. The Harry Potter and The Deathly Hallows premiere at Vue. Two tickets, and a long bus to Inverness. She was a fellow band geek who I could easily have a laugh with. We had eaten lunch next to each other for three years. That was a commitment on its own. Maybe I DID like her? I knew I didn't deep down, but the moment to make my move had arrived, and by 'move' I mean rambling through the dating question with popcorn still stuck to my cardigan. She said yes, and I had doomed a friendship.
After months of false romance, what ended it was a completely different music taste. I loved Daft Punk and Justice, she loved Disney soundtracks and Paramore. When swapping our sixth-generation iPods for the day, the problem appeared. Techno wasn't music, she joked. I laughed along and pretended I'd borrowed the iPod from my brother. Rather than having healthy separate musical identities, I pretended to like what she liked to blend in. I was repressing dance music along with everything else.
By the time Deathly Hallows Part 2 rolled around I had broken it off. I couldn't lie anymore. The breaking point was 'A Whole New World' lodging itself inside my brain for over a week. She was heartbroken. It turned out this had meant more to her than it did to me. We never spoke much after that.
At the height of my guilt, I discovered the album that would define the breakup. Hidden away in the small dance section of HMV was Rustie's 'Glass Swords'. Its shimming intro announced itself with the epic scale of a video game console start-up. Then the beats kicked in. The gritty midi-synths of 'Flash Back', the sugary, overexposed drops of 'Surph' and 'Ultra Thizz', and the jittery bassline of 'Hover Traps' all soothed me. It was addictive. I was in love.
Without any words, the album spoke to me. It offered a world to escape into – one that was mine. I'd embraced my own musical identity. In frantic searches to see how this stuff was made, I soon found Burial, DJ sprinkles, Octo Octa – music that's taught me about myself. Dance music was escapism, but the lineage of queer, introspective statements within it made it feel personal. I can't listen to 'Glass Swords' without a drop of guilt, but it all melts away when the euphoric builds take hold, and I remember how these endearing tunes shaped me.
Please support Loud And Quiet if you can
If you're a fan of what we do, please consider subscribing to L&Q to help fund our support of new musicians and independent labels
You can make a big difference for a few pounds per month, and in return we'll send you our magazines, exclusive flexi discs, and other subscriber bonus bits and pieces
Try for a month and cancel anytime