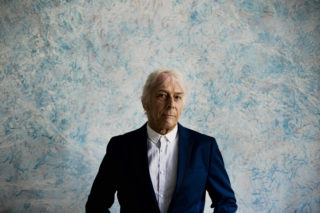 John Cale would save his Velvets viola from a burning building
In January 2016, John Cale releases 'M:Fans', a reimagined version of his 1982 album 'Music For a New Society'. He doesn't discredit his greater known legacy as a founding member of The Velvet Underground, though, as you can see from what he'd rescue from a burning building.
The best piece of advice you've been given 
Stop trying to make a killing and focus on making a living.
Your favourite word 
'Shucklebunny.'
Your pet-hate
The political right wing.

If you could only eat one food forever, it would be… 
Spinach.
The worst job you've had
Working in the mailroom at a bookstore was tedious. There was no imagination needed.

The film you can quote the most of 
Monty Python's Holy Grail.

Your favourite place in the world
Bridgehampton, NY, because it reminds me of Wales.
Your style icon 
Rick Owens.
The one song you wished you'd written 
I guess it should be 'Hallelujah' for obvious reasons.
The thing you'd rescue from a burning building
The viola I played in the Velvet Underground.

The worst date you've been on 
A girl I picked up at Mudd Club – 'nuff said!

Your guilty pleasure 
Tech gadgets.


Your first big extravagance 
When I got an A&R job at Warner Bros Records I bought myself a Cobra – I could barely drive at the time!
The worst present you've received 
A birthday gift that 'got lost' in the mail.
The characteristic you most like about yourself 
My work ethic.
Your hidden talent 
Orchestral conducting.

Your favourite item of clothing 
Lately, it's my Hood By Air dress.

Your biggest disappointment
Time wasted using drugs.
The celebrity that pisses you off the most even though you've never met them 
The term 'celebrity' has been hijacked so the list is too long!

Your biggest fear 
Not being able to make music.
The best book in the world 
I read about 4 or 5 books each week and it's impossible to choose.
People's biggest misconception about yourself 
I don't know. I have enough problems without paying attention to what other's think of me.


Who would play you in a film of your life?
Someone taller, darker and more handsome.
What is success to you?
Being unpredictable, and originality.
What talent do you wish you had?
Acting.
If you could choose how you die, how would you go?
Evaporate.

What is the most overrated thing in the world?
Religion.
What, if anything, would you change about your physical appearance? 
I'd be two inches taller, please.

What's your biggest turn-off?
People who are afraid of themselves.
What would you tell your 15-year-old self? 
Stick to it, it's all downhill from here.
Your best piece of advice for others 
Be careful, you never know who's listening.
Please support Loud And Quiet if you can
If you're a fan of what we do, please consider subscribing to L&Q to help fund our support of new musicians and independent labels
You can make a big difference for a few pounds per month, and in return we'll send you our magazines, exclusive flexi discs, and other subscriber bonus bits and pieces
Try for a month and cancel anytime