King Gizzard & The Lizard Wizard are on the cover of Loud And Quiet 91 – out this weekend
Our Albums of The Year list is in this issue too – can you imagine!?
So that's 2017. In the bin. Good, wasn't it? The year that Gemma Collins fell down a hole.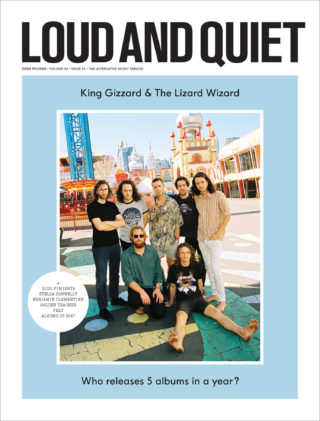 It's not just us who've enjoyed these halcyon days. King Gizzard & The Lizard Wizard promised to release 5 albums from January until December. They're currently one short, but I've never been wrong before and I'm sure they're going to do it.
We certainly liked the sound of this ridiculous plan when the band put it out there at the end of 2016, and probably pencilled in their cover feature (in stores from December 9th) around the time it looked like they were actually serious, when February's 'Microtonal Flying Banana' was followed by their horror rock album 'Murder of The Universe' on June 23rd.
Others who have wowed us include Benjamin Clementine, who features in this issue, where you'll also find the Loud And Quiet Top 40 Albums of the Year (a novel idea we came up with) and a 2017 customer survey answered by Sleaford Mods, Slowdive, Nadine Shah, Wesley Gonzalez, Idles and Self Esteem.
That's all the looking back we do, as L&Q 91 is also your January 2018 edition.
There are new artists Stella Donnelly, Lido Pimienta and Golden Teacher, and a pretty special interview with Felt leader Lawrence.
We went to Reykjavik for Iceland Airwaves – where we shared a chocolate bar for lunch – and Stuart Murdoch is this month's Sweet 16 interview, providing the best photograph for the column yet.
Let's give it up for 2017 – the year that Gemma Collins fell down a hole and absolutely nothing else bad happened.
Support Loud And Quiet from £3 per month and we'll post you our next 9 magazines
As all of us are constantly reminded, it's getting harder for independent publishers to stay in business, which applies to Loud And Quiet more now than ever, 14 years after we first started printing a magazine that we've always given away for free.
Having thought about the best way to support our running costs (the printing and distribution fees, the podcast and production costs etc.) we'd like to ask our readers who really enjoy what we do to subscribe to our next 9 issues over the next 12 months. The cheapest we can afford to do this for works out at £3 per month for UK subscribers, charged yearly.
If that seems like a bit of a punt, you can pay-as-you-go for £4 per month and cancel any time you like. European and world plans are available too, at the lowest rate we can afford.
It's not just a donation – you'll receive a physical copy of our magazine through your door and some extra perks detailed on our subscribe page. Digital subscriptions are available worldwide for £15 per year. We hope you consider this a good deal and the best way to keep Loud And Quiet in your life without its content, independence or existence suffering.