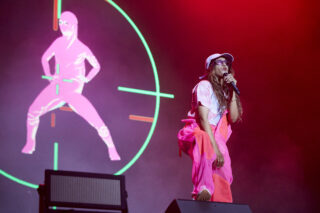 Last night M.I.A. provided a spiritual experience for a delirious Primavera crowd
God chat is kept to a minimum
"Combative", "impassioned", "radical", "a renegade": there have been a lot of descriptors levelled at M.I.A. over the years, but "content"? Not so much. And yet here she is billing forthcoming LP MATA as a "nice, happy record", and detailing a recent religious epiphany that prompted her to become a born-again Christian. 
God chat is kept to a minimum during M.I.A.'s Friday night set at Primavera, but there is absolutely a renewed sense of purpose, as well as a palpable appreciation for fans that perhaps hasn't always been this prominent. And a relaxed, happy M.I.A. equals a generous M.I.A., who tonight treats the assembled throngs to a breathless dash through a back catalogue that arguably sounds more fresh than most music released this year. As she explains mid-way through KALA cut 'Bamboo Banga', "We're going to keep it club, and transcend through partying and dancing and singing and energy: that's how we're going to get to enlightenment."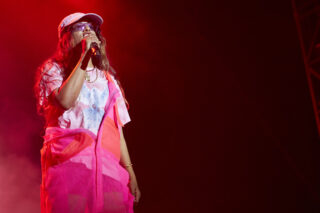 Accentuating the high energy hits are three female dancers, plus two Bez-alikes freestyling in fluorescent yellow bucket hats. There are suitably psychedelic visuals too, interspersing kaleidoscopic graphics and giant neon crosses with real footage, including of protesters clashing with riot police ('Born Free'), refugees behind barbed wire ('Bucky Done Gun') and shoppers at a market in South East Asia ('Pull Up The People'). During 'Paper Planes' she playfully interpolates bursts of both Taylor Swift's 'You Need To Calm Down' and Lorde's 'Royals', while 'Borders' sees her donning a sequin, Hermes-like headdress, and bringing out a 14-piece female choir clad in white.
The set's closing run is infused with an aura of spirituality, featuring stills of peace doves and a new song built around the refrain, "When things are critical we're going to need a miracle." It's a theme that reaches its apex during new single 'The One', which M.I.A. introduces by explaining, "This is when I had to kill my ego and have a conversation with God". She then performs portions of the track facing upstage on her knees, before a giant crucifix. 
If it all sounds a little full-on, it's worth emphasising that it never really feels like M.I.A.'s extolling the virtues of a specific organised religion, but rather preaching a wider message of love and unity, as well as underscoring the importance of music as a medium for healing. Witnessing a field full of deliriously happy music fans make finger guns in unison during 'Paper Planes', you'd have to say she's got a point.
Free Protomartyr flexi disc with this month's magazine
Subscribers to Loud And Quiet now receive a limited edition flexi disc of a rare track with their copy of the magazine
This month's disc is from Detroit punk band Protomartyr