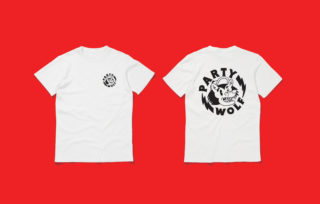 Limited edition Party Wolf T-shirts are here
We're diving into the twisted world of high-end fashion (for the next 3 weeks)
Everyone has a favourite T-shirt. One that they think will never be beaten, until it is, usually 20 days after you decide it's the best T-shirt you've ever bought in your life. Suddenly a new T has taken its place – this one is DEFINITELY THE BEST. And then it's not.
Now it's time for our limited edition Party Wolf T to 100% be the best T-shirt you own.
This is highly limited line, like that time Karl Lagerfeld designed for H&M. Designed by illustrator Kate Prior, who we've been working with since redesigning Loud And Quiet in March 2018, we'll be taking pre-orders for this one-off run of our black Party Wolf logo on a white T until July 20th. No later.
After that date, your shirt will be screen printed especially for you and shipped.
Get ready to own the one T-shirt that you'll love for at least the next 20 days. One that you'll look back on in an old photograph of yourself and think, 'oh, I LOVED that T-shirt. I wonder what happened to it.' The answer is you washed your car with it, and that's ok. For now though, it is king.
Please support Loud And Quiet if you can
If you're a fan of what we do, please consider subscribing to L&Q to help fund our support of new musicians and independent labels
You can make a big difference for a few pounds per month, and in return we'll send you our magazines, exclusive flexi discs, and other subscriber bonus bits and pieces
Try for a month and cancel anytime