Love Yourself: IDLES are on the cover of L&Q 126 – in stores this weekend
Plus Tirzah, audiobooks, Steve Albini, Gabe Guernsey, Ross From Friends, Sparks, Crack Cloud and the L&Q guide to End of The Road
We do try to plan our cover features these days but it never seems to happen. Next month, for example – it's wide open, and that makes me more anxious than it ever used to. We did know that we wanted to do one with IDLES this year, though. We knew we wanted to do it before singer Joe Talbot was one of four musicians who indulged us at a live podcast series we tried out in April based on our Sweet 16 column. We knew it before he played us So Solid Crew. Before hearing IDLES' second album. Before seeing the band at Primavera Sound and watching him scream "I LOVE IMMIGRANTS" from the stage. So here he is, after IDLES gave us a tour of Bristol earlier this month.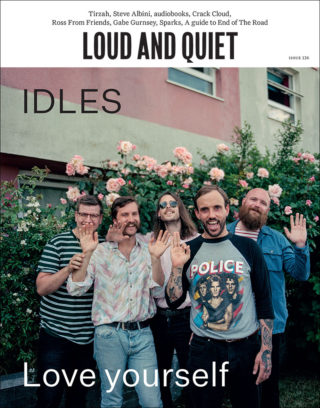 Also in this issue: eyeopening new artist features with synth-pop duo audiobooks, Micachu collaborator Tirzah, Calgary post-punk collective Crack Cloud and electronic musician Ross From Friends, who's enjoying having a bit of fun in clubs where it's not always welcome.
I went night driving with Factory Floor founder Gabe Gurnsey for a look at what Carpool Karaoke would be like if it was full of talk about regional clubbing and VR; Dom Haley met real life Steve Albini at Primavera and found out that he's actually a bloody nice guy; Daniel Dylan-Wray spoke with Sparks about being a band celebrating 50 years of what looks like complete and utter freedom in an industry that historically only rewards the fashionable.
Also in this issue we have a special L&Q Guide to End of The Road – in which we announce all the things we'll be doing at this year's festival – our report from Primavera Sound 2018, Party Wolf nonsense, an article about John Barnes, another about people having sex to Marvin Gaye songs (it's still going on), and a Sweet 16 column in which Roisin Murphy recalls Manchester in the year that ecstasy hit and our notorious review section.
Lovingly put together and in stores this weekend. Order a copy for home delivery here.
Support Loud And Quiet from £3 per month and we'll post you our next 9 magazines
As all of us are constantly reminded, it's getting harder for independent publishers to stay in business, which applies to Loud And Quiet more now than ever, 14 years after we first started printing a magazine that we've always given away for free.
Having thought about the best way to support our running costs (the printing and distribution fees, the podcast and production costs etc.) we'd like to ask our readers who really enjoy what we do to subscribe to our next 9 issues over the next 12 months. The cheapest we can afford to do this for works out at £3 per month for UK subscribers, charged yearly.
If that seems like a bit of a punt, you can pay-as-you-go for £4 per month and cancel any time you like. European and world plans are available too, at the lowest rate we can afford.
It's not just a donation – you'll receive a physical copy of our magazine through your door and some extra perks detailed on our subscribe page. Digital subscriptions are available worldwide for £15 per year. We hope you consider this a good deal and the best way to keep Loud And Quiet in your life without its content, independence or existence suffering.