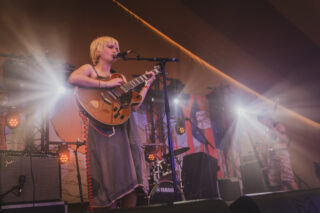 Mary In The Junkyard might be the quintessential End Of The Road band
Like a watching very very good rehearsal
You could feasibly spend End Of The Road's entire three-and-a-half days inside The Folly. One of two tent stages, it's the festival's most consistent soapbox – always greeting you with a comforting barnyard whiff; every act flanked by the same backdrop, a colourful, hand-painted woodland scene; folk-adjacent artists dribbling out lucid confessionals one after another, from Meadow Meadow to Katy Kirby to innovative up-and-comers Mary In The Junkyard, whose timid smiles and homemade outfits wander onstage just after 5pm on Saturday.
It's no secret that we're smitten with the London trio – we did their first-ever photo shoot – and when we spoke to frontwoman Clari Freeman Taylor last month, she explained that she wants her band to have a "bare bones kind of vibe, like paper mache." Naturally, that mission comes across onstage. For one, Taylor adjusts her guitar tuning by ear, without the help of a tuner; it's endearingly amateurish and adds to the idea that they're not hiding anything from us – we get everything. For two, she and bassist/violist Saya Barbaglia change instruments in order to best serve the song. If viola is required, then guitar or bass is out. Anything that gets in the way of these songs is given the boot.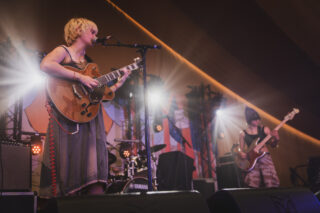 And what beautiful songs they are. Powered by unvarnished emotion and finger-plucked chord inversions (no plectrums either!), Taylor paints lonely visions of depression and intimacy – fingers in hair, hurt under skin – telegraphed in a mesmerising lilt reminiscent but not imitative of Adrianne Lenker. These songs would work well on solo acoustic – à la Marina Allen, who takes the stage not long after – as much as with a full-on rock band, which is what we get tonight, drummer David Addison's syncopated undercurrents ensuring a dynamic performance. 
All three members are locked together by some kind of unbreakable spell. They barely acknowledge us or seem to notice we're here, as though we're watching a rehearsal – a very, very good rehearsal – and after they conclude the show with embarrassed smiles and a group hug, the three friends step off stage without looking back.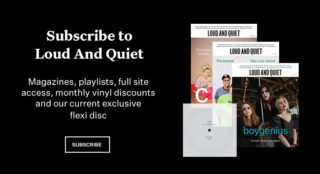 In many ways, Mary In The Junkyard are the quintessential End Of The Road band. They may not have a song called 'The End Of The Road' which MF Tomlinson smiled his way through on The Folly a few hours earlier, but their unfussy, paper mache aesthetic means they're right at home. Indeed, when they're onstage, there's no place like it.
Please support Loud And Quiet if you can
If you're a fan of what we do, please consider subscribing to L&Q to help fund our support of new musicians and independent labels
You can make a big difference for a few pounds per month, and in return we'll send you our magazines, exclusive flexi discs, and other subscriber bonus bits and pieces
Try for a month and cancel anytime