Next time Pusha T plays 'Daytona' live he should just play it twice
The US rapper's set in London is short and brutal – just like his Kanye-produced album
Pusha T has had a big year, coming to renewed prominence in spring when he punctured the aura of cloying admiration around Drake's clean cut persona with 'Story of Adidon' whose raw "You're hiding a child" line had all the succinct devastation of a Raymond Carver story. The same notes of acrimonious middle-aged, suburban lawn party too. The hardcore rap veteran along with producer Kanye West, who's made Pusha his label President and the centrepiece of G.O.O.D. Music's revival, had cannily synchronised this deafening diss track to the release of the most musically interesting mainstream hip hop record of the last couple of years.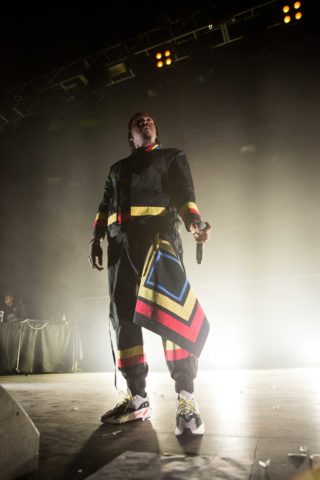 What would the 'Daytona' Tour make of this tidily crafted mini-magnum opus of searing flow and inspired sampling? Like the recent grandiose Kendrick Lamar LPs but for the opposite reasons (he's resolutely unrighteous for one, the lo-fi texture second), it already feels like a classic, standing apart in the strange wilderness of hip hop post-'08 and Internet saturation.
He comes to the mic with the a cappella that begins 'If You Know You Know', and it seems like he's going to play the album in full, with 'The Games We Play' up second, the beat recalling the Geto Boys. Clipse, his early duo, was the darkest horse in the Neptunes' omnipotent early '00s production stables, occupying a minimal, cold region of rap, just next door to the proceeding decade's horrorcore and sharing its on-the-nose depictions and fried cymbal triplets.
The new format cuts against the grain of the genre, marrying hard-edged minimalism to West's penchant for gospel, satisfying a lingering appetite for trap, commercial but artsy, and contending with contemporary issues while maintaining a connection to what's a now gold-tinted era.
As such 'Daytona' cuts across in an unpredictable market, in which heritage acts can look deeply retrograde or utterly capture the moment, and bemused old school fans bypass Instagram-famous children with face tattoos who don't follow the same rules of MC-ing or credibility. Pusha T straddles both worlds and this show, audience skewing to male, lots of white people dropping n-words as you'd expect, attracts a good range of greying Clipse fans and very young people who know every lyric.
Named after his favourite model of Rolex, it's about "having the luxury of time" to create it and, at seven songs no more than three minutes a piece, "respecting your time" and "getting straight to the point", a meta-diss to Drake's bloated Spotify-gaming tracklists. The set tonight is similarly punchy and brief, veering into cut ups of his back catalogue, the new stuff mostly played in full in between. People love it, and only the covers (notably 'I Love Coco' and Future's 'Move That Dope') bang as hard.
He might ultimately only remain part of a bigger story of Kanye's galactic brain expansion to the boundaries of the spectacle, but for now Pusha T seems massive in his own right.
Photos: Mukesh Mistry