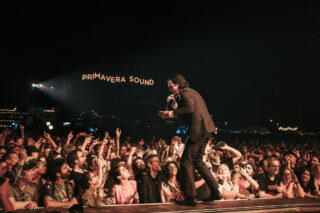 Nick Cave at Primavera: the Pope of Cool comes down to Earth, dedicating songs to his children
Cry, cry, cry!
Under the warm glow of candescent orange light, shining down from rigs like well-afforded solar panels – a suspended diagonal ceiling over a comfortable living room – Nick Cave and the Bad Seeds' set differs wonderfully from his recent trips around Europe with Warren Ellis in support of their debut collaborative record together. Only two songs from Carnage make it here tonight: the record's title track marks halfway, while 'White Elephant' rumbles towards a false peak before Cave returns to the stage alone for the only encore of the weekend. Elsewhere it's a panoramic set that plays unusually to the hits.
His live shows in every guise are known for their sermonic nature. Tonight, he feels less like a priest and more like a person. Ruminations on grief and despair echo and tumble so mantically that the meanest line sounds almost hymnal: Cave the prima cult figure in unbuttoned shirt and three-piece suit, leading his congregation in worship. Truthfully, half the set remains as such, performed deep from within the forests of outstretched arms that feast metres from the front. But it feels like he greets them with a salubrious distance. As he bows above like a boneless alien caught in the wind – swaying like the cover creatures of Spiritualized's Lazer Guided Melodies – a haunting glaze takes the white of his eyes, summoning the arms to catch him with a deep magic; you'd think he could snap them with the right click of his fingers.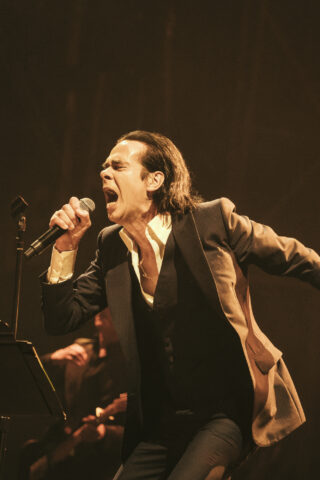 It's hard to talk about the night without focusing on Cave's grief; this is only the second time he's performed since the tragic death of his son Jethro – the second child his family have lost, following the passing of 15-year-old Arthur in 2015, an event which has massively (and understandably) overshadowed most of his output since – and the crowd is duly packed with fans desperately waiting to show him how respectful they'll be. It's a morbid lure that mutates meaning into every abstract found in his music. Subdued, he dedicates 'Jubilee Street' "to the children", punctuates 'Bright Horses' with heavy sighs while Warren Ellis dampers the fanatical helicopter strums subjected to his battered violin for an otherworldly vocal that yearns behind "My baby's coming back now on the next train."
When Nick Cave addresses his loss directly, the beauty of his elegy draws the longest applause of the night. "I want to dedicate this song to my two boys, Luke and Earl, who are here somewhere." He pauses. "And they're probably here somewhere. They're probably over there waiting for Bauhaus to fucking begin." A set that held boundless energy now switches to a series of ballads, as he steadies himself on 'I Need You', repeating "Just breathe" into a veritable eternity. It seems even he's confused by the pin-drop attention being shown. "Why are you all looking at me? Is my hair alright?"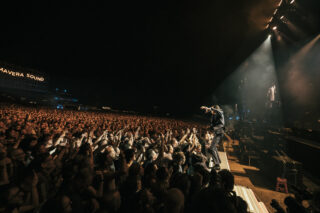 And thus, normal service resumes, running to the front of the stage for 'Tupelo', ushering the reaching hands back to his heart, yelling "Cry cry cry!" like a nervous tic. 'Higgs Boson Blues' is the night's high point, while 'Red Right Hand' swills the verve around the weekend's biggest audience, Ellis dropkicking an imaginary gong as the stage washes in dark blue light. "I've played that song over 300 times," says Cave, "and this is the first time I've done it in tune. I'll tell my grandkids about this night."
Fans shuffling around each other to get the best spot for Gorillaz, up next, stop in their tracks as Nick Cave is forced back on stage to encore 'Into My Arms' on solo piano. He hides a rare smile, for a second forgetting he's the Pope of Cool. "I think my friends have gathered here for me tonight." 
Photography by Sergio Albert
Please support Loud And Quiet if you can
If you're a fan of what we do, please consider subscribing to L&Q to help fund our support of new musicians and independent labels
You can make a big difference for a few pounds per month, and in return we'll send you our magazines, exclusive flexi discs, and other subscriber bonus bits and pieces
Try for a month and cancel anytime