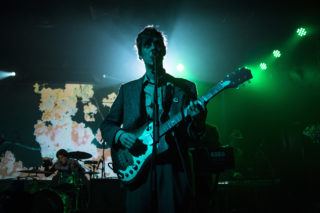 A night with Saul Adamczewski's Insecure Men is as disturbing as it is entrancing
Obviously not for the easily offended
Saul Adamczewski keeps busy. Best known as the wiry guitarist in Fat White Family, he's also currently part of Warmduscher, a Paranoid London side project who sound like a Captain Beefheart LP played at 45RPM. He's also the leader of Insecure Men, an amorphous collective who first introduced themselves (itself?) early in 2017 when Adamczewski put out a demo mixtape of strangely moving covers played on a Casio keyboard titled 'Karaoke For One'. Since these early doodles, however, Insecure Men have blossomed into a wildly different prospect – one with a huge cast.
That means that tonight, at their biggest headline show to date, there's nine of them on stage. Adamczewski plays the guitar, Ben Romans-Hopcraft of Childhood is on bass, and a selection of slender, besuited men distribute themselves between the slide guitar, xylophone, saxophone, two Korgs and a piano. While this substantial ensemble produces a much more luscious, textured sound than anything we've heard from this motley crew before, it ultimately still feels like an Adamczewski solo project. The juxtaposition between the gorgeous Phil Spector-ish pop music the Insecure Men churn out and the genuinely unnerving lyrics of Adamczewski make for an experience that's as dysphoric as it is entrancing.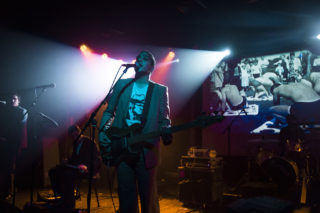 The set opens with 'Cliff Has Left The Building', from their recently released self-titled debut album. Twinkling percussion and sordid sax give it an immersive quality, as Adamczewski rasps "Cliff Richard looks so pretty, runs his fingers through my hair". 'I Don't Want To Dance With My Baby', 'Subaru Nights' and 'Ulster' (where Fat Whites frontman Lias Saoudi joins the group on stage) sound like the mutant product of Go Kart Mozart and Ben Wallers' The Rebel; waltzing songs, far more kitsch than they are threatening despite the sometimes grotesque lyrical content. In this setting the songs come alive, the sheer number of bodies in the band giving each track added depth. The band perform the entirety of this album, the nine-piece ensuring each song sounds much more sonically developed than its album counterpart.
The music's often mesmeric, but it's the moments where Adamczewski's barbed lyrics penetrate through the wilting instrumentals that feel truly magical. Throughout glam-stomper 'Mekong Glitter', images of Gary Glitter cackling are juxtaposed with images of Asian children crying, before the group segue into a much less uncomfortable (but much more hopeless, too) outsider ballad called 'Buried In The Bleak'. Insecure Men are far from Saul Adamczewski's finest project – that's still the slackabilly of Fat Whites – but his ability to serenade and unnerve in equal measures ensures that he remains a  singular, distinctive figure.
Insecure Men @ Scala, London, Thursday 8 March 2018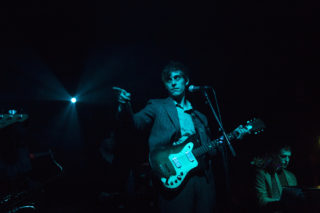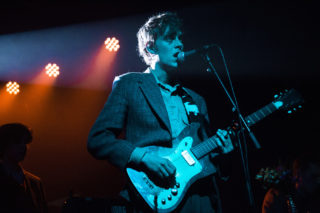 Free Protomartyr flexi disc with this month's magazine
Subscribers to Loud And Quiet now receive a limited edition flexi disc of a rare track with their copy of the magazine
This month's disc is from Detroit punk band Protomartyr