A Primavera Sound 2017 review – from four different perspectives
Once a year we're happy to team up with Primavera Sound for a long weekend of live music on Barcelona's coastline. You probably know the deal by now, even if you've not made it to the festival yet – an ever-growing line-up of superior alt. artists all meet up at Parc del Forum and play into the hot Catalan night, causing spontaneous fits of crying at the beauty of it all, sometimes enhanced by sunstroke and other substances.
Over the years we've noticed how a majority of the artists fit neatly into the following four categories. Four of us took on one each. Like X Factor.
The Groups
No one's quite sure why sloshy Cali band The Growlers have such a high billing on the second day, but on the giant main stage they look too louche – or too stoned – to care. Frontman Brooks Neilsen, who's dressed like Che Guevara and swaggers like Ian Brown, is a star with croaky Julian Casablancas vocals. Some of it sounds like The Blockheads, other bits the Happy Mondays, all of it sublimely ridiculous, just like Mac DeMarco's drummer Joe McMurray who, throughout his band's performance, wears a bucket hat… and nothing else.
The ongoing joke is that during the set the rest of the band try to get him to stand up and uncover his modesty. The typically daft show ends with Mac stripped down to his boxers, smoking a cigarette and rubbing his crotch into his keyboardist's head during 'Together'. A beautiful moment. And yes, McMurray did stand up and we all saw his penis.
That same night, Sleaford Mods suffer from the biggest technical failure of the weekend despite only having a laptop between them. They have to restart opening song 'Army Nights' three times. Jason Williamson gives the sound guy a bollocking – which he later apologies for – but by the end tracks like 'BHS', 'Jolly Fucker' and 'Jobseeker' prove themselves the most unlikely of festival anthems, to the biggest crowd by two angry white men.
Arcade Fire pretty much wrap up things for the groups on the final night. New show, new album, new production, but somehow it gets off to a sluggish start. When it does get going, with 'Reflektor' and then 'Afterlife', it's the Sagrada Familia-sized spectacle everyone's used to seeing from the Canadians. All in all, the groups did some good work this year. Greg Cochrane
The Over 45s
The over 45s category at Primavera is usually well appointed, each year bolstered by a seasoned veteran or two, an exhumed ghost from the past, and Shellac, who, since the demise of ATP, now never actually leave Primavera's little stage by the marina. This year it's no different: Van Morrison (71) and Grace Jones (69) bring the star quality, the Belfast Cowboy obliging his public with a setlist full of hits, and Jones doing likewise with euphorically bombastic disco and heavy dub alongside costume changes and confetti cannons.
The ghosts are here too, both figurative, in the form of the alarmingly translucent Zombies (mid-70s), and literal, thanks to Seu Jorge (47) and his gentle invocations of David Bowie (dead), quietly beautiful on the Ray-Ban stage. And, yes, Shellac (mid-50s) played too.
But the surprise package of the weekend in any category were metal legends Slayer (also mid-50s), who tore the main stage a brand new pentagram-shaped hole with an intimidatingly tight and unapologetically histrionic set full of surprises, individuality and utter musical devotion – characteristics which should've been the preserve of Aphex Twin (45) had he not spent his first half-hour trying to convert 20,000 drunk people to the nuanced joys of musique concrete. When he eventually found his feet, the burbling acid and freaky projections provided a fine spectacle, but at 3am on the opening night of Primavera, the mantra of "fuck art, let's dance" has never felt more appropriate.
Sam Walton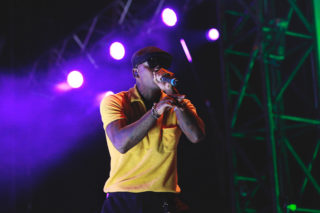 The Rappers
Primavera always has a small but sturdy rap presence, where no two acts are alike. Skepta's on a victory lap. Run The Jewels are the former-underdog champions. But small-stage acts have something to prove.
Chameleon Chicago MC Joey Purp gives us the most traditional, no-frills rap set of the weekend. He flits between breezy, aggressive, personal and universal. Gritty, overblown cuts like 'Photobooth' are smashed next to kooky summer jams like 'Girls @'. He's nimble no matter the mood.
Swet Shop Boys rattle through a collection of menacing cuts. Anger bleeds out of sly punchlines, mostly about being an outsider, even within hip-hop. Both Heems and Riz MC rap about their immigrant identity over Redinho's dextrous production that splices eastern samples with blunt club showmanship. They have a sharp dynamic, balancing different types of rebellion. Heems is more cynical, riding the beat with looseness and charisma; Riz MC brings intensity. "It's important to stay hydrated," he shouts at one point. Even that is barked like he wants to eat your children.
The most vital moment of the rap line-up comes from Kate Tempest. 'Let Them Eat Chaos' gets more poignant with each headline. Her set is a lamentation. Each song aches. She frequently stresses new corners of a song to make you take notice. On 'Tunnel Vision' she twists her verse to start each line with the word 'vote'. Primavera understands the communal spirit that a festival can carry, but Tempest elevates us to family. Stephen Butchard
The solo artists
Primavera has a reputation for treating its players well, and although I imagine it's not a hard sell convincing artists to come and play in the sun and sleep in a 5-star hotel, it says a lot that for all his cancelled shows, Bon Iver kept Primavera on his dwindling tour schedule, playing '22, A Million' in Europe for the first time. He does it in order, and, contorting with every bend of outrageous autotune, his new, contrary songs outshine the likes of 'Perth' and 'Holocene' tacked on the end.
It's emotional stuff, but not as much as Seu Jorge's Life Aquatic tribute to David Bowie. At this vigil, the Brazilian sings in Portuguese with everyone else singing back to him in the English lyrics we all know from osmosis.
Disappointingly, Mitski misfires with a laclustre performance only made more sluggish by weak sound that's clearly pissed her off. Otherwise things had been such a laugh with the solo artists, as Alex Cameron led the inside auditorium (an odd placing) in a merry dance, creating a whack-a-mole situation with security who tried in vain to get people to sit down to this sleazy, funky dude, while Skepta closed out the main stage with an unaffected grime bluster and the most fun. Stuart Stubbs
NEW TO PRIMAVERA: 3 things that were added to this year's expanding festival program
House parties
Primavera is no longer confined to its festival site in the north east of Barcelona, with club shows opening and closing the festival in town each year. Primavera Casa Teva was something new, though, as five acts played in five residential homes around the city, including The Wedding Present, Songhoy Blues and Kelly Lee Owens, who turned a townhouse off Las Ramblas into a techno club at 2 in the afternoon.
Secret shows
Now that there's no Prince, we thought the best secret show we could ever hope for would be Kevin Morby acoustic (still pretty good). Primavera did one a day – Arcade Fire in the carpark, Mogwai previewing a new album in full, and, perhaps most impressive of all, Haim who ended up closing the festival on a small stage, one stadium pop shout out at a time. Turns out it's what all us self-righteous dorks needed.
Dance village
Last year Primavera added a Bowers & Wilkins soundsystem down by the beach. This year it was pushed out further with a corner of the sand in front of it blocked off for festival-goers' use in the day and into the night. It became the place the start your evening each day, with the soundsystem itself being as bigger draw as the lush grass – a festival rarity.
Words by: Stuart Stubbs, Sam Walton, Greg Cochrane, Stephen Butchard
Photos: Festival / Eric Pames
Gift subscriptions are now available
It's been a long time coming, but you can now buy your pal/lover/offended party a subscription to Loud And Quiet, for any occasion or no occasion at all.
Gift them a month or a full year. And get yourself one too.
Whoever it's for, subscriptions allow us to keep producing Loud And Quiet and supporting independent new artists, labels and journalism.