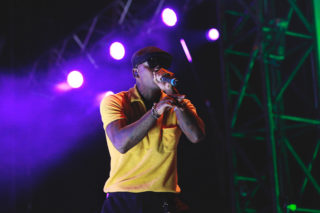 Skepta tackled the big stage at Primavera like it was just another car park
On your toes!
It's practically impossible to remember the whack Skepta of 6 years ago. The major label Skepta. The Skepta who's talent has never been in doubt but who ended the first wave of grime fronting a miming rock band on 'Hold On'.
Evidently, he knew how crap that was, killed his planned fourth album a retraced his steps to where he'd taken a wrong turn that's easily taken whenever the charts co-opt an underground movement. Skepta's impressive second coming, then, is not so much reinvention but reboot – a restore-to-factory-settings, calibrated with plain intent on 'That's Not Me' in 2014, as he denounced his former success and grime's lost way, with old school 8-bit beats and lyrics about binning his Gucci clothes.
Tonight, on Primavera's main stage, directly after a world band as big as Arcade Fire, Skepta chucks out 'That's Not Me' second. In a yellow towelling polo and black flat cap (the kind of uniform that assures his rhymes of "True, I used to look like you / But dressing like a mess? Nah, that's not me") it's just him up there, and DJ Maximum. Unsurprisingly, there's no backdrop or visuals regardless of the vastness of the stage, or the fact that around 10,000 are looking at it. It's just a bigger car park, as far as he's concerned.
It translates well for a space so big, at 2am on a HOT night in Spain. When Skepta shouts "Where's my energy crew" it's clear that they're to his left, down the front. They're on their toes from the beginning, with pockets of front right (the VIP section) making a pretty good go of catching up. The left is a shirtless, steamy pit, though, even before hype man Shorty arrives (the only Boy Better Know guest of the night), and even during 'Numbers' – the softest moment on 'Konnichiwa', care of Pharrell Williams, as it is tonight: a drab bit of RnB funk that threatens to kill the momentum dead.
Things are good before Shorty arrives, and great afterwards. Maximum heralds him with a violent amount of bass that also sticks around to the end. 'No Security' and 'Lyrics' are nuts. The left side gets a circle pit going. Naturally, 'Shut Down' is the show-stopper, almost literally, if Skepta hadn't followed it with a new track called 'Hypocrisy'. "We made this last night, so I don't know how it's going to go," he says. It's a solid tune, with typical wit that make grime so fun and inherently British ('I've got 15 different iPhones but I'm so not phony'). The thing is, Skepta doesn't rap it live. He leaves the stage, in fact, and Maximum plays it out. It takes everyone a while to realise that he's even left, and longer to realise that he's not coming back. It's an odd ending, and kind of brilliant.
Skepta shouts "On your toes" all night. Having attempted his career twice, with infinite more success and acclaim when operating outside of music industry conventions, it's not easy to call his next move. Tonight he got the job done with a single DJ and Shorty for half of his set; next time it might be with JME and everyone for BBK. Or no one at all. Grime will self-destruct once again, but you get the feeling that Skepta won't play a part in it this time.
The Heineken Stage. Primavera Sound, Parc El Forum, Barcelona. 3 June 2017.
Photography by Nuria Rius