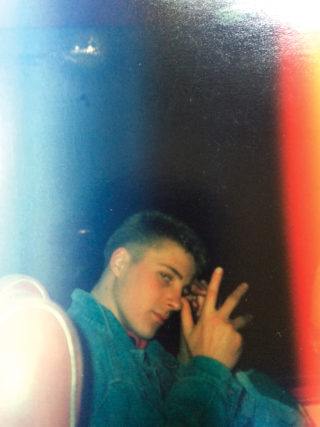 Sleaford Mods' Jason Williamson recalls his time as a 16-year-old
He spent it hanging around Grantham drinking Perrier water
Jason Williamson: I left school when I was kicked out in April 1987, and it was terrible. I started working part time in a supermarket, I signed on for a bit, and I thought about doing a YTS [Youth Training Scheme]. I remember filling out an application for an engineering firm in Grantham and just thinking no, this is not me. I had always been interested in theatre studies so I applied to Grantham College that year, but I'd moved in with my father and it was sort of said that it wasn't really the thing to be doing, so I got a job in a chicken factory, which he was even more pissed off about, so fuck knows how he figured that one out. I did that for 12 months and I don't regret that, because it taught me about factory life. It was good life training – fucking brutal.
So after a year of doing that I decided to pursue that initial idea of an acting course, and I really enjoyed it. I took it up to A-Level and tried to get into a few drama schools around my early twenties, but clubbing and drugs and the usual things took hold and I kind of lost interest. What I discovered to be my real interest was music.
I lived in Grantham until I was 23. As you can imagine, it was very white, kind of right wing – the perfect kind of Brexit town, if you know what I mean. There was a big Asian community, but no Afro-Caribbean community or Jamaican community, or anything like that. I don't think anyone had seen a white European either. It was a pretty closed place, and it still is, where people have the same values that they had when they were 16. Apart from discovering lager and going out with girls, there wasn't much to do when I was that age, but, then again, at 16 you don't really know a lot, so everything is new – earning money is new, working on a shop floor is new, so there was plenty for me to get my teeth into until 17/18, and then it was like, 'fuck this, I need to get out.' I moved to London for a year and a half when I was 23, to try and get bands together. But it was 1994 and people were drowning in Britpop. It was terrible. You had to tow the line and wear a trilby and pretend you were born in the East End. I moved back to Nottingham were it was cheaper to live and formed a kind of Small Faces, RnB band with me playing guitar and singing, but I got bored of that.
I was obsessed with The Jam from 13 onwards. By the time I was 16 I'd gone through The Style Council and Motown, and I was coming through the other side and playing with pop music in the charts like Mel and Kim, Bomb The Bass, the early onset of rave. By the time this photo was taken, when I was on my way to Benidorm on my first summer holiday to Spain 1988, I was fully indoctrinated into Def Jam and Public Enemy and LL Cool J. My friends were into some of the late '80s funk that was really interesting, but I took it further. But I didn't see much of my old school friends – I did a lot of hanging around on my own, or hooking up with new people in Grantham. I wouldn't drink either – I'd drink water for some reason, I don't know why. Perrier water – look at that, like a proper little Tory.
I had this idea that I wanted to be healthy and not just walk around and get boozed up and get tattoos like all my mates did. I wanted to strike away from it. And I don't know if that was some subconscious conservative thing perhaps, but I'd go into WHSmith and look at copies of The Face magazine and wish I was some of these cultured people in it – the kind of daft, wet things that 16-year-old teenagers do. And I didn't smoke weed or anything until I was 21 or 22. I was a little bit suspicious of it all.
It was quite a depressing experience, being that age around that period in 1988. I mean, what do you do? I just wanted to escape the day-to-day, because it was crap. That's why I viewed acting as the easiest exit from the realities of life in a small town, which obviously I was wrong about. But it's good that I didn't discover drugs at that age. I probably wouldn't have gotten out.
I didn't see music as an escape until later. I was in a punk band when I was 14 but that lasted for one rehearsal because the drummer kept laughing at me shouting. That put me off. I didn't do music again until I went to do my GCSEs and I joined an indie band – a Wonderstuff type thing – but I got thrown out because I wouldn't buy a microphone, which really pissed me off, actually.
As told to Stuart Stubbs
Free Protomartyr flexi disc with this month's magazine
Subscribers to Loud And Quiet now receive a limited edition flexi disc of a rare track with their copy of the magazine
This month's disc is from Detroit punk band Protomartyr