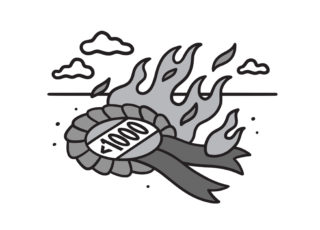 The <1000 Club: The joy of a great support act
Inducting SOFT LAD into our humble hall of fame
In opinion pieces like this, the Spotify algorithm is usually written about in one of two ways. We either characterise it as a devious hidden force that mines our personal data to sell us products, in the same way that internet cookies and your Alexa do. Or, we frame it as The Future Of Tech – brilliant, yes – but also scary! We end by asking if we've gone too far, without saying what that means, like they do in the poorer Black Mirror episodes. 
There are undoubtedly important points within those ideas, but in talking about streaming AI like this, we miss the more obvious point: it's just a bit shit, isn't it? Setting aside the moral, cultural and philosophical issues, at the consumer level, Spotify recommendations just aren't that good. For the Spotify algorithm to feel like a sign of the impending singularity, I at least want it to autoplay me something other than a Hot Chip song it knows I've heard 500 times when I'm in the shower. 
That's not to say that Spotify isn't playing fast and loose with our data, or being generally untrustworthy when it comes to its skewed business model – it almost certainly is. But if Spotify knows so much about our listening habits, why are its recommendations so underwhelming? I'd at least like them to be competently evil, enough to give me solid choices to add to my Halloween party playlist. 'Incapable' by Róisín Murphy is already in there. Why would I need the single edit?  
This is why the company's recently launched 'enhance' feature feels like a waste of money. The idea is that a magic button will instantly flesh out your playlist with similar tracks and new discoveries. The frustration comes when it recommends tracks you've been playing for weeks.
This is all to say that Spotify's AI tools can't currently compete with the skill and joy of human curation – the kind we get from DJs, radio shows, and friend recommendations. While the company does put needed energy into artist curated playlists, those artists aren't getting a fair cut of the royalties to begin with. And from the consumer point of view, it's a waste to have such a focus on AI when true customer convenience comes from being in a safe pair of hands. 
This week, while seeing Self Esteem live, I got to return to a curated music experience I hadn't realised I'd missed so much: the joy of a good support act. Shuffling into the Glasgow venue Audio at the start of her set, it was obvious that the opener SOFT LAD had some fans in the crowd. Specifically, a group of girls in puffer jackets were giving it everything, singing back every word, embracing each other, and generally having a lot of fun. It was clear that they were mates of hers, but I embarrassingly didn't realise it was Self Esteem's band until they disappeared through the back to get ready. Thankfully, without her hypemen, SOFT LAD was just as captivating. 
SOFT LAD is the solo project of Sophie Galpin, a Manchester-based pop musician who's already made a name for herself as a collaborator of SOAK, and touring musician for the likes of Jessie Ware, The Breeders and James Vincent McMorrow. Later on when she plays guitar, keys and drums for Self Esteem, it's partly her contributions that give the set such vibrancy and energy. She naturally moves between roles, no less dedicated or dextrous depending on what's needed of her.
After fourteen years working in the background, she now steps forward as a solo artist, with her debut EP Maximum Feels out in the spring. Today, I'm inducting her first single 'Singapore' into the <1000 Club. It's a slinky and uplifting piece of pop that shares her tourmates' ability to make songs that are instantly familiar but no less impactful. It's a breakup song, but one that centres the role of friends who can pull you out of bad situations without judgement. 
At the time of writing, I've got no way of knowing if 'Singapore' will crack that 1000 plays on release day (which might be cheating a bit), but because my first experience of her music was her support set, I'm already rooting for her. Support sets sometimes get stick for going on too long and giving the millennial geriatrics a bad back, but their curation is an invaluable way for new artists to connect with an audience directly. This is especially true in smaller venues, where new acts and local groups are given a space on the stage. I'm not sure if I'd have such an instant affinity for 'Singapore' without the unique connection that concerts can bring. 
Just as wonderful is what follows, as Self Esteem offers her other support set to drag queen Ash Kenazi. She starts by performing an Aria to her own birthing scene, and ends by lighting sparklers while straddling the bar in wobbly platform heels. At one point, she runs on a treadmill to 'Smalltown Boy' by Bronski Beat (still in those heels), while wearing a T-shirt that reads 'Stop Being Straight' a la Paris Hilton. It's the kind of ballsy and surreal opening that can only exist with exciting support act choices. Long may it continue.  
Please support Loud And Quiet if you can
If you're a fan of what we do, please consider subscribing to L&Q to help fund our support of new musicians and independent labels
You can make a big difference for a few pounds per month, and in return we'll send you our magazines, exclusive flexi discs, and other subscriber bonus bits and pieces
Try for a month and cancel anytime