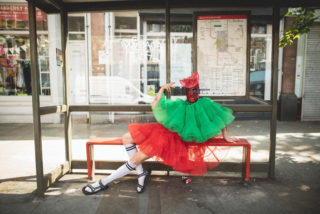 Check out the Loud And Quiet Signup Spectacular happening today
A day of thinking, go on then
In March it was looking like Loud And Quiet probably wouldn't make it to the end of the year – a fate that has befallen so many of our friends and organisations we admire, due to the pandemic.
We all know the story, and we all know that it barrels on as 2020 scrapes to a close: drawing a line under this grotty year doesn't draw a line under so many people's continuing Covid-related problems, of course; financial or otherwise.
At Loud And Quiet, we've been overwhelmed by the support we've received from our readers who answered our SOS flare in April and showed value in what we do by becoming a member of Loud And Quiet. We're still getting signups all the time, as we edge closer to something resembling a sustainable way of working.
My last update on the subject ran in August, and is much more in depth than this one is going to be. In fact, here it is: we're doing well, but we still need more of our readers to become members. That probably sounds as vague as everything else does right now, but it's sort of all we know at the moment, along with these two factors: 1.) the amount of people who signed up to our new model this year was unprecedented for us, and is unlikely to happen again, and 2.) we don't want to be periodically asking our readers to save our skins in a way that was so dramatic as it was earlier this year. What we are going to do though is continue to put out magazines, podcasts and articles for as long as we can, and give music fans as many opportunities to back us as possible. Which is why this Saturday we've put together a modest but fun program of stuff over on our Instagram. Naturally, it's called the Loud And Quiet Signup Spectacular, and it's a few things in one: a chance for us to drone on about becoming a Loud And Quiet member, yes, but also a celebration of us seeing out the year, and a thank you to all of those people who've already supported us.
It really is something you can dip in and out of throughout the day, and includes some live, interactive elements, some specially recorded covers of songs that propelled the early days of Loud And Quiet 15 years ago, and the chance to win a ham.
With special thanks to Katy J Pearson, Lynks, Anna B Savage and Sleaford Mods, here's the closest thing we've got to an L&Q telethon this Saturday…
Loud And Quiet Signup Spectacular
1pm: A sermon from Reverend Stubbs (this is basically me saying hello)
2pm: Katy J Pearson performs a Yeah Yeah Yeahs classic
3pm: Anna B Savage takes on the best song Klaxons ever wrote
4pm: Raffle of the Gods (your chance to win our favourite 5 albums of 2020, a Loud And Quiet membership and, yes, a ham)
5pm: Lynks performs Sugababes… babes
6pm: Sam Walton presents the 15 Years of Loud And Quiet pub quiz via Instagram Live (rest assured, it will NOT be going on for hours on end, but long enough for you to have a laugh and think, y'know what, I like this Sam guy, I should become a member of Loud And Quiet)
7pm: In conversation with Sleaford Mods' Jason Williamson via Instagram Live
Whether this is a roaring success or not, whether you sign up or don't, we hope you tune in between your online Christmas shopping and enjoy what you see. Plus, a ham.
Thank you all, and Merry Christmas.
Stu x
Please support Loud And Quiet if you can
If you're a fan of what we do, please consider subscribing to L&Q to help fund our support of new musicians and independent labels
You can make a big difference for a few pounds per month, and in return we'll send you our magazines, exclusive flexi discs, and other subscriber bonus bits and pieces
Try for a month and cancel anytime