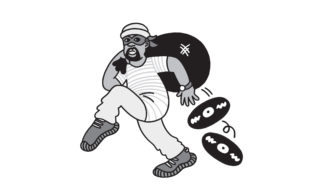 The magic of sampling, from Lionel Ritchie to Kanye West
Taking a moment to celebrate when an artist gets it right
There's an old soul song from nearly forty years ago that's having its cultural moment right now, thanks to some nifty sampling from Kanye West and Nicolas Jaar. Both men have built entire careers from flipping these kinds of vocals. Their skill for crate-digging is one thing, but it's the way they can cast new light on a sample that's earned them their name. Now, with the opening lines of The Delfonics' 'For The Love I Gave to You', they might have refined their craft to its purest form.
Kanye's artful appropriation of soul sampling sits in a magic space between homage and theft. He lets whole choruses speak for themselves, frequently ruffling the feathers of many a listener and label exec. The most egregious example might be 'Father Stretch My Hands Part 2', where he rapped over the entirety of Desiigner's 'Panda' when the track had barely been released. The homage/remix/theft boundary threatens to give way completely there, but here, with 'I Gave to You' it's clear to see the brilliance of his style. A minute and a half into Teyana Taylor's breakthrough album 'K.T.S.E', he cuts off a song mid-thought and lets the opening seconds of 'I Gave to You' play. "Oh you're gonna love me / You're gonna wanna hold me / And squeeze me". It bursts through like light through a cloud, and with little more than some pitch shifting and tempo adjusting to give the lines a giddier feel, he's set the tone for the whole album. Pharrell struggled for years to find Teyana Taylor a sound before releasing her from his label; Kanye managed to do it with one sample.
Nicolas Jaar turns the vocal inside out on his take for the All Against Logic project, backed by sour synths and clattering production. While not as minimal and West's usage, the raw nature of the clip adds a starkness not present elsewhere. And then there's what he does to the lyrics. He retitles the song 'You're Gonna Love Me and Scream', cleverly clipping the vocal on the last word to turn a cosy embrace into an obsessive howl. There's a long lineage of artists finding new meaning in samples, all the way back to The Avalanches with 'Since I left You', where they effectively turned a love song into a breakup song. While West opts to use the meaning of the original as a core to riff off, Jaar shifts it completely. It's rare to get such a great side-by-side comparison of how to reuse an old sample, to give new life to the art that inspired you.
This isn't the only way to twist a sample to your liking, though. Experimental electronic producer IGLOOGHOST contorts samples beyond recognition, piling vocals and effects on top of each other to create a complex web of references. His hyperactive tunes pivot so frequently that it's hard to get a handle on any individual voice he's using, but on the rare chance you do, it's always a goldmine. On 'Black Light Ultra' from his new 'Steel Mogu' EP, he uses the yelped raps from Danny Brown's 'Ain't It Funny' as a percussive flourish, pitched so high the words are barely intelligible. Hunting for samples embedded deep in the music is a treat on its own. Recognising the original source feels like being in on a secret conversation with the producer.
Samples can also find new power when disconnected from their original contexts. Jlin does this wonderfully on the opening track to her new score, 'Autobiography'. She takes the panicked, cracked ramblings from Billie Whitelaw's incredible 1973 performance of Not I by Samuel Beckett, carefully splicing phrases and shouts like a surgeon. Her footwork is so meticulous that these flashes of unkempt passion that flicker through are perhaps more unsettling than in their original form. "Contortions, without which, no speech possible," Whitelaw whispers, her detached voice a vessel for Jlin to tell a new story. There's something both scary and beautiful about Whitelaw's work finding new life after her passing, without her knowledge.
And then there's the pure flex. Though he's moved in to subtler, moodier material over the years, The Field's debut album, 'From Here We Go Sublime', was full of these clever winks. He snuck Kate Bush, Coldplay and Fleetwood Mac into his hypnotic form of techno with a straight face throughout that album. But on 'A Paw Hit My Face', after letting an acoustic guitar phrase cycle on for five minutes while his relentless bass kick does its thing, he stops the breaks and lets the sample play out in full. It's Lionel Ritchie's 'Hello'. You sit wondering how the hell he managed to mine those crisp textures out of such a cheesy ballad, and how the hell you hadn't noticed until now. Out of all the magic tricks you could attempt, the magic of sampling doesn't dull when you're shown how it's pulled off.
Please support Loud And Quiet if you can
If you're a fan of what we do, please consider subscribing to L&Q to help fund our support of new musicians and independent labels
You can make a big difference for a few pounds per month, and in return we'll send you our magazines, exclusive flexi discs, and other subscriber bonus bits and pieces
Try for a month and cancel anytime