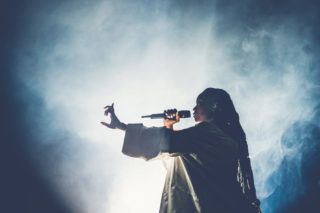 There's a certain edge lacking to Kelela's visually stunning but ultimately quite cold live show
Profound more than fun
Given her past leanings to British native sub-genres such as UK bass and UK garage, a headline show at the Roundhouse has definite significance for Kelela. Even during the set she utters, "I'm so used to being the support act."
Despite this implying a musical homecoming for the American singer, she is almost certainly outdone by her support act, Rina Sawayama, whose performance is littered with sonic odes to '90s and '00s pop music, channelling the production of Britney Spears and N-Sync. Aesthetically it's just as vibrant, as she sports bleached lime green and red hair.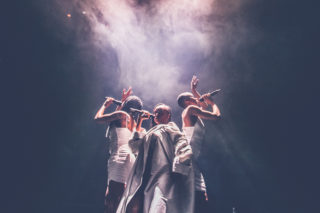 Kelela, on the other hand, guns for something a little more profound than fun. She opens the set on 'LMK', perhaps her closest thing to a pop banger. But the song is stripped of its immediacy; she toys with it and slows it down. Where there was once immediate joy, there is in its place something more reflective. Although it's an interesting rendition it's definitely inferior to the recorded version, leaving her on the back foot from the off.
2017's debut LP 'Take Me Apart' floated on the periphery of the mainstream, granting her much acclaim. This provides the bulk of tonight's material as Kelela glides through tracks like 'Blue Light' and 'Waitin' from with stunning vocals and choreography, but she lacks a certain edge – that extra something she had during the days of her 'Hallucinogen' EP. One of the evening's peaks comes when she performs the Arca-produced 'A Message', a texturally diverse number that, for a second, makes the R&B star make a lot of sense.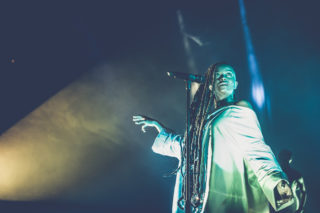 The problem with Kelela's is that she's not quite as odd as an artist like Arca or Klein, but isn't as fun as Rina Sawayama or even someone like Jessy Lanza. Her music fits into a middle ground, an impasse, a void. It makes it all the more frustrating when she closes with 'Rewind', which at long last breathes life into an entire venue that had been static for the majority of the set.
Kelela at @ Roundhouse, London – Thursday 22 February 2018
New monthly memberships available
Here's a new thing: our membership scheme now has a pay-monthly option, plus a load of exciting new digital stuff for people who support what we do. It's actually excellent value, honest, and will help us continue to promote new independent artists and labels.
Sign up and you'll receive our physical magazines delivered to your door, our digital editions, exclusive podcasts and playlists and access to our EXTREMELY glamorous Members Lounge. You'll be the envy of all your friends.