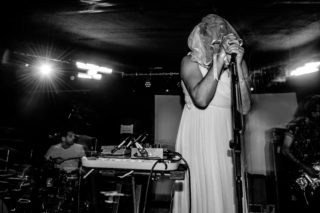 Visions Festival 2017: Punishing noise, experimental thrills and a cute dog show
Plus, Liars' Angus Andrew in a wedding dress
Five years in from its debut, Visions Festival, spread out across five or six venues in Hackney, east London, continues to set the bar in terms of eclecticism of line-up; this is no meat-and-potatoes guitar band tread-through, but an excitingly diverse bunch of acts playing an equally diverse range of spaces.
The 'bigger' acts climb onto the stage at Oval Space, worthy of note for its never less than excellent sound as well as its position next to the canal, overlooking the area's famous, dystopian-looking gas works. At the opposite end of the scale, at the festival's southernmost point there's the classic indie pub vibe of The Sebright Arms. You get the feel that this is the artists' festival – the programme notes on each act are written by another of the acts playing, which is a nice touch.
Early on in the wooden-built Brewhouse, a small room attached to a former brewery with an oddly Scandinavian feel, Croydon rapper Denzel Himself introduces himself with a shield of blistering white noise. Eyes almost permanently closed, he brings a blind energy to his set, like an animated statue. There's an uneasy backdrop to his vocals, often delivered over crunchy guitar noise.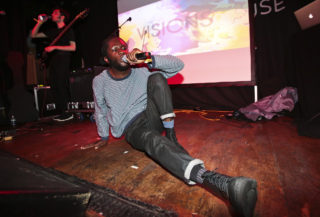 Oval Space before the sun goes down is a beautiful, light place, where the daytime dry ice lends a slightly surreal atmosphere. It's here that Noga Erez serves up her slick leftfield electro-pop, laced with sugary vocals and a vital energy. It's a young, exciting, engaging performance.
The queue for Blanck Mass is prohibitive, but once downstairs at Mangle, the dark walls and enclosed feel of this underground space struggle to contain a viciously exciting maelstrom of noise. It's punishingly loud, black and dark, and this tempest of sound assaults the senses. It's here also that The Men produce a set which could have been lifted from the noisiest sub-punk fleapit of the mid seventies; they're relentlessly ear-splitting and dirtily brilliant. By contrast Frankie Cosmos' indie-pop is a gentle salve to the senses back at the Oval Space.
Liars top out the day, with a 16 song set which often manages to make swathes of filthy noise feel like slices of pop music. Andrew Angus cuts a huge and imposing figure on stage, his rabid energy little diminished from years of doing this.
But it's the stuff happening around the acts though which helps to mark Visions as a little different. Aside from the rooftop bar at Netil House, where punters and artists mingle while gazing out across the capital, there's strange happenings such as an actual dog show at a church, judged by members of Girl Ray, amongst others.  Any multi-venue indoor festival runs the risk of queue panic, so the day does need to be planned out, but where Visions really scores is in its boundary-pushing line up, born of expert curation by promoters who give a damn. A festival of this kind needs three things to be a true success on the day – great acts, of course, but also great venues and great weather. This edition of Visions got the hat trick.
Visions Festival, various venues, London, Saturday 5 August
Photos: Festival / Eleonora Collini / Nick Sayers / Rebecca Hughes
Please support Loud And Quiet if you can
If you're a fan of what we do, please consider subscribing to L&Q to help fund our support of new musicians and independent labels
You can make a big difference for a few pounds per month, and in return we'll send you our magazines, exclusive flexi discs, and other subscriber bonus bits and pieces
Try for a month and cancel anytime