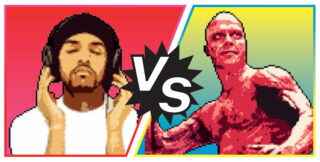 20 years on, was Craig David really robbed at the 2001 Brit Awards?
It's another Cold Take that nobody asked for
Awards season isn't upon us, because nothing is. But it should be. If 2021 was playing by the rules the Grammys would have opened its doors on January 31 as planned and currently be reaching its halfway point, with its 'Best Use of Footwear in an Alternative Rock Song Video with Vocals' category. The Oscar nominations would be full of films too good to have opened in the UK, yet proudly showing in the back of seats on BA flights. The same goes for the Golden Globes, while the BAFTAs would have been and gone, with a Cirque du Soleil opening routine and, actually, some pretty big celebrities thank you very much, Hollywood (Andy Serkis and Olivia Colman). But upsetting us most, of course, would be the Brit Awards. I haven't watched it for years. I did have it on last year, but it was very much on in the background. And the year before that I think there was literally nothing else on. But I don't watch the weekly lead-up shows on ITV2. Hardly ever. 
You'll be able to resume your own questionable relationship with the Brits on May 11, but it's a previous, cruel, sinister Brits that's brought me here. The Brit Awards of exactly 20 years ago. The Brit Awards that inexplicably shut out Craig David. 
Today, you might think of David as a figure of fun, be that due to television show-turned-national-bullying-campaign Bo Selecta (named after one of his songs), his 18-30s pool party DJ sets (as TS5), or the very nature of being someone who was massive once and now isn't. But it's impossible to overstate his success at the turn of the century, commercially and culturally. 
Just as Nirvana didn't necessarily invent grunge, UK garage wasn't all Craig David, but he made sure the whole country heard it. From the release of 'Re-Rewind (The Crowd Say Bo Selecta)' in late 1999 – a track by Artful Dodger featuring David on vocals – UK clubbing changed forever. Black British music soundtracked every night out where shirts and shoes were obligatory; Ben Shermans and Base loafers if you could get them. It sounds kind of horrible, but whether you liked it or not, by summer 2000 the cab to the club, the club itself and the kebab shop afterwards were all endlessly playing Craig David.
When he released his debut album Born to Do It in August, it sold 225,320 copies in its first week, making it the fastest selling debut by a British solo male – a record that stands today. So as the Brits rolled around in January 2001 it came as no surprise that Craig David was the most nominated artist, showing up for all six of the categories he was eligible for. What was a surprise was that he won none of them, and subsequently still remains without a Brit Award. 
The national news became who didn't win a Brit rather than who did, and many howled at the snub. Maybe that was (and is) our cynical, British way, or maybe we were just sick of hearing nothing but Craig David songs. But what were the Brits thinking? There has to be an argument there for flat out racism, and while the awards continues to strive for better representation and equality on that front, a dominant Stormzy has thankfully not suffered a similar fate in recent years. The official line from the Awards at the time was that it had been an "unfortunate coincidence" that David had had such a poor night. At least he knew what he was in for – the results were leaked the weekend before the ceremony at Earls Court, allowing him to change a lyric in his live performance of 'Fill Me In' to: "Six nominations but no Brits this evening". (Oh yeah, the Brits also invited him to sing at his primetime humiliation.)        
Or have I got it wrong? Away from my nostalgia fog of Aftershock and beige trousers, was Craig David fairly beaten six times over? Twenty years on, here's what beat the king of UK garage, and if it was actually a fair cop. 

Best Album: 
Born to Do It
Vs
Parachutes
by Coldplay
This is closer than it looks. First you need to completely forget how Coldplay dressed at the time. Get that image out of your head, and then throw out Craig David's 2001 look too. One act arrived at the Brits styled by the V Festival's £5 stall, the other wore a shark skin trench coat, baby blue beany and overshirt, and ice white jeans. Neither of them should have done either of these things, but the big album prize was all about the full body of MUSIC, not bad fashion choices. Parachutes is better than you think it is. I won't go on about the perfection of 'Yellow' because it'll only push you further away from it. One day it'll be covered on a John Lewis ad and you'll get it, along with the good 60% of the album. Born to Do It is patchy too, although 'Fill Me In', 'Rewind', '7 Days' and 'Time to Party' all count as double. Two decades later it still comes down to whether you want to sleep with the person at your dinner party or not. For that reason, I'll let Parachutes ride and give this one to the Brits, knowing that that's not going to last.     

British Single of the Year: 
'7 Days' Vs 'Rock DJ' by Robbie Williams         
Let it be said that '7 Days' isn't even the best song on Born to Do It, but by virtue of the fact that it isn't 'Rock DJ', Craig David has been robbed here (don't laugh). There's a reason that YouTube's algorithm wants to follow 'Rock DJ' with 'The Bad Touch' by Bloodhound Gang – those horrible disco-in-a-can beats perfectly sync for a mix down the SU as half the rugby team get their bums out. '7 Days' meanwhile became part of the national psyche, defining Craig David the top shagger and spawning a million and one crap punchlines whenever his name is mentioned. It's also superbly put together as David raps his own call-and-response. Robbie raps on 'Rock DJ' too, coughing up the less than seminal likes of, "Wave your hands if you're not with the man / Can I kick it (yes you can)", half of which isn't his. 'Fill Me It' would have buried 'Rock DJ', but '7 Days' should have easily done the job, even if the also nominated 'Groovejet (If This Ain't Love)' by Spiller was the real casualty here. 
British Video of the Year: 
'7 Days' Vs 'Rock DJ'
Now that we can agree that '7 Days' is the far superior song, we can completely forget about the audio in each of their videos. Ask yourself which of these is the most impressive, visually. Is it Craig David talking to his barber? Or is it Robbie Williams popping up at a roller disco full of women, trying to get their attention by dancing, then stripping, then peeling off his own skin, then tearing off his muscles and throwing them at the walls, then dancing as a fucking skeleton? Barbershop or a man ripping himself apart? The video that cost £200 or £200,000? Credit where it's due, Robbie. Even when you factor in '7 Days''s Groundhog Day narrative, where David's exit from purgatory isn't via moral redemption but getting laid by "a beautiful honey with a beautiful body", it's not even close. The guy pulled his skin off! 
British Male Solo Artist: 
Craig David Vs Robbie Williams
Ffs, Robbie. Okay… Well, can we first a take a minute to ask what this category means? It's who's the best British solo male, but if ability in album-making, song-writing and talking to your barber/pulling your skin off have been assessed elsewhere what are we judging here? 'Brand'? Charisma? On the latter, of course Robbie has it, even if his charisma is so charismatic it's called arrogance. That's no disrespect to David, who was still only 19 at the time and, for all his beautiful honeys with beautiful bodies, was, and is, a pretty shy young man. I want to say that Robbie does have a brand, but whatever it is it pales to what Craig David had cultivated. For all intents and purposes, he was UK garage. Where the Brits fucked this one was by plumping for what it knew. Williams was on his third (and worst yet) solo album in 2001; Craig David had become a cultural phenomenon with a fastest selling debut album. If the Brits had had any interest in supporting the new and exciting, this was their chance, and they fucked it. Not as much as the next category though.   

British Breakthrough Act: 
Craig David Vs A1
I imagine Noel Gallagher's following comment at the time was in defence of also-rans Coldplay rather than Craig David, but it very much applies to our guy: "This awards ceremony over the years has been accused of having no sense of humour, but when you see A1 taking an award, you know they're taking the piss."

British Dance Act: 
Craig David Vs Fatboy Slim
You can only judge from what you know, right? Maybe down at The Honey Club in Brighton it was all about 'Weapon of Choice', but round my way the Fatboy Slim boat had sailed with You've Come a Long Way Baby in 1998. 'Dance music' was no longer only a master DJ playing big beat and techno; it was also a sometimes-master DJ playing a 2-step beat for an MC to attack. A lot of it was pretty awful, but it was unavoidably the sound of something new in provincial towns across the country. It's no surprise that Norman Cook won this one – the Brits' Dance category always felt tokenistic in the first place, and, like Robbie, Fatboy Slim was a proven name by 2001. I don't even hate the decision (it's no A1), but for how Craig David transformed Saturday nights out I've got to go with him here. And by that count, I rule that our boy Craig definitely deserved a minimum of two Brits in 2001; four would have been fair; to receive none was, as I thought, well out of order. 
Please support Loud And Quiet if you can
If you're a fan of what we do, please consider subscribing to L&Q to help fund our support of new musicians and independent labels
You can make a big difference for a few pounds per month, and in return we'll send you our magazines, exclusive flexi discs, and other subscriber bonus bits and pieces
Try for a month and cancel anytime