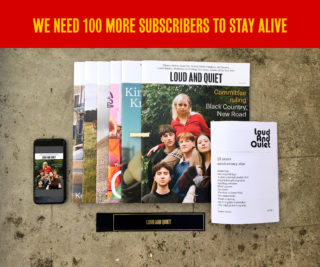 We're only 100 subscribers off of our initial goal to prevent the closure of Loud And Quiet
Subscribe to save L&Q
The support we've received since the start of lockdown when we posted this statement has been incredible and overwhelming. Thank you to everyone who has subscribed to Loud And Quiet so far and shown their support for independent music journalism and the artists we feature. 
We are now just 100 subscribers off of our original goal, in order to get back to work and keep L&Q going. A final bundle over the line. 
As the lockdown eases here in the UK (destroyed by a political aide's contempt for an entire nation), the future feels more uncertain than ever. But with your support we will have an invaluable foundation to begin printing and recording from once again. 
If you are able to support us from 96p per week, please click right here. All the information about what you receive is there, from our next 6 print editions to our homemade lockdown fanzine and more. And please tell a friend who loves independent music and an unfounded admiration for Ian Beale. 
We said before that underground media and culture can survive COVID-19 if enough of us want it to, and it's still true, as many of you have already shown us the value in what we do. So thank you, once again.  
Stu X