Wesley Gonzalez is on the cover of Loud And Quiet 85 – in stores Saturday
Man Vs Indie
From the age of 15, Wesley Gonzalez spent a decade in DIY band Let's Wrestle, releasing three albums and exceeding expectations throughout their turbulent lifetime of in-fighting and… well… out-fighting. Now Wesley is out on his own and riling again the indie world he was a fixture in with a debut solo album called 'Excellent Musician', made without the use of any guitars.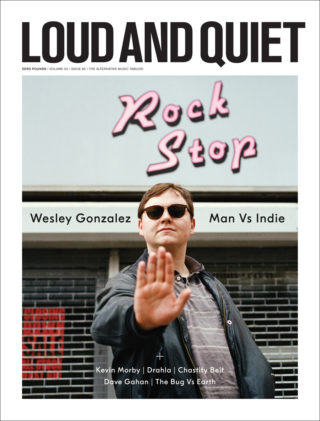 For this month's cover feature, he had an idea – to play 'Excellent Musician' to some excellent musicians in the guitar shops of London's Denmark Street: the guys down there are hard to please, and of course Wesley ultimately wanted them to hate his new direction of song-writing on a Korg synthesiser, and his new love for saxophone. You can see just how well this exercise went in Loud And Quiet 85, in stores Saturday.
Also in this issue: Depeche Mode's Dave Gahan looks back on a life of rock 'n' roll (that sounds like hyperbole but the guy did technically die of a speedball overdose once), The Bug and Earth are in conversation about their collaborative album that centres on the alienation of Los Angeles and Kevin Morby talks about Porto, paintings and how to exit a hotel quickly.
Leeds trio Drahla are our new favourite British band so Dominic Haley took a turn around the Tate Hockney exhibition with them. We've been listening a hell of a lot to the new Chastity Belt album too, so they're in, talking about how they're growing up… but not too much.
For the first time a cartoon (Noodle from The Gorillaz) completes our Getting To Know You questionnaire; Brix Smith Start recalls her difficult times as a 16-year-old; and Party Wolf gives fanfiction another go, penning a groundbreaking piece of writing called 'Can I Stop Being Keith Lemon Now?'.
Support Loud And Quiet from £3 per month and we'll post you our next 9 magazines
As all of us are constantly reminded, it's getting harder for independent publishers to stay in business, which applies to Loud And Quiet more now than ever, 14 years after we first started printing a magazine that we've always given away for free.
Having thought about the best way to support our running costs (the printing and distribution fees, the podcast and production costs etc.) we'd like to ask our readers who really enjoy what we do to subscribe to our next 9 issues over the next 12 months. The cheapest we can afford to do this for works out at £3 per month for UK subscribers, charged yearly.
If that seems like a bit of a punt, you can pay-as-you-go for £4 per month and cancel any time you like. European and world plans are available too, at the lowest rate we can afford.
It's not just a donation – you'll receive a physical copy of our magazine through your door and some extra perks detailed on our subscribe page. Digital subscriptions are available worldwide for £15 per year. We hope you consider this a good deal and the best way to keep Loud And Quiet in your life without its content, independence or existence suffering.