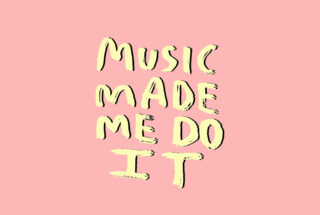 We've made a new podcast about obsession and blind stupidity called Music Made Me Do It
Inspire a generation
We started Loud And Quiet as a home-printed fanzine in 2005. It probably shouldn't have lasted more than a few issues, but next week we'll send our 139th magazine to print.
We're happy to say that the music industry is full of people like us, making it up as they go along – music fans who wanted to be involved in some way.
Music Made Me Do It is a 10-part podcast that we've been making over the last year and a half speaking to people whose DIY projects have blown up, from record label owners releasing Adele to Oscars-winning producers.
Each episode will unpack a different profession within music, as we work out exactly what a music manager/record exec/producer/festival founder/live agent/songwriter/mastering engineer/press officer does, and how you might be able to become one by starting up your own thing.
It launches November 25th.
Subscribe now via your favourite podcast app by searching Music Made Me Do It to get Episode 1.
Here's a short audio intro about the guests we have recorded episodes with.
Free Protomartyr flexi disc with this month's magazine
Subscribers to Loud And Quiet now receive a limited edition flexi disc of a rare track with their copy of the magazine
This month's disc is from Detroit punk band Protomartyr