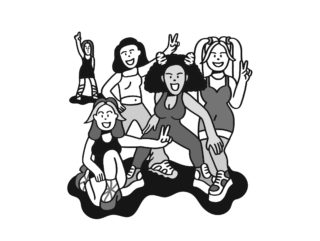 What Posh Spice did (or why Victoria should be your favourite Spice Girl)
Hear me out
Without thinking about it too much, who's you're favourite Spice Girl? Just one of the four; shout out their name now. If this were 1996 and Top of The Pops magazine, your answer would tell you everything you need to know about yourself: You're Geri – a fierce leader who stands up for her friends and is always first on the dance floor; You're Mel B – people know not to mess with you or those close to you; You're Emma – a sweetheart who knows when to fight back; You're Mel C – always on the move, you keep a cool head when others need you. Top of The Pops wouldn't have culled Victoria like I have, but it's 2018 and Victoria was never going to be your answer. I get that, and I'm sure she does too.
Victoria Beckham was the Spice Girls' easy target from the moment she didn't sing a bar in the video for 'Wannabe'. While the others took turns to shout into our faces, Victoria (then Adams) stomped across the back of the frame, out of time in a way that takes more skill than you think without being totally shit-faced. There is a genuinely cool moment where she nonchalantly trashes a table that two cardinals are sat at (no idea), but still it's worth noting that in a video that starts with Emma Bunton stealing a homeless guy's cap and discarding it in front of him, it's Victoria that comes off as a total cow. It's impressive, in a way. 'What exactly is she bringing to this group?' was always the question, 'beyond pointing up to the sky and flicking her wrist forward.'
Since then, on the personality parade of fame, she's not done much to win us over. For a time, people (and sometimes Victoria herself) would insist in interviews and documentaries that "she's actually really funny and doesn't take herself seriously at all," but they've even stopped saying that now. Victoria knows that she's not your favourite Spice Girl, and she's ok with it.
She was the first Spice Girl through the door, though, never to be replaced; not like Suzanne Tinker, Lianne Morgan and Michelle Stephenson. They'd all replied to the same advert in The Stage, placed by Heart Management, who then screwed things up for themselves. 'Touch', as the classic SG lineup we all know and love were called back then, spent a year 'training' for their great chart heist while Heart neglected to see the potential of the group they'd forced together. By the time Geri had rechristened them 'Spice' (still not great) they'd persuaded their managers to put together a showcase for them to invite industry A&Rs and producers to. It went so well that Heart thought they'd better lock Spice (yeah, it's bad) into a binding contract after all. It was Victoria's father who gave the group legal advice against signing the deal, encouraging them to stall and go with Simon Fuller instead – and we all know what that guy's capable of.
If this is the only thing that Victoria Beckham ever did for the Spice Girls, it's big. Let's say Suzanne Tinker stayed and Victoria went – while I like the sound of her very much, the Spice Girls could well have remained 'Touch' forever. So it would have been 'Touch Up Your Life', only it wouldn't have because no one's listening to a band called Touch. 'Scary Touch' actually sounds better than 'Scary Spice'. And 'Posh Touch'. But 'Baby Touch' sounds horrific and 'Ginger Touch' accusatory.
Without the group, Emma Bunton would have been force into resurrecting her burgeoning acting career as 'mugger' from a 1992 episode of EastEnders, and the same goes for Mel B, who'd clogged up Coronation Street as a recurring shelf-stacker in '93. One hundred percent, Geri would have been a holiday rep, and a fucking brilliant one.
The 1997 Brit Awards wouldn't be remembered for Geri's Union Jack dress – 'Everyday Is A Winding Road' would have been the big takeaway live performance; 'Wannabe' wouldn't have won British Single of The Year – it would have been 'Lifted' by Lighthouse Family. And of course Geri (let's face it, it's Geri who we would miss in all of this) wouldn't have been able to bail on the group early to release a debut solo single as impressively one-dimensional as 'Look At Me' – a Poundland Shirley Bassey number in which she lists words she knows that rhyme and gives 'Ginger' a funeral in the video (showbiz grudges were much more on-the-nose in 1999).
And yeah, if we want to get real for a second, while their message of Girl Power was sometimes muddled and not always perfect, the Spice Girls did inspire a generation of young women to be loud and ambitious and unashamed at a time when popular culture had regressed to Oasis shows where crowd and band would chant "get your tits out for the lads" for the big screen.
You're Victoria – you're actually really funny and don't take yourself seriously at all.