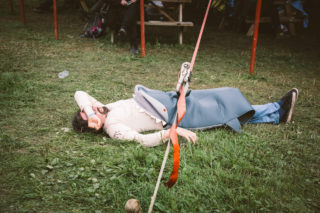 An A-Z Guide To End Of The Road 2016
Despite our best efforts, we've never made it to EOTR festival until this year. Turns out we've been missing out for the last decade
A is for 'Anyone on any pinger?'
When Billy Fuller shouted that at the top of BEAK>'s closing show on Friday two people in the whole of the Big Top cheered their confession. Two! EOTR isn't that kind of festival. Pingers are kept to a minimum, or at least not shouted about. "Umm, you two are gonna get chucked out," said Billy in his West Country accent that is comically innocent and sarcastic. BEAK> then cruised through their loose propulsions with more dry/grumpy wit in between the tracks as Savages danced behind the sound desk.
B is for Bird Shit
End Of The Road's mascot is a peacock due to the fact that these majestic birds roam freely around the site, posturing for photos and cawing in that otherworldly way. Once everyone was over that, a couple of these show offs decided to gain our attention by soring over the Garden Stage crowd watching the soft country folk of Sam Beam and Jesca Hoop. A beautiful sight. Then, in unison, they shat on everyone. They're not small birds, peacocks.
C is for Cat's Eyes' Choir
Cat's Eyes' opening number, 'Chameleon Queen', is a moment of choral beauty thanks to the duo's accompanying choir. It's also live confirmation of soprano Rachel Zeffira's arranging and vocal talents; her impressive range flitting from operatic to bratty Spector girl group from one moment to the next.
D is for Disco Ship
All good festivals have a tucked-away spot for late-night stupidity and dancing to songs that you've known all your life. EOTR's is the Disco Ship, hidden in the woods, where DJs play Talking Heads from a boat on stilts to hundreds of people in need of a break from discussing their favourite Smog record.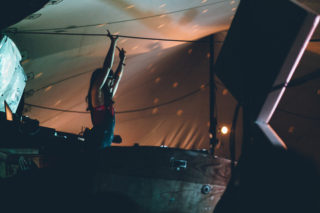 E is for Easy Listening
There are plenty of moments of abrasive action to be had at EOTR (the experimental electronics of Anna Meredith, say, or Savages' gutsy punk), but, by and large, the line-up is made up of folk/country/indie rock bands that excel in melodies and musicianship. It's key to the festival's take-it-easy attitude and the complete absence of agro.
F is for Flamingods
Psych features quite a bit at EOTR also, and while GOAT were even a joyous riot in a damp field in Wiltshire Brixton's Flamingods' out-freaked the Swedish group with A Clockwork Orange visuals, feedback squall and deep African rhythms. Their shambolic days of pots-and-pans drumming whilst sat on the floor of south London pubs – although charming, communal fun – seem far behind them.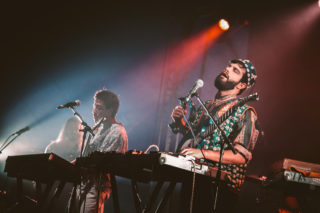 G is for Games
All of the 'extras' at EOTR manage to feel authentic and lovingly conceived where the Pin The Tail On The Honda Civic contest at Wireless somehow feels like a crass marketing tool. You can definitely include the Games area in that, where you can play custom made bowling games, table tennis, and a contraption where you have to hit each other in the face with ping pong balls.
H is for Hangover patrol
Driving around the campsite each morning is a miniature ambulance providing bloody marys to anyone who got a little too carried away at the Disco Ship the night before (on pingers or otherwise). There appears to be no judgment as the two 'nurses' rush to the aid of the inflicted and insist that they don't get up.
I is for Installations
Surrounding EOTR's wooded games area are countless other installations hidden in the trees. The cassette tape recording studio, the Eggsville mini village, endless streams of fairy lights and the information point about bees and beehives – to grumble about how twee and 'nice' this all is (I mean, bees!) is to completely miss the point of EOTR. This kind of thing has been hi-jacked by every festival appearing to be home-made; you get the feeling End Of The Road invented it.
J is for Jehnny Beth
Savages have spent the summer showing up bands on the festival bills they've played. End Of The Road was no different, even before Jehnny Beth walked over the crowd after covering Suicide's 'Dream Baby Dream' in tribute to Alan Vega.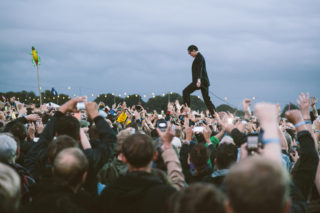 K is for Kids
There are a lot of children at End Of The Road. It's not normally a great idea, is it, but these didn't seem to be normal kids. We saw one tantrum all weekend, on the final day. We all get like that after 3 nights in a field, don't we? And by the sounds of it, Suzie and Johnny were being dicks.
L is for Larmer Tree Gardens
It's hard to imagine that End Of The Road would be just as successful on another plot of land. Larmer Tree opened as pleasure grounds for "public enlightenment and entertainment" in 1880, with putting green lawns where the Garden Stage is still situated, besides a Victorian wooden singing stage (sans graffit'd cock'n'balls) and other cottages and sun houses. It's hardly Reading Festival's carpet of dropped noddles.
M is for Marriage Proposal
It's really difficult to turn down a marriage proposal when you're asked in front of 7,000 people at a festival, although I'm sure that's not why Natasha Khan's friends got engaged halfway through her bride themed set. Just don't mention that Khan's groom-to-be died on his way to the church. You don't think it was those two who were on the pingers do you?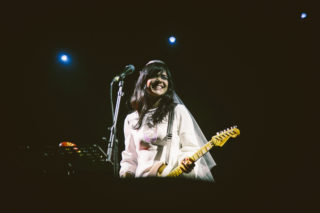 N is for No VIPs
You're all in it together at EOTR. There's no back stage bar or VIP wristbands. Let's face it, they're the quickest way to ruin a good time.
O is for Thee Oh Sees
There's a precision and force to John Dwyer's band that has a similar affect to that of Savages a couple of days earlier. In amongst the predominantly pretty sounding line-up suddenly comes an incredible live rock band. What do you mean we've got to all go and watch Joanna Newsom now?
P is for Postal Service
Bit of a mystery this one, but EOTR operates a postal service, where you can send a letter to anyone else on the site. We never got to the bottom of this, but props to the volunteers running around in hooky Royal Mail garb.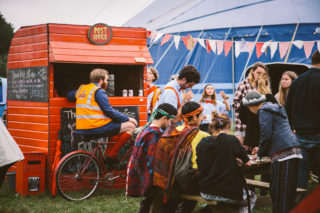 Q is for Q&As
It's nice to take time at a festival to try to learn something, which at EOTR could be done before the bands started at midday by attending one of the literary talks and Q&A sessions. The hour with The Fall's Brix Smith-Start was particularly enlightening.
R is for Rain
God, it came down on Saturday.
S is for Shopping
Shopping have been playing hoppy post-punk disco for 3 years, usually to smaller crowds in London's DIY spaces. To see them play to a full Big Top (sure, the rain probably helped) feels like their just desserts. They refused to shy away from the opportunity, too, with Rachel Aggs posturing on a speaker stack and Andrew Milk slipping in an Oprah reference by shouting "You get a car! You get a car! You get a car!" to a bemused audience.
T is for Tributes
Cover versions can be a neat idea at a music festival. Bat For Lashes' take on Fleetwood Mac's 'Gypsy' has her imitating Stevie Nicks' voice tremble, Cat Power's Nico cover is nice enough, Cat's Eyes' unconventional Beatles number, 'Because', is a beauty with added hand bells, and Savages' 'Dream Baby Dream' is kind of dirgey but passable. The Big Moon's 'Beautiful Stranger' is sadly still in their set, though – a song that was the worst thing about Austin Powers 2.
U is for Unannounced Guests
EOTR loves a surprise performance, which can sometimes mean a bonus show from somebody already on the bill, but can also mean Big Top sets from Wild Beasts and Jon Hopkins.
V is for Vegetarians
Vegetarians rejoice! The food at EOTR is, by and large, excellent, with a majority of it fully meat-free. Finding a real-life sausage sandwich in fact turns into a bit of an ordeal on the Friday morning.
W is for Workshops
I know we're all having a lovely, civilised time, but you don't want to take part in a two-hour spoon carving class, do you? Oh, you do? Well, it starts in five minutes. Run.
X is for x2 drummers
It seems to be quite the thing, performing with two drummers. Three of the tightest jam bands of the weekend do so, Flamingods and Thee Oh Sees joined by King Gizzard and The Lizard Wizard who play their cyclical freak rock continuously for an hour. It's the only time it's one in/one out at the Big Top.
Y is for Yoga
Of course there are group yoga classes every morning at EOTR. We're not down with this in gyms across London, let alone here.
Z is for Zen
Turn off, tune out and generally realign the fuck out of your chakras with a dance massage from Jags in the healing field. You've earned it. Maybe warn him about the peacock shit.
Loud And Quiet needs your help
The COVID-19 crisis has cut off our advertising revenue stream, which is how we've always funded how we promoted new independent artists.
Now we must ask for your help.
If you enjoy our articles, photography and podcasts, please consider becoming a subscribing member. It works out to just £1 per week, to receive our next 6 issues, our 15-year anniversary zine, access to our digital editions, the L&Q brass pin, exclusive playlists, the L&Q bookmark and loads of other extras.