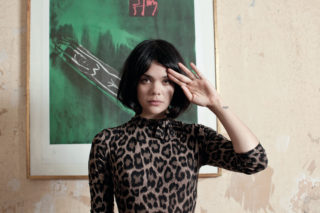 Bat For Lashes returns, minus the dress-up to deliver her most direct and honest album yet
A Different Kind of Magic
By the business end of 2009, Natasha Khan had become a two-time Mercury Prize nominee and pop music's most magical siren. In October, much to her relief, she had turned 30, while second album 'Two Suns' had managed to sustain the unsustainable – the Narnia-like wonderment laid down by debut album 'Fur And Gold'. 'Daniel', 'Two Sun''s hairbrush microphone moment, picked up an Ivor Novello Award in May, and the girl they call Bat For Lashes silenced a nagging Coldplay by agreeing to tour South America with them in the New Year. And yet, without fishing, Khan asked me then if I thought her record label would allow her to make another album. "I hope they do," she said.
Following those Coldplay shows, Natasha didn't so much go to ground as collapse for six months. In the interim between then and now, she sneak-released two limited edition singles for Record Store Day and covered Depeche Mode's 'Strange Love' for a Gucci campaign, but largely she "became a normal person for a bit". For Natasha, what that meant was enrolling in Life Drawing classes and a course in Children's Illustration, buying a kitten, a bit of pottery, having a relationship, not having a relationship, returning to her university for a secret residency, and a spot of gardening at Virginia Woolf's sister's house in the Sussex countryside. "If I relax I feel lonely and get paranoid," she says now. "I like being on my own reading and researching, but my brain always needs to be doing something. And I like being fit as well," she laughs. "If I haven't been for a run or done some press ups I feel stressed out."
The Life Drawing course, she jokes, was "ten weeks of looking at naked bodies, which was nice", and in a north London café by her home of a year, Natasha is more than willing to share her new wares. Reaching into a patterned cloth bag that looks like it's cut from the same cotton as the dress she's wearing, she pulls out a big black note pad. "I've got hundreds of these," she says, "but there's always one for each album." Inside it's full of sketches of the human form, some forming landscapes, and scrawled thoughts, lyrics and lists, one titled 'Bands I need to listen to'. There are diagrams, too, that further point to Natasha's compulsion to create and her fear of fully relaxing. One depicts an art exhibition idea she'd like to pursue, involving twin projectors; another points to her other drawing course, in children's illustration.
"This is my idea for a children's book," she explains. "It's about a boy who thinks there's more than one moon – like, his grandma has her own moon that she sees – but as you read the book you pull the moon along and by the end he realises it's the same moon all along.
"And then I got really interested in ancestry and religion," she continues, moving along to some later pages, "which is where I got some ideas for the new record."
Yes, the new record. Needless to say, Bat For Lashes has been allowed to make a third record, and 'The Haunted Man' isn't a product made in the face of these rather idyllic past times, but rather one made because of them.
"I knew that I wanted to have some life experience in this one," she explains, "because the last one came really quickly after the first, and I think it was rich enough, but I was worried that if I did the same with this one it wouldn't be very rich. So that's what I was doing, gaining some life experience for this record."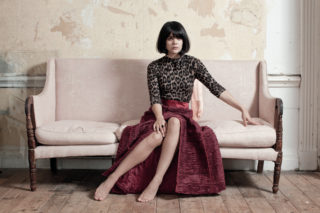 Where 'Fur And Gold' had been playful and impish, even when it was breaking hearts, and where 'Two Suns' had kept the fantasy going with cosmic metaphors, 'The Haunted Man' is Bat For Lashes at her most unseasoned, raw and unapologetic. Last time around Natasha had Pearl for company – a superficial, wanton alter ego to do her sinful bidding – and before that 'Fur And Gold' seemed to be set in a parallel universe, sadly far more enchanted and mythical than our real world. 'The Haunted Man' is pointedly more real, less concerned with escapism and without the feathers and glitter we've come to associate Bat For Lashes with. "I think I'm trying to be more real in my life in general," she says, "because, thinking about relationships and intimacy, I think you can only really be in an intimate relationship with someone if you show your real side."
She likens her new record – which is hardly made up of bangers but is noticeably more beat-driven, electronic and "without so many of those sad songs" – to the woman to 'Fur And Gold''s little girl. It makes 'Two Suns' her teenager by fitting default – Natasha's dramatic, courageous time, lived out in Brookyln, New York, and realised in the Californian desert.
'The Haunted Man' was largely created in – and is a hymn to – England, with Natasha periodically taking trips abroad to save her sanity. Having recovered from what became 'Two Sun''s never-ending promo campaign, she found herself alone in her flat realising just how much of a solo artist she is. Friend, confidant and producer to PJ Harvey Rob Ellis told her to "stop rattling around your flat on your own, you mentalist!" so together they headed for Northern Itlay.
"I think I work quite differently because being a solo artist I don't have a band to go and jam with," she notes. "I think bands would take a couple of months off and start having fun playing together again, but my equivalent of that was just sitting in my recording room at home.
"I went to work with Beck," she continues, "and he got all his LA hip cats to come and play weird '80s guitars and synths with me. Just the outfits they wore were so funny – all of them are such weird characters. That was such a lovely experience.
"He lives on a cliff in Malibu, with his wife and two kids, and he's got a studio in the house, and it's big and white and airy. He's got the most incredible array of instruments. I think he's got, like, three warehouses of weird instruments – he's like the Willy Wonka of music.
"We had drum machine jams, like dancing and playing," she says, miming furiously poking a tabletop set of pads. "I got really fond of his little kids too. It's my idea of perfection – being a mum and having some little kids who are really fun and cute. His son was miming to Nirvana and head banging. It was really brilliant. He's only, like, five."
Beck performs on 'Marilyn', a track that features a glitchy breakdown, goblin vocals and swathes of digital effects beside Natasha's known, lush orchestrations and choral voice. But three weeks in Malibu here, a work holiday in Italy there, and essentially two and half years making one album had Natasha's record label (Parlophone/EMI) not too pleased. She maintains that they didn't rush her, at least to being with, but "they just don't understand my creative process, and they really fought with me over it," she says.
"My process is, I develop things in the studio environment – I need to be in a studio to resolve all the tiny problems as they come along. It's like painting – I can't just imagine a painting and then do it fully; you need to build up the colours. I tried to explain that to them and I ended up spending a lot of my own money on studio time because they wouldn't pay for it.
"It really knocked my confidence but in a way I understand why they were doing that, because they wanted me to push the song writing. But I think that's why it's taken so long, because I didn't feel trusted."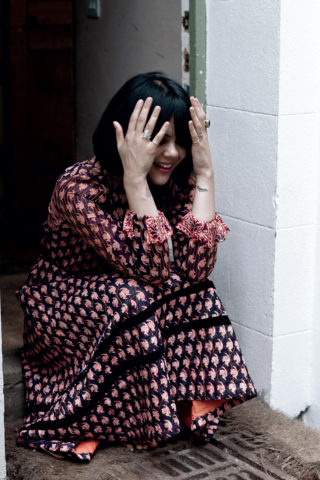 EMI even packed Natasha off to the States for her first ever collaboration session, with Justin Parker, the man responsible for Lana Del Rey's 'Video Games'. She returned home with 'Laura', 'The Haunted Mans''s (and indeed Bat For Lashes's) only co-written song. You can hear Lana Del Rey in it, which is no bad thing, and plenty of classic Bat For Lashes – a swoony piano ballad, stark and ready to make you cry. It even continues the BFL theme of writing songs about – and naming them after – complex female characters.
"I wouldn't have done it before," Natasha admits, "but that was like a workshop in songwriting where I did actually learn a lot. It was the label's idea – they felt I needed more 'hits'. That's what I thought was so ironic – it's always going to sound like me, and in terms of the singles (like, 'All Your Gold', 'A Wall' and 'Rest Your Head' – they're the ones that they think are singles), they're all the ones I wrote, and I'm like, 'excuse me, they sounded like that when I started, so what's the problem?'."
She hastens to add that the problems always come from high up, and that her direct team at Parlophone are "really supportive and are all helping me realise my vision."
"They always seem really surprised when people are interested in me," she laughs. "They're like, 'ooh, everyone's really excited?', and I'm like, 'oh thanks!'. Maybe they're like that with everyone… unless you're Tinie Tempah."
Bat For Lashes' return was announced with the publishing of 'The Haunted Man''s album artwork. Websites, blogs and even some print press tend to make "new sleeve art" into an unjustified headline, but Natasha Khan's new cover served as a brazen sign of things to come. The music that makes up 'The Haunted Man' is bold, personal and unabashed; the photograph that accompanies it is a visual representation of Natasha's new, real way of being.
Shot by art photographer Ryan McGinley (famed for his images of animals, nudes and all things natural), the black and white cover features a naked Natasha carrying an equally naked man across her shoulders. 'Two Suns', not unlike 'Fur And Gold', had come in fantastic and cosmic wrapping paper – an ornate and highly photoshopped door into a charmed land. This new album cover couldn't be more different. When I ask Natasha if it was born from her life drawing classes, she's momentarily taken by surprise.
"Oh. I don't know. Maybe," she says. "I think it mainly came from me being attracted to the idea of the body and our perception of the body in mainstream, commercial music.
"I was thinking about the mediocre representation of magical-ness," she continues. "Y'know, how everyone leaps on an idea and suddenly people in Tesco are wearing gold head bands. I think 'disenchanted' is the wrong word, but I think I got a bit bored with the adornment of glitter and that faux, mystical thing that people were pretending to have. It's just become a bit mainstream to be like that, and yeah, I'm sort of over it. I really wanted to strip it right back, but also as a woman I didn't have any makeup on, there was no photoshopping, I wasn't retouched, and I'm not doing a sexy pose – I didn't choose the one that made my body look the sexiest, I chose the one that looked the most arresting. In tribute to women like Patti Smith and PJ Harvey and women that I grew up looking at and loving – they were so raw – women don't get represented in such a strong way now. That was important, but the whole point of the picture for me was the man on my shoulders and what that means, and the dynamic. It's about carrying your ancestry and carrying the burden of what's gone before, and needing to hold up men. For me, it's the concept of it more than the fact that it's two naked people."
I note the obvious – that it's a pretty brave way to go.
"Well I absolutely shit myself the night before they put it out. I was like, 'Oh my god, what have I done? You can seem my pubes!'." She leans back in girlish laughter. "I was thinking, is this disgusting? I'm a human being like anyone else, so the art part of me was really like, 'Yeah! Let's get it out there!', and then when it came down to it, the human being Natasha was a bit shy and like, 'oh no, what have I done?'. It didn't last very long, though. I think it's quite an iconic image, and I think it's quite hard to do that now, because it's all been done before."
She reasons that the music is more direct and therefore so is its visual compliment. And she admits that anything so barefaced was beyond her until now.
"I think it came out of me turning 30," she ponders. "That was such a relief, but it's quite a pivotal time in anyone's life, and you sort of let go of caring.
"The confidence to deal with that could only have come then. I wasn't ready before and had been hiding a bit behind all these things. What I felt was, deep down I know that I'm a spiritual person and I think about these magical, beautiful things, but if I don't present it on the outside will people still believe it? But you don't have to walk around with a bloody unicorn horn on your head to prove anything, and now I feel so comfortable with who I am. I mean, I really enjoyed the dressing up, and it was a creative expression, but I've done that now and I don't need to keep doing it for someone else's sake."
I ask if 'The Haunted Man' is a little less magical, though. Within its presentation it certainly is, but what about musically and lyrically? Natasha's vocals are still bewitching and crystalline, and tracks like 'The Haunted Man', 'Winter Fields' and the opening 'Lilies' are full of crescendos and epic passages of orchestration more suited to film.
"Now, I have a little bit of a pang there," she admits, "because the first two were really magical to me. A lot of the concepts to me were about escapism – I was talking a lot in metaphors and entering dream worlds and narratives – and this time, it's like a test of will I be as into it if it's just about me? Am I magical enough? There's part of me that doubts that, and I hope the fans still find it beautiful and magical and not too boring. There's that worry that you might be boring if you don't dress it up. But songs like 'Marylin' and 'Lilies' and 'Winter Fields', I think they're really magical, in a different way. I think perhaps my voice has replaced some of the magical instrumentation, and maybe that delivers a different type of magic. It's hard to know too soon after it's been finished."
As Bat For Lashes, Natasha wails siren-like, sensual and sexual, a hopeless romantic. Face-to-face she is an endearing mix of quiet confidence, understated pragmatism and something close to shyness. Her speaking voice is made for reading children stories, which is precisely what she used to do as a nursery school teacher. It's something that she admits to missing, as well as the sea air of her hometown, Brighton. "But I'm going to study after this album," she says. "I'd love to do a PHD."
She says that she may return to nursery school teaching when she's older, but notes that if she were to have children of her own it would scratch that itch, as well as being her greatest success.
"On a personal level success has changed," she says. "Before, I thought my success as a human being depended on the external rewards – your career, what you do, your reputation. On a certain level I think that's still important, but I do think that success, for me, if I could learn to love people and be an amazing loving partner to someone, and a mother, to me that would be success."
As in conversation, Natasha has never shied away from her feelings on record, even when she's veiled them in planetary simile. Her last album talked of the cosmos, but it didn't take a genius to realise that this was a young woman on a deeply personal and emotional quest for love. Whether the character of Pearl helped or hindered this quest, she remains within 'Two Sun''s alternate universe. The Haunted Man is now Natasha's muse, and one so important he's the name of the album.
"The Haunted Man is definitely a character," she nods. "He kind of represents my old ideas about relationships and men in my life. I think that certain ideas we have are passed down to us. Like, I was raised by my mother, so that has an effect on how I feel about the men in my life. It's about releasing these haunted, dysfunctional relationship ideas. 'The Haunted Man' is the thing I want to release the most. Each album is a very cathartic experience and I feel like now that I can let The Haunted Man go, that was the thing that was getting me down.
"On this album there's a huge amount of healing going on," she adds, "and letting things go, and maybe on the next one I'll be the one being carried… by some massive hunk!" she laughs.
Perhaps the two go hand in hand, but with the record's recurring theme of healing comes too a definite message of pro life. "A record's first song is your manifesto," says Natasha, "people see the rest of the album through that filter." 'Lilies' features a heavy bass drop that welcomes Bat For Lashes' new embracing of electronics, but it's the song's jubilant cry of "Thank God I'm alive" that's most arresting. Similarly, 'Horses of The Sun' celebrates being "saved" and repeats a refrain of "And I am alive!". "And 'Deep Sea Diver' is about I can hear you when you shout," says Natasha. "It's about letting all the shit go, like, I don't want to carry this anymore. I think I was going through a lot of liberation while making it, and I was also thinking about having children, and before you can do that you've got to let go of the old. It's all quite sexual and sensual, and it celebrates life."
And yet 'The Haunted Man' is unquestionably a Bat For Lashes record, to the point that some are bound to miss the nuances of change. On the whole, it's something that Natasha is fine with.
"The longer you go on the harder it becomes to approach things originally. And it's hard to not approach things originally just for the sake of not doing what you did before. A lot of people lose their way because they're rebelling against what they did before, and they lose the essence of what they were. You've got to keep yourself interested but don't sabotage the work you've done before," she warns. "You have to trust that you'll always sound like yourself. I panicked about that. I didn't want to repeat myself, and I didn't want to sound like other people, but I wasn't going to ignore that I make a certain type of music."
It's a harsh critic who's down on someone for sounding like themself, but Natasha has also had to deal with being forever likened to Kate Bush. It doesn't look like that's about to change just yet either, with 'Winter Fields' being her most billowy of songs yet. But it's really Natasha's approach to music that's most like Bush's, rather than the end product itself. You can imagine that Bush's take on 'life experience' is pottery and gardening and arts and crafts, too. And like Bush, Natasha "can't be arsed with being a celebrity". "I tried a little bit when the last record came out," she says, "but I found it all really boring. I've got too much on, like writing treatments for music videos, to be having my photograph taken as I leave clubs."
She has made exceptions for The Mercury Prize, though, being twice nominated for her previous two albums, and so dragged into a world of booky odds and tabloid paps. I suggest that it might be a relief to stop making the short list.
"It would save me from aging about 25 years," she laughs, "because every time I do that fucking show it's scared the life out of me. Doing live telly like that terrified me. I hated it!
"If I get nominated again and I don't win I'll be really annoyed," she says. "The thing is, sometimes you get nominated and they have some random choice that wins and you feel a bit used. You go through all that and then it doesn't make any sense. I'd have rather Amy Winehouse won. You feel a bit confused by it. Obviously a Mercury nomination is great, because people buy your record, and as an artist that's what you want, but it's not easy.
"I love doing music and I'm not sure how much longer I'll be doing the whole pop music thing, but I'll always being doing some sort of music," she says. "I do feel like the longer I go on the less I need it."
But this won't be the last album, though, I ask? Bat For Lashes raises her eyebrows and pulls a face that says it might just be. If it is, 'The Haunted Man' is a fine swan song that's put to rest more of Natasha Khan's demons than ever. It will be the final chapter in a magical, fantastic story that never dragged or felt tired.
Free Protomartyr flexi disc with this month's magazine
Subscribers to Loud And Quiet now receive a limited edition flexi disc of a rare track with their copy of the magazine
This month's disc is from Detroit punk band Protomartyr