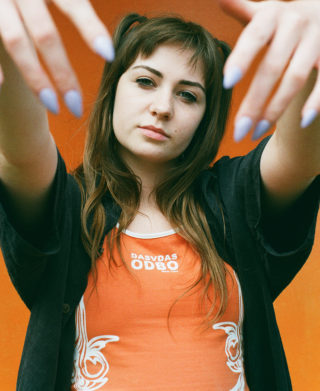 Behind Biig Piig's minimal songwriting is an ex-poker dealer embracing her own messy world
"Everything, my whole life, has been a big scramble"
When Jess Smyth was working as a poker dealer she met a lot of different people. She'd do five nights straight, clocking on at 10pm, clocking off at 7am. "Apocalypse hours," she says, "you wouldn't see anyone." At one point, at the Leicester Square casino, she was spending intense 90-minute spells officiating tables, dealing cards and keeping order. While she maintained a professional appearance, internally it was often an emotional ride. There would be the drunk guys from Chelsea flashing their cash at the end of their night, career gamblers checking into games like it was a factory job, and chancers. Men – it's always men, she says – who would turn up with their modest savings in the hope of leaving with a bulging wallet. Those were the tough ones. The people truly taking a gamble. "It was definitely the most emotional job I've had in my entire life. I must have cried so many times," she recalls. "You'd get guys coming up to you saying, 'you've just lost my month's wages – thank you very much.' Other guys would be like, 'I can now take my child to Disneyland!' It was a big ball of emotion. You have to be like the mum of the table – take everything on, take everyone else's problems on and hold it together."
Even though the hours were unsociable, the clientele sometimes challenging and the constant exercising of her brain with the maths exhausting, the money was "grand". She started playing poker for a short while, but stopped when she got cocky, lost £500 and decided she'd like to see some daylight.
That nocturnal commute from Hammersmith to The Hippodrome was the 19-year-old's favourite job to date. And even though she's still young, she's had a few. The first was probably waiting tables in her family's restaurant in the old town square in Marbella, Spain. Much later on, once she turned 16, she took a job at Hollister at Westfield shopping centre, Shepherd's Bush. She reckons she "stuck out like a sore thumb" and quit retail after a couple of months. In between that and the casino she's worked as a fundraiser for British Red Cross (daytime) and a tequila bar waitress (night time). She also went to Beer School, worked in a draft house and, at one point, was employed as a babysitter for a family in Switzerland for two months.
"I feel like with every job it's important to learn something new," she reasons, thinking about her packed C.V. "If you're not learning something new you're never going to feel happy about what you're doing." Right now, her LinkedIn profile would read: bar worker (helping in her parents' pub) and musician.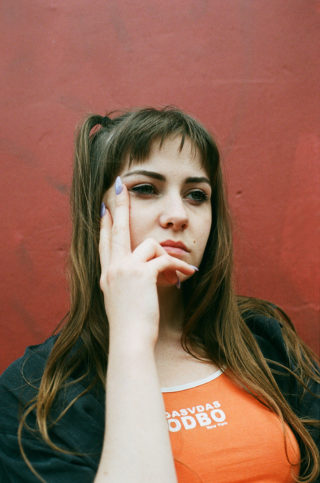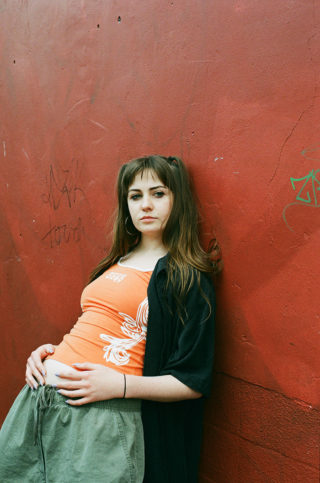 Jess Smyth was born in Cork, Ireland in 1998. The eldest of four siblings, she has two younger brothers and a sister. When she was four the family moved to the Costa del Sol. As an infant her brother was struggling with asthma, and the GP recommended relocation to a warmer climate would help ease his symptoms. Her first memories were formed there in Spain, like on her first day at school, aged nine, when she turned up not knowing any Spanish, puzzled at a textbook and listened to the kids around her "speaking gibberish". She learned the language quickly, and grew to appreciate the country, people and culture, until one day, around the age of 12, a change in local governmental property law meant that her family lost their house (years on, her father is still battling the case). It forced a move back to Ireland, to a cramped, shared family space in a village in county Waterford. Following that, there was a short stint in Kerry before the family bought a pub and resettled in west London. They all live above it, and Jess still sometimes helps behind the bar.
None of this movement Smyth minded. Sure, it meant there was disruption – she's been up and down school years like a ladder – and there have been tough, isolating, lonely periods, but it has, she reflects, made her "adaptable".
"It makes you more outgoing; more of a chameleon," she says in a soft Irish accent. "But also brave because you know that no matter how much you move there's always going to be people who don't like you and people who do like you. It doesn't matter. It's just about knowing who you are and enjoying that."
All of this has led to the creation of Biig Piig. Today, drinking water at a table in Bill's restaurant in Shepherd's Bush Westfield shopping centre, wearing a pale orange zip-up with her hair split into bunches, Smyth is a long way from where she first discovered, and then started making, music. On the family's return to Ireland, initially she found herself attracted to the lyricism of acoustic music – songwriters like Ben Harper. But it wasn't until later she picked up a guitar, in a four-month period when the family first moved to London and she was waiting to be enrolled at school. Songwriting came quickly and her Dad took her to her first gig – a Sunday night open mic night in Battersea. "I was like the most teenagery teenager you could ever find," she laughs. "I did it with a knitted jumper and a ukulele and now I'm like, 'no, oh Lord!'. She met friends through that. People she hung out with, played shows around town with. It wasn't until Smyth left the catholic girls school she attended and went to college in Twickenham that she found friends who'd go on to really open her mind, musically.
"College suited me down to the ground, it was completely different," she says, drumming a set of purple painted nails on the table. "People my age who were doing creative things, they were individuals rather than big cliques."
That's where she met friends like Ava Laurel (artist and founder of arts collective Nine8) and Lloyd MacDonald (the artist and producer also known as Mac Wetha, also in Scoundrel and thrash metal band Death Pigs). Smyth was invited to a Nine8 Christmas party and drunkenly ended up freestyling on the mic. That's where her current style of rapping and singing began.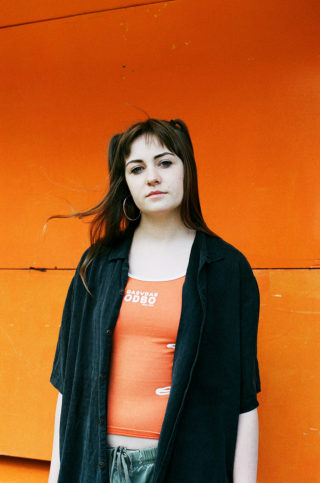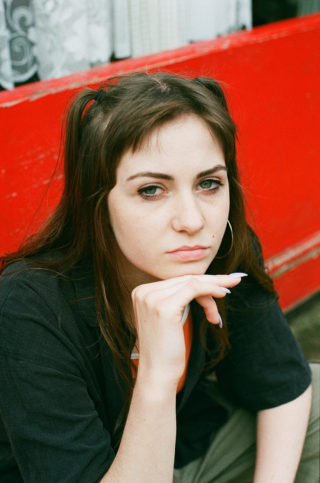 A couple of years on and she's a core member of the 20-strong community, frequently collaborating on music, visuals and designs with the other members. For example, they helped translate the mundane beauty she celebrates in her recent track '24K' ("I like it when we watch TV / I like it when there's nothing on / I like it when when we talk about how shit TV can be and find how it inspires me to write a song") into a video that's equally as arresting as the details her lyrics cannily hit – the nodding Buddha from the stationary store, the way Smyth lights a cigarette on the gas stove, the dinner plates that are strewn around the flat.
This is key to the appeal of the limited amount of music Biig Piig has shared so far – a knack of finding a way to talk about the everyday that's familiar but not dull. That can be heard on tracks like '24K' and 'crush'n'; songs that musically match dim-lit electronic beats, mournful jazz trumpet and glitchy piano chords. The same goes for 'Vice City', a heart-felt, languid hip-hop tune and forthcoming single, written while she was still working at the casino.
"I was working really hard and I was thinking about how my parents work really hard and about how they treated me. I understand that now, I appreciate it more and I want to say thank you. It's also just about the life a lot of teenagers have anyway. Partying, going out, having a good time. I was trying to balance the two. It was just a bit of a collision."
As the autumn arrives Smyth is concentrating on writing more music. Before the end of the year she plans to release her debut six-track EP. She'll hold off playing any live shows until 2018, until she can assemble a proper band and get it to sound the way she wants.
The name Biig Piig was the product of an inebriated night with mates – a name she read on a pizza menu. It started as a joke, until she uploaded her first track to Soundcloud with the name. Now, it's stuck.
"I feel like the more I hang out with myself, and the more I hang out with my music, it's becoming more apparent that's what I am. I'm just a big mess, in a nice way," she says. "Everything, my whole life, has been a big scramble. The big pig… the big mess… but in a way, that's the sweetest thing."
Loud And Quiet needs your help
The COVID-19 crisis has cut off our advertising revenue stream, which is how we've always funded how we promoted new independent artists.
Now we must ask for your help.
If you enjoy our articles, photography and podcasts, please consider becoming a subscribing member. It works out to just £1 per week, to receive our next 6 issues, our 15-year anniversary zine, access to our digital editions, the L&Q brass pin, exclusive playlists, the L&Q bookmark and loads of other extras.