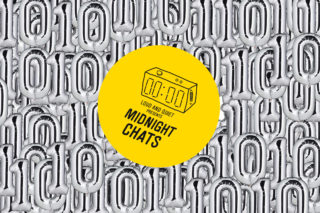 Midnight Chats: Listen back to all the episodes from Series 10 of our interview podcast
Binge-worthy
The series of Midnight Chats we've just wrapped up contained our 100th episode with Jarvis Cocker. We never really thought about hitting that milestone when we started the podcast back in February 2016, but a mixture of enjoyment and bloody-mindedness has seen us through to this point. It's probably driven by a desire to make every series a bit better than the last. So here it is, series 10 of Midnight Chats – our best yet.
Episode 94: IDLES
A chat with Joe Talbot and Mark Bowen recorded on a blistering hot day back in August. There was much to get into – not least their third album 'Ultra Mono', Joe Wicks, boxing, Mike Skinner and how their collaboration with Jamie Callum "should annoy the assholes".
Episode 95: Tim Burgess
Joaquin Phoenix once told Tim Burgess that he was in a film where he played Johnny Cash, to which Burgess said, "I know." We also ploughed through Tim's Twitter Listening Party, which has made him a social media star over 2020 lockdown, the heroes he's met and how he's navigated this appalling year of 2020.
Episode 96: Phoebe Bridgers
Some chat about the U.S. election (remember that?) before moving onto more important things, like Phoebe's mum's comedy career, her favourite swear words and the best way to die.
Episode 97: Matt Berninger
It was early on the August bank holiday when we dialled up The National's frontman from his California garage/studio to chat about his bandmates' work on Taylor Swift's Folklore album, hear stories about mildly embarrassing himself when meeting Barack Obama and his therapeutic playlist-making during lockdown.
Episode 98: Femi Koleoso
Listening to Femi speak for an hour is enough to make you think that maybe things aren't so totally and utterly fucked right now. Ezra Collective's bandleader on being a former student of Tony Allen's, a diehard Gooner, a sometime model and the guy you saw play his kit at halftime when watching the Champions League final.
Episode 99: Biig Piig
Back on a stifling hot summer's day, Biig Piig pulled up a sofa to talk about no-alcohol beer, how Zoom dates almost certainly suck and why she's stopped giving her pals tarot readings.
Episode 100: Jarvis Cocker
In episode 100 of our Midnight Chats podcast, Jarvis Cocker talks about birthdays, rave days and living with drug dealer days. And Salad Cream.
Episode 101: Arlo Parks
Arlo Parks is still only 19 but she's already making films for Gucci with Gus Van Sant, performing at Glastonbury in the year when there was no Glastonbury, and preparing for the release of her debut album, Collapsed in Sunbeams, in January 2021.
Episode 102: Perfume Genius
A conversation about deranged Chihuahuas and the physical joys of humping a wall – Mike Hadreas was on fine form discussing 10 years of his debut album Learning and the enduring brilliance of Liz Phair.
Episode 103: Romy
Romy Madley Croft from The xx on this season-ending episode – discussing Ibiza, football, sexuality, lockdown and writing pop mega hits for likes of Dua Lipa.