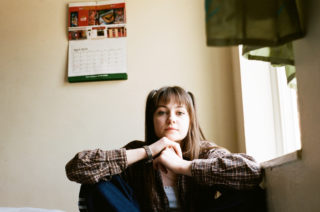 Biig Piig – A mellow rapper's mellow world
To Peckham, where Jess Smyth lives in a house that's as minimal as her music
There's a guy who lives near Jess Smyth who keeps bringing random shit to her house. She tells me about this when showing me yesterday's drop – a blue carrier bag full of old Will Young CDs. It's a story that she casually puts out there and smoothly glides away from, which befits the music she makes as Biig Piig: storytelling hip-hop that's slow and heavy-lidded, and nonplussed by fussy details. Just as 'Perdida' has Smyth gently singing, "I just wanna lay here/ And smoke my cig/ And drink my wine/ And think", stopping to question who the guy with the Will Young CDs is, or what the hell he's playing at, is not really important. I'll ask about it later.
Smyth has lived in Peckham for the last six months, but over the 21 years of her life she's been prone to big moves – from where she was born in Cork, Ireland, to Marbella, Costa del Sol, back to Kerry and Waterford in Ireland, and then to West London where she became Biig Piig and started rapping as a member of the nine8 collective; a group of young musicians that includes her chief collaborator, producer Macwetha.
For now, the arts scene of Peckham seems to work well for Biig Piig, who at the end of last year put on a show at the local working men's club and packed it with a bunch of friends and fans who dreamily nodded along to her Big Fan of the Sesh, Vol 1 EP. She tells me there was a completely different feel to her more recent show at the much bigger Village Underground in support of her new EP, A World Without Snooze, Vol 2 – it was leery.
Smyth's room – in a house she shares with three friends currently studying graphic design and film – is as minimal as her music is. Her walls are plain but for a couple of film posters, a framed print she found in the street and a makeshift washing line with a few items of clothing pegged to it. While we're talking she peels the back off of a Rebellion Extinction sticker from the recent climate change protests and slaps it on the wall too. There's also a painting of Eve by the daughter of a family friend, of which Smyth says it wouldn't feel like home without, and a small stack of books ("but I'm not a reader"). It's a calming, clutter-less space, where found items are here and there, and a deck of cards which hark back to Smyth's previous double life as a late-night poker dealer. She demonstrates her impressive shuffle, reads my tarot cards (also dropped off by her neighbour), and then talks me through her new home and the things in it.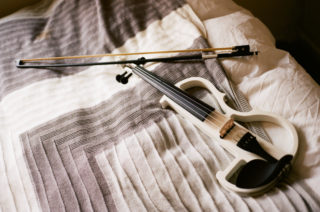 Electric violin
I bought this two weeks ago. I'm going to learn to play it through YouTube videos, unless I get really stuck and then I'll get a teacher. At the moment I don't play an instrument really, just a little guitar [Smyth's first gig was an open mic night at Battersea Arts Centre playing ukulele]. Mostly, I'm vocals.
I feel like [choosing the violin] might be a [Irish] roots thing but also I just find it an interesting instrument because there's a whole stigma behind being able to play it – it seems like you have to be the best if you play it, or you have to play classical, when really there are so many genres that incorporate it. The Irish fiddle has always been a love of mine in traditional music, but yeah, I would love to see what happens being self taught with an instrument that has so much history.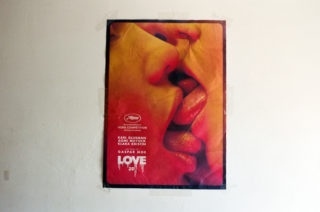 Love poster
Have you ever seen this movie? There's a lot of sex scenes in it – it's really cool, but maybe watch it on your own. Even with a partner is a bit weird. It's about this fella who's addicted to opiates who has a wife and a kid, but he's only got that because he had a threesome with his girlfriend. It's really sad, but it's beautiful to watch. Independent films are my kind of thing; I can't watch horrors films.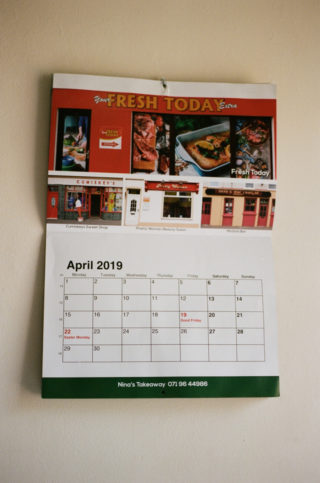 Ballinamore calendar
My aunty bought me this from Ireland. Ballinamore is a tiny town where some of my family is from. When we moved there from Costa del Sol we didn't have much but it was the best time because we were young and came to a small town and all my cousins were there in Ardmore. We were blissfully ignorant to the situation, I guess. We lived in my auntie's house so there were 13 of us including her kids and the grandparents in a 5 bed for the first year or so. So this is basically a tourist calendar of there, but there's nothing in Ballinamore so they've got SuperValu on there and the local library and Fresh Today.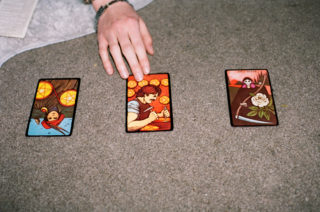 Tarot cards
I'm literally just getting into tarot cards and doing readings. I had mine read once before in a market in Scotland, but it wasn't very accurate. These came from this old fella who keeps dropping stuff off. We don't have any real exchanges, he just says, 'hey, how are you doing,' and then gives you a bag of something. Yesterday he dropped in that bag of CD, which is mainly Will Young and Westlife albums. The first thing he left on the doorstep was a mask, which was pretty scary. But he also bought a corkscrew round once, which was actually useful.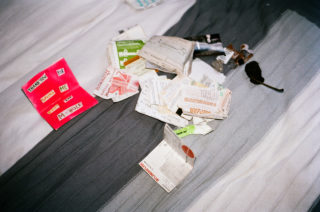 Memory box 
I feel like I'm going to lose my memory at some point, which is really sad, but I hope that this box is going to revive a few things in my mind. There's all sorts in here. I've got an old leaf from the night I first met my friend Olly, and there's a ticket from the first festival we did as nine8 – Standon Calling in 2016. It was kind of unofficial because Ava's (aka Lava La Rue) dad put on a stage there. It was sweet – we were 16.
I've also got letters from exes because I'm a crazy bitch. I write letters but I never send them back. I write them to get it out, but I never want to open the conversation again.
There's also a ticket to TINA, the Tina Turner musical. It was incredible. Insane! I was crying – bawling my eyes out. I'm a musicals fan, but I went to one recently where they were singing the whole time and I couldn't be doing that. But in TINA they don't sing all the time, but when they do they're absolute bangers.
And this pink note is from Connor – he'd taken M-CAT [Mephedrone] by accident and had a really bad time, so we hung out until it was fine. He's a good friend.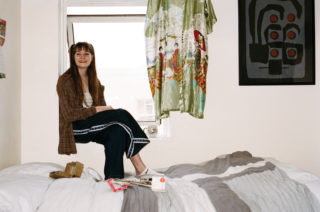 Kimono 
I bought the Kimono in a charity shop. I wear it all the time and it's what I'm wearing in the '24k' video. We shot that at Ava's house in Ladbroke grove. We got the nine8 crew to redesign the whole house. I still go over that side of town but haven't for a while – you forget how big London is.
Playing cards
I can still shuffle pretty well from my job as a poker dealer. I used to work in the Empire Casino in Leicester Square but it was too much money for an 18-year-old to be earning – it would be 3k a week, and a lot of that would be in tips. Then you'd get people saying, 'cover your microphone if you want to make some real money'. I wasn't allowed to play myself in my casino but I'd go next door to the Hippodrome, and I got pretty good, but then I started drinking while I played, which was a big mistake. You're just in there tipping all the waitresses.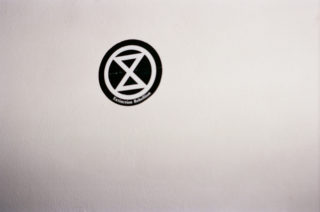 Extinction Rebellion protest sticker
I camped out for a couple of days the other week. When you can get that many people together and for everyone to be so respectful of each other it was really nice. There was a rule of no drink or drugs, and that was really cool. I went with my fella at the time. Sleeping in a tent on Oxford Street will test your relationship.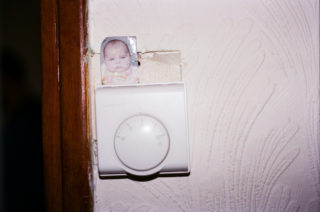 Guardian baby
We don't know who this baby is but we found this on the ground on our way here one day so we put it up there and called her Barbara. She's our equivalent to Goat Girl's ghost when you did this feature at their house. She's just watching. Is it weird that we have this? It is weird, isn't it. She doesn't take no shit.  
Loud And Quiet needs your help
The COVID-19 crisis has cut off our advertising revenue stream, which is how we've always funded how we promoted new independent artists.
Now we must ask for your help.
If you enjoy our articles, photography and podcasts, please consider becoming a subscribing member. It works out to just £1 per week, to receive our next 6 issues, our 15-year anniversary zine, access to our digital editions, the L&Q brass pin, exclusive playlists, the L&Q bookmark and loads of other extras.