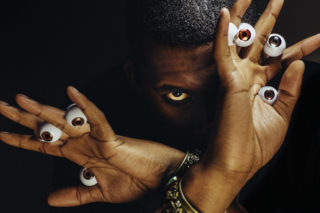 Financially, socially, creatively – How Flying Lotus pushed himself further than ever before to make Kuso
'All I put in the movie were my own fears and anxieties'
As Flying Lotus, Steven Ellison has become a hero of independent music. The producer, beatmaker and sometimes-rapper has spent over a decade crafting a magic alchemy of jazz, hip-hop and electronic music, with a focus on texture and vibrancy. Influenced by Dilla, Aphex and Wu Tang as much as his jazz upbringing (Ellison is the nephew of Alice Coltrane), his music has touched those from all corners. His Brainfeeder label, formed in 2008, has become synonymous with experimental beatmaking, and has given a home to a branch of electronic music previously underrepresented. Now, just going by his directorial name Steve, he's diving into one of his first loves – independent cinema, with his debut feature film Kuso.
Steve already had a lot of the contacts. He's worked with a diverse collection of artists for music videos, from cult-horror animator David Firth to genre heavyweights like Hiro Murai, while his long running partnership with Adult Swim means it wouldn't be unusual to hear some Zodiac Shit soundtracking your favourite cartoon. He had knowledge too. Ellison had previously attended film school before his music took off, though in recent interviews he's spoken of a need to shake his lecturers rules off, and to learn for himself what a film should be.
And Kuso breaks a lot of rules – in its structure, in its hyper-explicit content, in its stark tonal shifts. The three interweaving shorts that make up the film follow a puss-filled wart trying to find love, the patients of a cockroach doctor curing their fears and ailments through antenna juice, and a boy, played by a dwarf, who smears his faeces on a tree to build a friend for himself. It's a film that's proudly soaked in every human fluid. You wouldn't see this made if it wasn't funded out of Ellison's own pocket.
Right down to his no-nonsense moniker, Ellison remains wholly independent. While Brainfeeder expands into film, he reflects on what creative control means to him and how he views his own art after diving into unknown territory.
"Thank God for alcohol"
[Returning to touring this summer] was kind of terrifying, actually. I had spent so much time just sitting by a computer by myself. I had done some shows here and there, but to go from, like, being all alone, just me and my dog, to playing in front of thousands of people – it's kind of overwhelming.
"I don't know if the film makes total sense to everybody, but to me it does"
It just started off in my fascination with After Effects and animation. I really wanted to start working off short little internet clips that I could make, y'know. I was tinkering around with things. And in that process, I started designing these characters – these weirdo characters, each of them with skin problems and stuff… When I spoke with my friends it was like, 'oof, what the fuck is that? That's crazy!' so I thought, 'okay, maybe there's something going on here'.
I started fleshing out the world a bit more, and everything kind of flowed organically. I started working on this short film that became a live action short film that became a feature. I kept chipping away at it slowly. I had all these pieces that made sense. I had this world I was building I guess. I totally get it, but there are a lot of little things that you have to put together on the second viewing to get everything.
"A lot of people also said no. A lot of people… who are fucking terrified of me, man"
A lot of people were expecting me to make a really beautiful Until the Quiet Comes type of film, and were…rudely awakened by what I was trying to do. But they're friends.
One person that comes to mind is Eric Andre. he was really interested in working on a film, but he's busy doing stuff in New York. He was shooting Man Seeking Woman. He might have been Zack Fox. I was also talking to Elijah Wood to be Zack Fox's character which is really funny to me. He gave me feedback really early in the process. He was really helpful.
With Busdriver, that was an ask him directly situation. He was coming around a lot. I think he was trying to tell me something. I started seeing this character in him, in his new music he's been working on. And the film needed some kind of grounding. I had this idea of the intro for the movie. This kind of opening that shows you the big earthquake that happened that was a big ol' cut up of news footage – that was the original thing. And then, it felt like I'd seen that too many times. So then we started with that kind of vibe, and then we go to this crazy hijacking of the news, and it just blossomed from there.
"David Firth was a huge influence on me"
He was the one who taught me how to use After Effects. He got me into the animation, really. We got in touch when we were making the 'Ready err Not' video for my last album, and he and I have been in touch ever since. He's a brilliant guy. He was working on his short film [Cream] while I was working on mine, so we were going back and forth, looking at projects.
He'd look at what I was doing, and have a few pointers of how to make it better. I'd ask him a bunch of questions at ungodly hours in the UK and he'd always have the answer and figure things out, so I was grateful. I think at that point too that we were both thinking a lot about the future, so it was only natural that he got more involved in this project.
"I don't know why I do it… I'm not sure why I do anything, y'know?"
[On the inclusion of the GTA wasted sound effect] There's a lot of little things in the movie. There's a lot things for gamers in the movie for sure… It just makes me laugh, you know. It brings a sense of realism to it for me. That's what makes me laugh. I'm a gamer, man, and there's a lot of gamers out there… [Laughs]
The way I sat and wrote it was total freestyle, and just try to write things that would be fun. I wanted to have fun making this movie so I tried to things that would only make me laugh, and smile. That was the goal. Even if it was buried in this kind of like, darkness.
"I think people with diseased faces, it's LA's worst nightmare."
That's kind of the reality where I live. I live in a place called Studio City where there's all these D list actors, with their very first plastic surgeries. And they fucking look like KUSO… Los Angeles felt the most natural to me because we have this anxiety about earthquakes here and I really wanted to touch on that.
"I was a young kid when the indie film explosion happened."
I was a very impressionable teenager when Kevin Smith, Tarantino, and Robert Rodriguez, when they had that low-budget revolution. I had that book that everybody else bought, Rebel without a Crew – the Rob Rodriguez book about how he made El Mariachi for what, 6,000 bucks? I had that book. I was really inspired by that whole scene and I think that my love for that stuff made me branch out.
"I think Until the Quiet Comes is one of the best music videos ever made. That's not biased at all…"
The ultimate music video for me is obviously 'Thriller'. It's classic. Wu Tang's 'Triumph'. That was huge for me. Obviously anything Chris Cunningham has done.
I think having worked on all these music videos and been on a lot of the sets for them, sitting with the directors and seeing how they do things, I thought 'oh man, I can do that! All I have to do is describe things really well to people and then I can make movies!'  I got even more inspired seeing especially Eddie Alcazar. We did this project called 'FUCKKKYOUUU'. It was born in no time, it was created in no time and it went to Sundance in no time. It was fluid and organic. It just made me realise, yeah I can do this. But If I sit around and think about it too long I won't do it.
"I didn't even know I should actually have a post-production producer to work on it with me to get it all done. I went deep on this one."
I think the trickiest part for me was beyond the directing. I've never edited a feature before, and it was all fragmented and fucked up. And then I had to do the sound design and mixing and all that stuff. All that stuff was way more difficult than I had imagined. I thought I'd have more help.
It was weird things, like having to export clips to send to somebody for VFX, and having to do my own VFX. And during all that, I'm also doing the Flying Lotus stuff. I'm at the Grammys, and then I go home and edit Royal. It was a lot.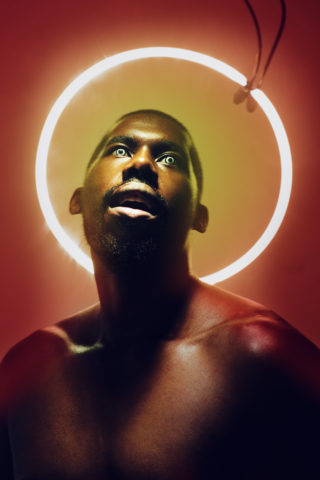 "That was really the fun part, spreading outside of the comfort zone."
Sometimes I was working with a bunch of musicians and we're all writing stuff that we've never even fucked with before. I'm going 'yeah, I want it to sound like a French bistro. A mischievous French bistro!' and they look and me like 'what the fuck? What is that?'. The scenes might require something that's out of my comfort zone, musically.
I had to be so much more aware of the environment when I was working on the movie.  Which is not always how I think about music, where it's more about the moment. But also, I'm writing about the environment, space, and where we are, so I can build a sonic world around it. Sometimes parts the movie I just enjoy listening to. Even if it has sound effects, background noise and stuff, there's something about it.
"All I put in the movie were my own fuckin' fears and anxieties."
Disease is an anxiety that a lot of people have. We live in a world were people are terrified of every possible new disease that comes round, like fuckin' Zika and shit. [Laughs] There'll be new shit next year.
It's way more terrifying to show Kuso to my family and friends, but at the same time, when they see certain things, they're surprised for a second, and then they're not surprised. It's like, 'aaah, I should have seen that one coming. It's been an interesting time. Having a lot of creative friends around has definitely helped make my film.
"Everyone sets their own limits. There are things that I definitely wanted to talk about initially that I backed out of doing."
There was a whole segment about a police officer that I wanted. That was how it started. I think it was a bit too much. I felt 'let me just… not say this right now, because I think people will hate me.' It was not the right time for that stuff. But there'll be another time.
Creative control is important man. It'd be hard to give that up in the future. I think that's why I decided to spend my own money this time around. And maybe that'll happen next time too. But I'll definitely try to get somebody else's money before I do it!
"I think having opened up to collaborating more in music has opened me up to the possibility of film."
I try to find the similarities. There's not many of them, but it is the same thing, where if you can get these two people in a room together, and they're both geniuses, good things should happen.
"I can't lie, I listen. I'm so curious how people will receive the work."
Will it really affect me? It depends. There's certain people that if they get it, I should consider their opinion. If they are way out of bounds, then maybe not. If someone's like, 'fuck this movie, it's a dick and fart joke movie,' then that opinion is kind of garbage, because whatever. But if they're like 'it's good, but this, that, whatever, thematically he fucked up. He should have done it like this'. When I get that review, I'll probably consider it.
The best part is, I think that people have some crazy low expectations because it's meant to be this gross-out movie, that they see that there's actually some art in it and, 'okay, it's not that bad'. We'll see what happens. It's been good so far.
I'm ready. This thing has been sitting in my computer for two years. I've been chipping away at it. It'll be nice to delete some files from my hardrive, and then I can't mess with it anymore.
Kuso is streaming on horror-streaming platform Shudder now.
Loud And Quiet needs your help
The COVID-19 crisis has cut off our advertising revenue stream, which is how we've always funded how we promoted new independent artists.
Now we must ask for your help.
If you enjoy our articles, photography and podcasts, please consider becoming a subscribing member. It works out to just £1 per week, to receive our next 6 issues, our 15-year anniversary zine, access to our digital editions, the L&Q brass pin, exclusive playlists, the L&Q bookmark and loads of other extras.