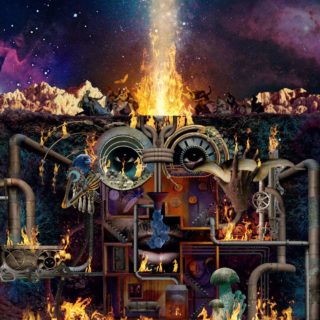 Flying Lotus
Flamagra
(Warp)
8/10
It's been five years since Flying Lotus' last album, but when you've been scoring Blade Runner anime, directing your own horror movie, collaborating with Kendrick Lamar and producing for Thundercat, pulling together a carnival of collaborators for your sixth studio album takes time.
From David Lynch to Solange, Anderson .Paak to Little Dragon, the album's all-star cast helps make Flamagra another indeterminable odyssey straight down the rabbit hole of Steven Ellison's brain.
According to the man himself, Flamagra only took thematic shape after he heard David Lynch at a party – and fire and eternal flame subsequently became the organising thought. And while 'Fire is Coming' serves up the album's darkest moment with its hanging piano chords and Lynch's apocalyptic spoken word, you can easily overlook the fact it's supposed to be the fulcrum because Flamagra's restless programming is what makes it so compelling.
A grab bag of hip-hop, funk, soul, free jazz and the LA Beat scene, there's the busy, accelerated BPM of opener 'Heroes', the woozy 'Yellow Belly' and classic boom-bap of 'Black Balloons Reprise'. Then there's Anderson .Paak hitting an effortlessly mellifluous flow on 'More', Thundercat's chunky basslines and soft-edged soul on 'The Climb'; the roaming, free jazz adventure of 'Heroes in A Half Shell'; the beat-heavy dreamscapes Ellison specialised in before he started getting freaky on 'Remind U'. The list and the beat goes on – and you can't catch a breath.
Here, Ellison is firmly in his own orbit: twisting, pivoting, never stopping. Not everything sticks first time but there's always a flicker, a catalyst, a different thread to unravel or frequency to decipher. Sure, it might lack the more established themes of Until the Quiet Comes and You're Dead! but while Flamagra doesn't feel as defined, it feels more unencumbered, more uninhibited: Ellison unleashed.
At various stages you'll think you've pinpointed the purpose but then Solange'll drip into your ear on 'Land of Honey' or you'll ease into the twisted vocals and hallucinogen beats of 'Debbie is Depressed' or the sweet, languid falsetto and astral melodies on the Toro Y Moi collaboration, '9 Carrots'. This unfiltered, even more unstructured version of Flying Lotus might not sit with those searching for the deeper meanings of its predecessors but sometimes things don't have to make perfect sense to be special – Ellison's work here, and over the last decade, is the cerebral proof.