Gotts Street Park – In a tough part of Leeds, a jazz-schooled hip-hop collective are making "smackie-soul"
Four mates are modernising the sounds of the '60s Deep South in the unlikeliest of settings
It's daylight, and that's kind of a relief. Around the corner from the townhouse that two members of Gotts Street Park share, a man is slumped on some concrete steps drinking a gold can of Skol. A couple of drug dealers barely conceal their afternoon rounds as their car crawls along the road heading towards the local KFC. A dog with shoulders like Vin Diesel strains on its leash, the animal's polo-shirted owner barking into his phone. In front of a boarded up doorway, two expressionless builders knock down a crumbling brick wall, tossing the rubble into a pile of nettles and rank bin bags spilling onto the pavement. Even in the sweet, bright spring sunshine, the neighbourhood still manages to feel like a grey, uneasy maze of ominous passages and shady alcoves.

This is Armley, a tough part of Leeds, 15 minutes on the bus west of the town centre. There's little sign of the gentrification that's fanned out across the rest of the city the past few years. The craft beer bars, pricey coffee shops and fashion boutiques haven't made it here (yet). In fact, there's not much at all besides a greasy spoon, a Chinese takeaway and a dodgy looking bookies.

No surprise then that Josh Crocker takes care to lock the back gate behind us as he welcomes me into his studio and home. Gotts Street Park's HQ is an imposing terraced house, an unexpected spot for a jazz hip-hop collective to base themselves. Out front, a steep slope overlooks four lanes of burbling traffic. Across the way, there's a set of allotments and in the distance the greenery of Gotts Park – historically the home of industrialist Benjamin Gott, but now a golf course.

"It actually looks alright on a day like today," says Josh, before later explaining that his girlfriend moved into the house recently, only to leave again after a month because she didn't feel safe.
"We do live next to a convicted burglar," he says. "There's kind of a lot of smack heads. Dealers are pretty blatant around here – there are constant drop-offs outside. But weirdly, I've never had any trouble in Armley. It's like people are too depressed to even bother."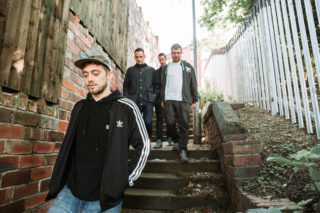 Despite all this, or because of all this, Josh's principal musical project can exist and is beginning to flourish. The main reason? Rent is cheap and no one hassles them. There's space and time to make music, although they keep their recording to a daytime schedule out of neighbourly politeness. The set-up they've created simply wouldn't be possible in another part of town, or in any similar big city for that matter.

Inside, it's roomy. A tall set of stairs leads to a first-floor room overlooking the road. It used to be Josh's bedroom – there's a fireplace and wardrobe. Now it's his studio, where one corner is taken over by a beautiful vintage cream drum kit, and two guitars stand in the other. A pile of vinyl rests against a desk strewn with plants, ornaments and ashtrays. Rugs cover the wooden floorboards and patches of purple soundproof foam creep up the walls. There's analogue kit everywhere. Heaven for a classic sound enthusiast. Reel-to-reel recorders, Ribbon microphones and tube amps. A pair of speakers on a sound desk. It's an intimate recreation of the mythologised studios of the '60s, like Sun and Stax in Memphis, or FAME and Muscle Shoals in Alabama, but in a deprived corner of urban Yorkshire.

Josh produces and plays bass. He hands me a coffee as his bandmates Adam Nicolle (drums) – who also lives here – and Joe Harris (guitar) arrive. Fourth member Tom Henry (keys) is working today in nearby Bradford.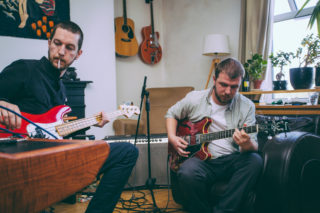 Gotts Street Park were brought together through different music institutions. Josh and Adam met studying music in York., Joe and Tom were doing a similar thing in Leeds. They all became immersed in Leeds' experimental jazz scene before realising their combined passion was actually more for hip-hop and soul, a love of Aretha Franklin and Wilson Pickett. They each worked individually as jobbing session musicians and producers, but would join up to record with other artists like a traditional backing band. However, after a while they realised often what they were creating – led by a perfectionist pursuit to capture the atmosphere of old soul records and the feel of early hip-hop – was actually their sound; something more than a signature skill-set to hire out.
"It's that heavy, old, saturated vibe," explains Josh, rolling the first of a number of cigarettes he and Adam chain smoke in the next hour, "but giving it a more modern hip-hop feel."
For four years they've met up, away from the day work, once or twice a month. Quickly they began to stockpile a bunch of material they loved.

Eventually, they decided to make it an official project, and give it a name – an amalgamation of local landmarks: Gotts Street Park. "We just like the sound of it. It conjures up a bit of a dark New York thing for me," says Josh. "When we started the project, all the images we had in mind for it were very urban, seedy – this area is like that, too.
"We always describe it as smackie-soul," he smiles, "but it's not like depressing. You can walk around Armley, and it definitely fits it.
"It probably helps the productivity," adds Joe, leaning back into an armchair. "In that it's less tempting to leave the house."

The essence of what they do is based around the kit that surrounds them, the admiration for old philosophies of recording and the trusting chemistry between the four players.
"The idea of doing things live, with a small group in one room was really important. Our identity in the music evolved from that," explains Josh. "Modern music tends to be where everything is layered, written in parts. But with this, if you've got four guys in a room who're writing the music on the spot, it can take as long as it takes to end up with a record. It's how they used to do it."
While they all continue to work on individual projects and other types of music (Josh has produced Cosima's EP, Tom plays keys in Mabel's band), increasingly GSP is becoming their main "satisfying" focus.
"In a way, it's almost like a little 'fuck you' to a lot of the industry," exhales Josh, dragging on another cigarette. "I started doing sessions years ago, where people would think that they want that sound, but when you're in the studio or you get notes back from the A&R, in fact that's not the sound they want at all. A lot of the time you'd have artists, people who had a genuinely awesome soul voice, and yet, they wanted to do this really generic polished pop."
Gotts Street Park isn't that at all. The blue, murky instrumentals they put down are somehow lazy, meandering but also sharp; a moody, authentic concoction that summons the feel of 50 years ago, but also, more recently, Portishead's 'Dummy', Amy Winehouse's 'Back To Black' and Kendrick Lamar's 'To Pimp A Butterfly'. That's what has led them to record with the likes of Rejjie Snow, Kali Uchis and Yellow Days in the past – artists searching for that classic sound. And now their work to date has been crystallised into a self-titled, 10-track EP, released via Blue Flowers on 16 June. It features guest vocalists Dielle, Grand Pax and British MC Benny Mails.
Given their sacred approach to sonics there are no plans to perform it live. In fact, they've only ever taken the band out of the studio and onto the stage on a couple of occasions.
"I'm not sure it's going to be that satisfying to do it in a live capacity, especially in a bigger place," says Adam. "If there was no PA and it was all backline and you'd still be getting the sound of the amps, or a kit that's warm and nice, that's OK. But I think the minute you start relying on front-of-house sound, it's going to sound like a rock band playing soul tunes or hip-hop. We kind of want to make music rather than play stuff we've already made."
So, then, they're already thinking about the next recording.
"I'd love to be doing full lengths with one vocalist, one artist, and really explore some territory," suggests guitarist Jo.
We're making a list of guests at the minute," Josh confirms, although they'll stay committed to their approach. "The point where we feel like we have to change the sound of it is probably where it'll end," he says.
Drummer Adam picks up the point: "The minute someone asks us to layer over 808 drum sounds, polyphonic synths and tropical house sounds… it wouldn't happen.
"It's not just about this place," he says, gesturing at the room. "We won't be like, 'Right, now we can afford to record at Abbey Road', because that just wouldn't be right. But if we were in a position to, we might get an old building and set that up how we'd want it. Our own space with a bit more flexibility would be good.
"Yeah," he nods, "and not run the risk of getting stabbed everyday…"
Loud And Quiet needs your help
The COVID-19 crisis has cut off our advertising revenue stream, which is how we've always funded how we promoted new independent artists.
Now we must ask for your help.
If you enjoy our articles, photography and podcasts, please consider becoming a subscribing member. It works out to just £1 per week, to receive our next 6 issues, our 15-year anniversary zine, access to our digital editions, the L&Q brass pin, exclusive playlists, the L&Q bookmark and loads of other extras.