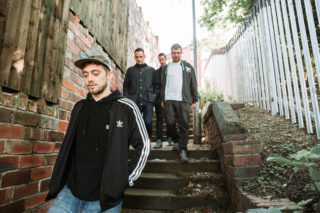 Gotts Street Park capture just how bleak the outskirts of town can be on a rainy night
This is Armley, Leeds
There's something of the mythical building around the bedroom-turned-studio where Gotts Street Park make their music in Leeds.
Earlier this year, Loud And Quiet's Greg Cochrane visited to meet the four members of the hip-hop/jazz collective.
The town house the group both live and work in is in Armley on the outskirts of Leeds – about 15 minutes from the city centre. And truth is, the neighbourhood, despite witnessing the early seedlings of gentrification is still pretty bleak. It's a tough place, and a big influence on their sound.
They've captured that feel in the new clip they've made for their track 'Love in Bad Company' which features fellow Leeds vocalist Dielle.
The visuals – which sees them also perform in their studio – are a counterpoint to the warm, analogue sound of the song, which appears on their 10-track debut EP 'Volume One' out this week (4 August).