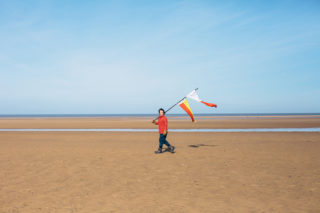 Isolation made Leafcutter John engage with society again
How John Burton turned a coastal hike into a modular synth peach
From the comfort of a thatched birdwatching hide perched just above north Norfolk's endlessly flat Cley Marshes and gazing out beyond the empty fenland into the North Sea, "Leafcutter" John Burton – electronica auteur, noisenik contributor to experimental jazzers Polar Bear, builder of boutique microphones – interrupts his own story of playing guerrilla punk gigs while at art school, and gestures towards the horizon. "Erm, I think we're about to see a murmuration," he says, quietly excited, as several thousand starlings coalesce from nowhere on the skyline. Seconds later, the birds begin soaring and swooping across the Saturday dusk as one huge black cloud, its outline constantly shifting like a lava-lamp blob, its density and colour pulsing to an inaudible rhythm with each synchronised figure-of-eight or divebomb. "That's pretty cool, isn't it," Burton offers with childlike awe as he peers down a telescope clamped to the hide's table to get a better look. "That's really cool."
Quite apart from its intrinsic magisterial elegance, it's fitting that Leafcutter John should be so taken by the spectacle: after all, his new album, Yes! Come Parade With Us, is something of a murmuration in sonic form, the sound of individual elements – synthesisers, drum machines, field recordings and acoustic instruments – coming together and vibrating in loose unison, each ingredient simultaneously separate and inseparable from the whole, shifting and morphing over 45 minutes to create an uplifting, positive gestalt. Inspired by the weeklong hike he and his girlfriend took in the summer of 2017 along the North Norfolk Coast Path, a 60-mile stretch of sand dunes, salt marshes and sea air that links Hunstanton in the west with Cromer in the east (via the Cley Marshes Wildlife Trust Visitor Centre, where he will tonight debut the album to a mix of curious north Norfolk locals and die-hard travelling fans), the album is a love letter to the virtues of walking and being outside, and to a peculiarly English kind of unpredictable weather: its seven pieces boom with dark-skied thunder or beam with sunshine, gambol along with a spring in their step or lumber forward as if headfirst into a gale, all the while anchored by beautifully detailed field recordings that Burton made during the trip.
Not that this outcome was part of the plan all along. Previous Leafcutter John records have been microscopically fascinated by their own form; explorations of sound undertaken from within the confines of a computer, which Burton freely admits were designed to satisfy little more than his own curiosity. At its outset, his new one was to be little different: "Like a lot of musicians, I'd kind of got into modular synthesis, and I'd made all these noodly things," he explains of the record's genesis, "and it's quite magic, because if you let it, it'll just lead you somewhere, but not always somewhere that you know what to do with. So I had lots of sketches – just recordings of me experimenting – but still wasn't resolved about how I felt about them."
Around this time, he met his girlfriend, who, after a couple of months together, suggested they do the hike. "I wasn't the fittest – I usually just sit down and make music on a computer," Burton confesses, remembering the idea originally being floated. "But my girlfriend said that there might be some good sounds, and I should bring my stuff, so I thought, if you're volunteering to sit on a wet grassy mound for half an hour while I record, that's great!"
Despite reservations, however, what ensued appears to have been rather life-changing for Burton. "I wasn't expecting it to be so great," he recalls of their week walking the coast. "I was a little worried: I wasn't a seasoned walker, that's for sure – I mean, I had to buy some waterproof trousers – but it turned out really fucking brilliant. It was the most energising thing.
"For some of the walk it feels like you're a billion miles from humanity: you can't hear anything, you can't see anything, you're just in the elements, it's very raw, and it's genuinely a little bit scary at times – and I guess, with that sense of scale, there's that old chestnut of realising quite how important you are in the world – or how unimportant you are. You're just another animal in that environment: we would just walk, and for about 10 or 20 miles seals were just swimming alongside us going, 'what are you two up to?'.
"I had this physical reaction to the countryside, like someone's whacked me and I'm resonating," Burton continues, making a cartoon jaw-drop/eye-pop to demonstrate his sense of wonder. "It's a 'what the fuck is this!' sort of thing."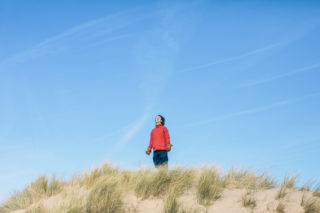 Enthused and inspired, Burton's new goal was to channel this broadening in perspective into his work, a particularly apt pursuit given the (relative) creative rut in which he had recently found himself. "I'd always been someone who just followed their fascination," he explains of his traditional modus operandi, which had spawned five Leafcutter John albums that veered between musique concrète, noise art, and fractured folk music, "but then I stopped being able to thrill myself by just experimenting with sound: I just didn't feel the thrill of raw sound anymore. So I kept thinking, how am I going to turn myself on by making weird sound, to rediscover the thrill? Then doing this walk somehow made me think that I wanted to make a record that makes people feel a certain way. Up until this record, I've not really cared about audience, but that's changed with this one.
"Before, I was in a weird zone with electronic music, where people try and make stuff that's as horrible as possible. But I thought fuck that, I don't want to be confrontational. I want people to listen to it and go, 'I like this'. I don't know if it's been successful – we'll find out when the rest of the tour happens – but to me it feels like to make a record that deliberately divides people, at this point, in this climate, would be wrong. I wanted to try and do something that brought people together in a way."
That's not to say this is Leafcutter John's Brexit record, though. Indeed, although he describes his inclusion of a field recording made in a Blakeney pub, in which the landlady asks her patrons if they want to "change their mind" while one chap hums the theme to Close Encounters and another muses that "ignorance is bliss", as "emblematic" of the current dysfunctional state of British politics, the prospect of direct political comment makes him wince. "I'd probably not be good at making a kind of overt political record," he admits, "but the energy I put into this record was very much wanting to create a space that feels good – not in a hedonistic, plastic way, but in a real, organic way."
And from the record's title – affirmation and collectivity combined – downwards, through its infectious, loping energy, Burton's aim is clear: "I think if a 42-year-old bloke who's sat on his arse for about 20 years doing music can walk 60 miles and feel like he's had his view changed, and his whole vibe changed, then I think… I don't know…" Burton falters, clearly a little sheepish about getting on a soapbox. "I'm not saying everybody should do a bloody walk, but I think it would be better if people got out. We experience a lot of politics from behind a screen of some sort, and going to demos and marches, for example, does make a political point: and you're just one person among however many thousand people."
As he gently proposes his manifesto – the joy of understanding your individual insignificance, the political satisfaction derived from contributing one tiny element to a bigger whole, which in turn makes for a beautiful thing – Burton's admiration of the earlier murmuration of starlings crystallises further. "This whole last few years has been very much about coming out from behind a laptop and, well, being part of society, being a bit more active," he laughs, bashfully, perhaps realising a previous level of introversion that kept him from enjoying life in a way he clearly does now. Yes! Come Parade With Us isn't explicitly designed to prompt that awakening in others, he says, but if his previous work was inward-looking, content simply to engage its author's love of abstracted sound, this one is built for outsiders, bringing them into the fold and making the listening experience more social.
"I know I keep coming back to the walk," he apologises, staring out at the path that runs in front of the hide, "but walking is dead easy, really – you just put one foot in front of the other foot – and this record's like that: the rhythms are not designed to trip you up."
Indeed they're not – in fact, I suggest, you could even dance to this record, which would be something new for the Leafcutter John catalogue. But Burton's not so sure, umming noncommittally as he mulls over the very idea. "Well, you can definitely walk to this record," he relents, with a grin, before pausing, as if being reminded of the spontaneous goodness that imbues so much of Yes! Come Parade With Us. "Ah, maybe you could have a little dance."
Photography by: Katherine Mager