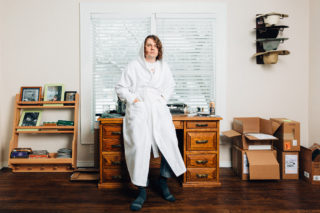 Kevin Morby showed us around his Kansas City home – a refuge from the road, and a video prop warehouse
"The guitar case coffin makes my house feel like Willy Wonka's," he says
The drummer of X once told Kim Deal that should she ever make any money through music, she should buy property. She did and told Deerhunter's Bradford Cox, who told Kevin Morby, who bought this place in 2015 with his first advance from Dead Oceans. "There's something cool about buying a house in your hometown," he says. "It alleviates some of the sting. Because as an artist you're constantly thinking what if it all goes away and I've got nothing to show for it. So it's good to have a house – at least I have that."
Morby grew up all over the Midwest and spent his teenage years in Kansas City, then a "burnt out, lawless wonderland" that was good for a warehouse show; now an American city reformed by a growing tech industry. He says it changed a lot in the 12 years he was away, living first in New York while playing in Woods and his own band The Babies, and then in L.A. around the time he went solo.
The house he owns on the Kansas side of the city was an impulse buy from his father, who flips houses for a living. It's in the downtown district of a quaint suburb full of buildings from the 1940s, including an original clock tower and a one-room movie theatre. He says it adds to the feeling of his home as a refuge from tour life; the place he returns to to write his next record, like 'Oh My God', Morby's fifth solo album (his first double LP), released April 26th.
He paints in his dining room, writes in his study and demos out back in a studio lined with pine-paneled walls. He has the kind of well-worn instruments that you'd expect to find in an alt. country musician's homes, and a ton of curious props from past and upcoming videos, some of which feel like optical illusions.
Typewriter (above)
I use my typewriter all the time. I love typing, but when you write on a computer it takes some of the magic away. There's something archaic in the hammering of the keys. I primarily use it when I'm stuck on a song and the lyrics are 75% done but I need to get out this last part. Then I'll usually take it to the typewriter. I get a lot of fan mail too, and I address that right here. I put my PO box on my Instagram – I didn't think I'd get as many letters as I did, but I got like 500, and I've just sent those people personal messages about my new album. I saw that you did one of these with Meg Remy from U.S. Girls. We've been friends for a long time and we actually only communicate through letters on our typewriters.
James Baldwin candle (also above)
I should mention that I inherited the desk from my grandmother, Dorothy, who left it to me when she past away, but here is my writing zone, and my favourite writer is James Baldwin, so I have this religious candle that is of him. And I also have this picture of James Baldwin writing. That's something that I like to do – through in my room, when I wake up in my bed, I look over, and there's a big picture of Nina Simone in her bed. She's a huge influence of mine.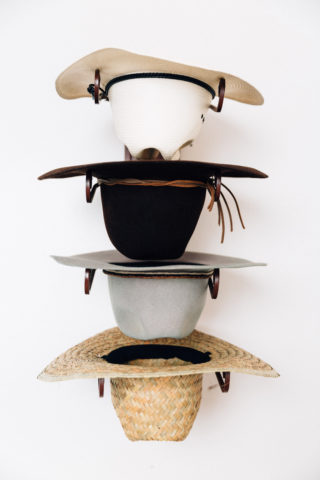 Cowboy hats 
My favourite is probably the grey one. I bought that in a sort of cowboy town in Hawaii, and it was the first one I bought. Until then I didn't have the guts to wear something like that. You've to be careful with a cowboy hat, but I was born in Texas so I think it gives me something of a right to wear one. Recently, I went into a bar, and was wearing a jumper, Birkenstocks and a cowboy hat, and all of these people kept coming up to me to ask if I was the guy selling cocaine. "I'm not, but looking at me, I definitely understand why you might think that."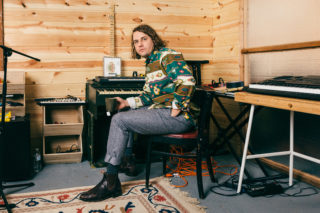 Pump organ 
I've used this on a lot of stuff, and really love it. It a World War Two traveling pump organ that folds down into a suitcase. I found it at an antique mall here in town, and I'd always wanted a pump organ. I thought it'd be around 1000 dollars but they wanted 200 bucks for it..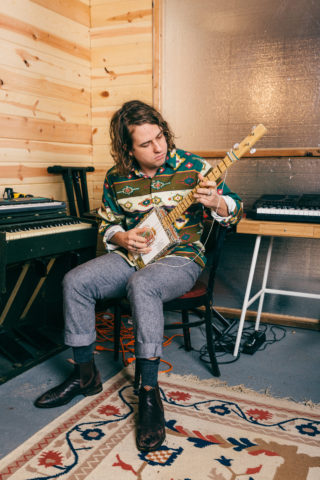 Cigar box guitar 
A good friend of mine who I went to elementary school with in Oklahoma, who I hadn't seen in over 20 years, my mum told me that she'd ran into a friend who was like, "Oh, Kyle Reid is in town, and he's a musician." I looked him up and he has a website, and he makes these cigar box guitars. And we met up, went for dinner, reconnected, and I bought this guitar from him. It sounds amazing. You can plug them in and they're slide guitars. There's a really good Ted Talk that you can go and watch about it – just look up Kyle Reid.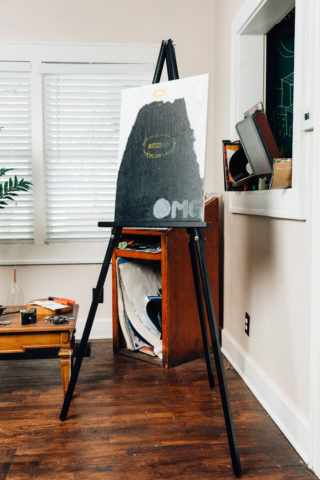 Painting 
I'm a pretty amateur, probably bad painter, but it's something I got into a couple of years ago, literally as a therapy. This one is called 'Halo on the Mountain'. I've sold paintings to fans, and I've used them a lot in music videos that are about to come out. I want to do a show sometime, but on my last record I did a painting for each song and sold them to fans. They all sold, which I was pleased with.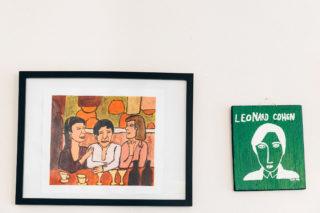 Two Leonard Cohens 
My girlfriend Katie bought me the one of the right, and my friend Kyle from King Tuff bought me the other one, which is of the cover of 'Death of a Lady's Man'. It's from a school in L.A. that our friend used to work at that's for mentally disabled people, so it's a pretty cool painting.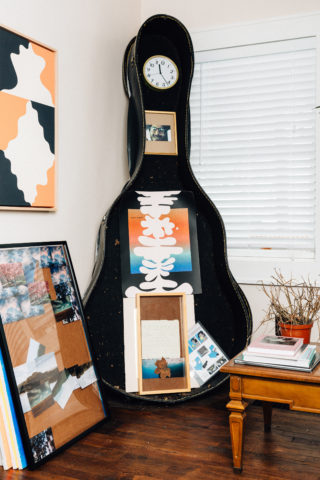 Guitar case coffin 
This is from my video for 'Dorothy', from my 'Singing Saw' album. There's a scene where I'm at a funeral and a friend of mine is laying in this guitar shaped coffin. It's really nicely made and makes my house feel like Willy Wonka's. In the bottom, the flight safety card is from another video that's coming out soon, and I've got these lyrics of 'Pretty Pimpin' by Kurt Vile. I sing on that chorus with him and that's the lyric sheet he wrote out for us when we were recording it in the studio.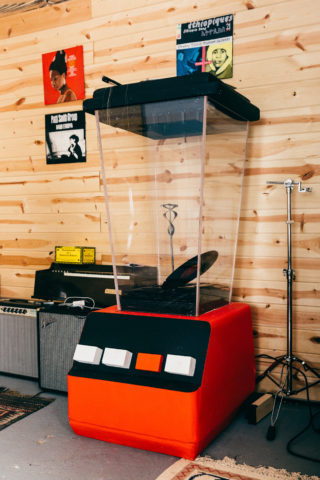 Record blender
Sometimes my house feels like a movie prop warehouse, and this is another music video prop, which will be in the last video released before the record comes out. It's exactly what you see – it's a blender that blends records. There's a power drill in the bottom and you can turn it on and slice up records. I got ahead on this record and made a point to get everything done, so tracks that need videos are all decided and the videos have been made.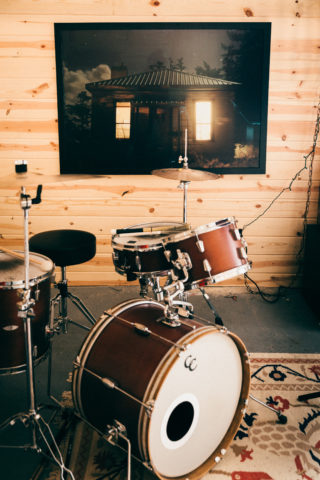 Phil Elverum print 
This I'm really excited about because I only got it recently. I'm a lifelong fan of Phil Elverum [aka Mount Eerie] and his aesthetic really inspired me in getting my studio made, and wanting to make it kind of cosy with the wood paneling, and making this place where I could do home recordings, like he does at home. I realised all of that while I was building the studio, so I went onto his website and bought this print for it to be the mission statement of the studio.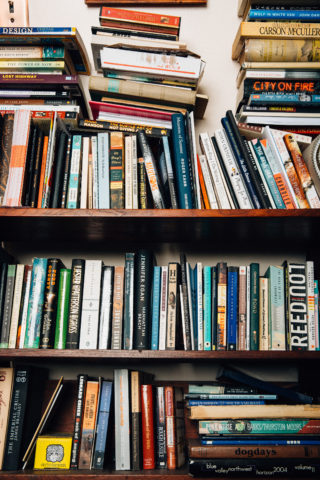 Books
I try to read as much as possible. It's usually fiction, although right now you're catching me at a non-fiction time – I've just watched The Wire for the second time, and there's a character in it called Snoop who's amazing, and I've just read her autobiography. It's called Grace After Midnight, and it's a crazy read. She killed someone when she was 14.
Loud And Quiet needs your help
The COVID-19 crisis has cut off our advertising revenue stream, which is how we've always funded how we promoted new independent artists.
Now we must ask for your help.
If you enjoy our articles, photography and podcasts, please consider becoming a subscribing member. It works out to just £1 per week, to receive our next 6 issues, our 15-year anniversary zine, access to our digital editions, the L&Q brass pin, exclusive playlists, the L&Q bookmark and loads of other extras.