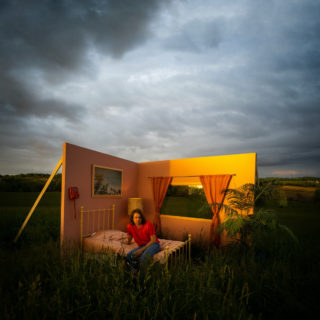 When Kevin Morby jarringly moved from Los Angeles to his hometown of Kansas City, he expected the isolation and simplicity of his new house to help him work creatively, and he was right: the widening days and heaving, breathing sunsets inspired his newest album Sundowner. This introspective folk album records the divine of the everyday. "[Sundowner] is a depiction of the nervous feeling that comes with the sky's proud announcement that another day will be soon coming to a close as the pink light recedes and the street lamps and house lights suddenly click on," Morby says. 
From the very start, the record lulls listeners into a quiet solitude, with Kevin Morby inviting you into his shed-turned-studio where it's not hard to imagine the tottering insects of summer and dripping icicles of winter as evolving companions. The best of the album is the title track, whose quiet power is a perfect demonstration of Morby's strengthening talent and humility. From there, he builds emotional, swelling movements. Instrumental 'Velvet Highway' and the final 'Provisions' show that Morby's skill comes from making himself one with simplicity, not pushing or pulling, but writing songs that evoke homecoming to listeners, that make it feel like they are there with him back home, walking familiar roads, but noticing the landscape with new eyes.
New monthly memberships available
Here's a new thing: our membership scheme now has a pay-monthly option, plus a load of exciting new digital stuff for people who support what we do. It's actually excellent value, honest, and will help us continue to promote new independent artists and labels.
Sign up and you'll receive our physical magazines delivered to your door, our digital editions, exclusive podcasts and playlists and access to our EXTREMELY glamorous Members Lounge. You'll be the envy of all your friends.