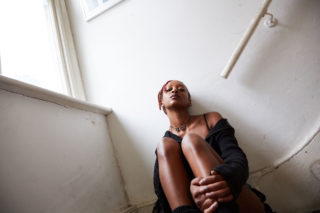 KEYAH/BLU – London's most inventive new rapper didn't even consider music a passion
Thankfully she changed her mind
"The thing is, I'm a little bit all over the place."
This pronouncement from KEYAH/BLU, which arrives after an uncharacteristically long pause in her otherwise rapid South London parlance, is initially surprising. Her rise over the past couple of years, thanks in no small part to an ongoing series of collaborations with another of the capital's most exciting young talents, Denzel Himself, has been rapid, and she's carried off her clutch of singles to date with poise beyond her twenty-something years; nothing about it has felt scattershot, or indeed scatterbrained. Her latest, June's self-produced 'Choker', is the opposite; sharp, smart and searingly ambitious.
Plus, her publicist had warned me days in advance that this would be her first phone interview, and that she was nervous about it, but the Keyah who picks up is warm, witty and engaging, making a compelling case for her fledgling creative vision. Why, then, does she still feel as if she hasn't got it together? "I just think there's some things I could say now and then change my mind about tomorrow. When I first started out, I thought it would maybe take me a year to figure out what I wanted to say – what the message behind my music was going to be. Now, after four years, I'm in a space where I know that's going to be an ongoing process, forever and ever, until I die. I'm always going to be finding something new to say."
The important thing to remember is that before four years ago, when she first made contact with Denzel Himself, she'd never imagined that she'd make music. She hadn't really imagined herself doing anything specific. "I didn't really have any passions in life. I didn't know what I wanted to pursue. All I really knew is that I'd always liked performance." Accordingly, she applied to a drama school in Los Angeles on a whim, never expecting much to come of it. "I didn't really have any idea what I wanted to do, but I knew I needed to get out of the UK; do something different, see some new shit. The school offered me a scholarship, and suddenly it felt like I was maybe onto something. I went out there just knowing I wanted to get away from everything I knew."
Two of her roommates dabbled in making music from their bedrooms, and she would find herself chipping in. It was all very piecemeal, though; just little ideas here and there, nothing concrete, continuing a theme that's followed her from childhood, when she would try her hand at writing poems, scripts and screenplays without ever making them into anything more concrete. "It was just something to do in my spare time. I was still going to classes, still doing the drama thing."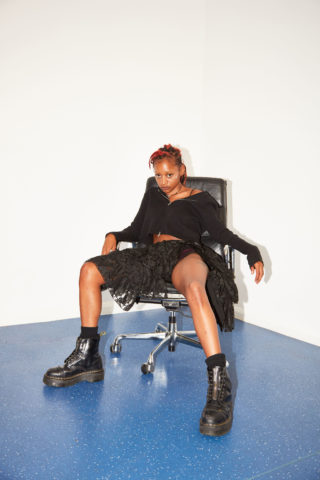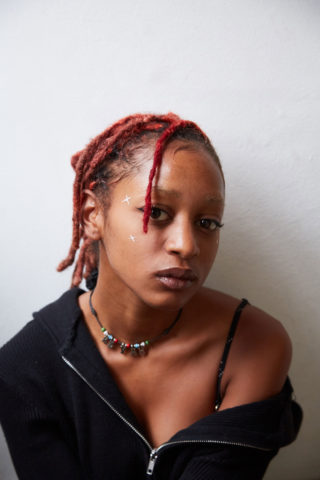 Late one night, things changed. Drunkenly scrolling in the early hours, she spotted a tweet from Denzel, who was looking for a female vocalist. Dutch courage already on hand, she sent him the only recording of her singing voice she had – a voice memo on her iPhone of her singing Frank Ocean's 'Thinking Bout You'. When she woke up the next morning, he'd fired six beats back over for her to put vocals over. "I spent the next three days missing school – I was sick, or at least I think I was – and just working on what he'd sent me. That was a real turning point. It was the first time somebody had really validated me, and something about those beats brought something out in me that I didn't really know I had. We kept going back and forth with more tracks, to the point that I ended up dropping out of school, because I'd just stopped turning up. I was just at home working on music all day. For the first time in my life, I knew I wanted to do something. Before that, I didn't give much of a shit about anything."
Inspired, she returned home to London, meeting up with Denzel within days. Probably her biggest exposure to date came through her feature on 'Melty', the track he performed for a COLORS Berlin session last year, which sits at 800,000 views and counting. The style of her delivery is something all her own: when she raps, there's something quietly confrontations about it, and when she sings, her tones are honeyed without hiding her accent. The thing is, she doesn't flit between one and the other from verse to chorus or even line to line; she kind of glides between the two simultaneously. It's something that sets her apart from obvious contemporaries like Tirzah and Jorja Smith and makes you wonder how much more of this originality we'd get to hear if more artists stumbled into music the way she did, allowing her to operate without preconceived ideas of how she should sound.
KEYAH/BLU is happy to admit that she didn't know that she's been on a long journey of discovery that, as her stage name hints at, almost suggests two different musical personalities. That doesn't mean she didn't have any kind of musical grounding, though – her mum, evidently a huge inspiration to her, was a singer herself, and Keyah remembers being around her as a kid as she recorded and performed. "Things were a little bit difficult with my parents when I said I was dropping out of school and not going to uni," she recalls of the period immediately following her departure from LA, which she sums up in characteristically unvarnished fashion: "shit was fucking peak." Once she made clear she was pursuing her music, though, "my mum saw her eighteen-year-old self in me. She's been mad supportive from the jump because she did it, too. She's a massive influence in music and just in fucking existing. I don't think I feel skilled or practiced in any specific part of my music, because growing up I was stubborn and I kind of pushed it away because I was around it so much. But I still soaked that shit up like a sponge, I think, even if I didn't even know it."
That contrariness is still there; you can trace it through the musical decisions she's made up to this point. Her collaborative work with Denzel has been hugely fruitful, but she knew she had to stand on her own two feet if she was going to get a sense of herself as a musician, so she started producing her own beats. "It felt a bit mad to be calling myself a musician when all I do is write rhymes, so I felt like I had to do more to earn that authenticity," she says. "I'm still getting used to that, and it's a different process every time, but the more I worked on my own production, the more I felt I could be myself, and say what I felt I needed to be saying. The lyrics are quite personal and introverted, but the bottom line is always love."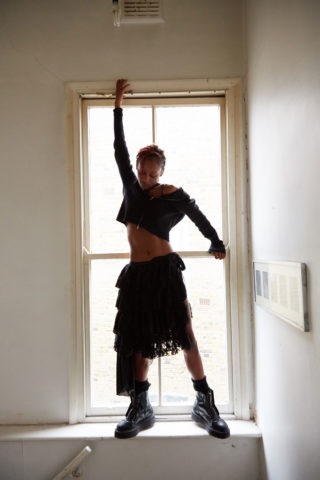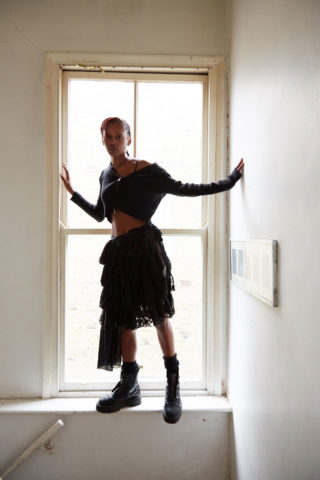 After releasing a handful of singles, she still isn't sure where she wants to go next, other than that she'll finally release her debut EP early next year. One minute she says she likes the idea of being an album artist who records and tours extensively, the next she admits she isn't so sure. Similarly, early interviews like this one should be littered with references to her influences, but she maintains that she can't really name names even if she wanted to. "I find it easy to repeat what I'm told when people say you sound like this artist or that artist," she explains. "I'll be like, 'shit, yeah, that makes sense because I do like them and listen to them.' Honestly, though, there's not one set of artists I look up to because I never treated music like that in the first place. I never knew I wanted to do it until recently. I think I've probably been shaped by everything I've heard in some way. I can't narrow it down."
What's helped mould her, too, is south-east London: as well as imbuing her with a sense of purpose, her journey into music has rekindled her love for the corner of her hometown that she was doing anything and everything to get away from just a few years ago. "My music has become the foundation of a community around me here; I'm not part of a scene, but there are people around me who have held it down for me, even if it's just a case of having friends who come over to get drunk and record with me in my bedroom, you know?
"It's just the feeling of having a home, and belonging somewhere. I didn't have that for a long time, and now I've got all these possibilities to collaborate, all of these people reaching out to me who I really respect, which is crazy." She pauses again, for maybe the only other time in the conversation, and then laughs. "I mean, it feels like I'm only just starting out. What the fuck do I know?"